There's no mistaking the triple-headed snake logo of Razer, the gaming hardware manufacturer synonymous with high-end gaming products and usually a lot of RGB lights. The second-generation revision of their gamer-focused soundbar, the Razer Leviathan V2, fits suitably well into their catalog of peripherals and accessories. Since Razer owns THX, it makes sense to push for a speaker with high fidelity audio, with this set aimed at desktop PC environments.
This upgrade to the Razer Leviathan promises a smooth experience with PC via USB and mobile over low-latency Bluetooth, but what's the deal with connecting other devices? The newly added RGB lights look pretty and are customizable with the Razer Chroma software, alongside Razer Synapse for audio. Do these apps help or hinder the experience? How does it compare to its predecessor and the competition? I spent a week testing the Leviathan V2 to answer these questions.
(opens in new tab)
Bottom line: It's an audio upgrade over its predecessor, with booming bass and crisp treble for PC or mobile users. The lack of connection options for consoles and televisions reduces its usefulness, and the companion Razer apps are shoddy.
For
Wonderful speakers and subwoofer
THX spatial audio sounds great
Customizable RGB light bar
Against
Lacking connectivity
Too many Razer apps
Razer Leviathan V2: Price and availability
The Razer Leviathan V2 is available now through the official Razer store and third-party retailers, including Amazon and Best Buy. It comes solely in black with a customizable RGB light bar.
Released in April 2022 with an MSRP of $250, it intends to replace the Razer Leviathan V1, which is still available for purchase.
Razer Leviathan V2: What you'll like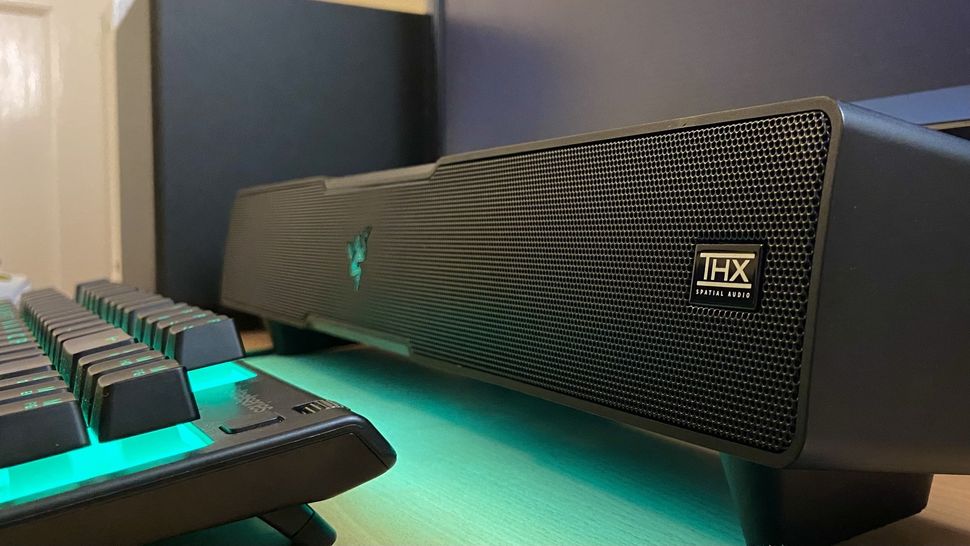 Setting up the Leviathan V2 was a breeze since its primary connection is with its USB cable to the PC. The soundbar itself is reasonably sized for most desks, sitting comfortably between my keyboard and monitor without causing any obstructions. It stretches a width just shy of 500mm and a depth of around 110mm, so even with my modest setup, it sat pretty in front of my 23-inch screen. Razer also includes replaceable feet for the soundbar, allowing it to angle upwards to better display its RGB lighting and direct audio higher up.
The included instructions advise placing the subwoofer on the floor, but I can't recommend you do if you have any downstairs neighbors because this thing is a beast. The bass kicked out by the Leviathan V2 sub is monstrous, and I barely raised the volume over 30% for most of my use, so it remained on my desk. It's about the size you expect, standing at a boxy 220mm, or about 80% as tall as an Xbox Series S. Adjusting the equalizer to my preferred settings with high bass and treble meant that everything I played back sounded tremendously intense.
The Razer Chroma software allows you to customize the RGB lights on the soundbar, choosing from pre-made options or creating your own. My personal favorite was setting a single pulsing color that matches the rest of my peripherals, my desk now soaked in neon suitably matching the pulsing music. In this V2 revision of the soundbar, Razer has added two extra passive radiator speakers to the rear, which does a decent job of rounding out the audio even without the subwoofer, which connects with a lengthy cable to reach about as far as you would need.
It almost feels overkill to have such immense sounds at your disposal since pushing the volume anywhere close to maximum means you reach insane levels that I can't imagine anyone would use for long. The Leviathan V2 supports Bluetooth 5.2 with a low 60ms latency and can connect to mobile devices to play music, so better to save that for bigger house parties rather than sitting at your desk for a quick drive in Forza Horizon 5. Overall, the sound quality is fantastic and makes for a welcome break from wearing headphones all the time. Adjusting the equalizer means the bass doesn't have to be so loud that nearby pets run for cover unless you're looking for a cinema-like experience when watching movies, as its THX logo suggests.
The Razer Synapse app has a useful little feature for quickly switching between audio sources via the left-most button of the soundbar. Selecting your headphones here means that holding the source button will change from the soundbar, so it's a neat little time-saver. With the equalizer set just the way you like, the Leviathan V2 is an attractive audio setup for the desktop PC, with games feeling like action movies. If you have the space and some time for cable management, it can be neatly tucked into your desk to provide some roaring sounds and flashy RGB lights.
It's an improvement over the previous Leviathan model in almost every way, with extra speakers and improved versions of the standard drivers. For the price, you're certainly getting a high-quality soundbar with beautifully crisp highs and thunderous lows, and it would be well suited to any PC gamer looking to improve their audio setup. For anyone else wanting a soundbar with more connection options, there are troubling downgrades from the Leviathan V1 that feel seriously disappointing and need addressing.
Razer Leviathan V2: What you won't like
As I mentioned above, the Leviathan V2 features its primary USB connection for PC and low-latency Bluetooth 5.2 for mobile devices. That's it. There's no 3.5mm jack or optical port for connecting a TV or any other audio source. The Leviathan V1 might not have featured HDMI-in, but it managed the 3.5mm and optical audio ports just fine, so I was baffled when I saw the Leviathan V2 had cut these options out. For connecting your computer, your options are USB or Bluetooth, and that's all. It's incredibly disappointing to have such capable speakers restricted to a desktop for games or your phone for parties.
The Razer FAQ page mentions that the Leviathan V2 Bluetooth is compatible with a Nintendo Switch, the only console listed. Anyone who has ever connected Bluetooth audio to a Nintendo Switch likely knows about the frustrating de-sync, and another 60ms of delay with the Leviathan V2 certainly doesn't help. Playing Switch Sports felt like the audio was coming through a dial-up modem, much later than the actions on-screen. Better stick to PC gaming on Windows with the Leviathan V2 because the compatibility for consoles is long gone.
Frustrations don't stop at lackluster connectivity options because there's more on the software side. Most simple tasks like controlling the RGB light colors, enabling the THX spatial audio mode, or adjusting the equalizer all need the use of an app, but not just one. If you install the Razer Audio app on your smartphone, you can power the Leviathan V2 off remotely, which is handy, but unless you set the soundbar to Bluetooth mode, you can't do much else. The equalizer is unavailable when using USB mode, controlled instead by the desktop Razer Synapse app. As for the RGB controls, you need to install an entirely separate mobile app, Chroma RGB.
So now you have two apps on your phone, and you can't use them to the fullest unless under specific circumstances. There's no reason everything couldn't be available on one Razer app, another typical frustration with modern mobile companion apps that I'm disappointed to see here. When you connect the Leviathan V2 to your PC, you'll need to install several more programs. Razer Synapse for the equalizer and audio profiles, Razer Chroma to control the RGB and create custom patterns, and finally, the THX audio app if you want to enable it inside Synapse. These could have been consolidated into a single app and saved many headaches.
Each app requires you to log in with a Razer ID, which means agreeing to a collection of terms and conditions to use a soundbar. It's an obtuse and irritating set of steps to change some lights from green to blue or turn the bass up a touch. An overhaul of the Razer app ecosystem could help remedy this, so I don't want to hold it against the Leviathan V2 forever. For now, though, it's a bit of a pain to use and is losing some points for removing connection options and relying on fractured software.
Razer Leviathan V2: Competition
I might have recommended the Razer Nommo Chroma speakers if we weren't comparing soundbars since they're cheaper despite less dynamic range but still have RGB lights. It might not be fair since other soundbars like the Creative Sound Blaster Katana V2 are a closer match, only with a much higher MSRP. Comparing the specs of the Leviathan V1 and V2 is more relevant to see whether this second-generation revision was worth it just for some RGB.
Swipe to scroll horizontally
Header Cell - Column 0

Leviathan V1
Leviathan V2
Frequency
180Hz-20,000Hz
45Hz-20,000Hz
Driver sizes
Full range: 2 x 2.5 inches
Tweeter: 2 x 0.74 inches
Subwoofer: 1 x 5.25 inches
Full range: 2 x 2.0 x 4.0 inches
Tweeter: 2 x 0.75 inches
Passive radiator: 2 x 1.7 x 5.3 inches
Subwoofer: 1 x 5.5 inches
Weight
Soundbar: 4.40 pounds
Subwoofer: 5.18 pounds
Soundbar: 3.08 pounds
Subwoofer: 6.61 pounds
Compatibility
3.5mm jack
Bluetooth
Optical
PC USB
Bluetooth
There's more low-end on the Leviathan V2 thanks to an improved subwoofer and additional passive radiator drivers on the soundbar, but the high-end tweeters hit the same 20KHz limit. It depends on how much bass you want to pump out and whether the extra money is worth it since you can often find the Leviathan V1 for sale for under $200. I feel the lacking connectivity of the V2 isn't worth the trade-off for rainbow lights unless you're determined to keep it connected to your PC.
Razer Leviathan V2: Should you buy it?
You should buy this if ...
You're looking for high-quality PC speakers
You have the desk space for a soundbar and subwoofer
You shouldn't buy this if ...
You want to connect consoles or televisions
You're not prepared to use multiple apps to customize it
Anyone looking for a high-quality soundbar and subwoofer setup for their desktop PC will find the Leviathan V2 produces an incredible sound, customizable with a software-based audio equalizer and RGB suite. Compared to its V1 predecessor, connectivity options are seriously lacking since consoles are out of the question, and too many apps are needed to access every feature.
The Razer Leviathan V2 is a beautiful soundbar, compact enough to fit snug behind a keyboard, and produces incredible audio with its wired subwoofer. The issues lie in its lacking features compared to the former V1 model, with no connectivity options for 3.5mm or optical audio this time around. Paired with a frustrating app experience fractured across multiple programs, all requiring a Razer account as a log in, the V2 revision feels pretty shallow.
If you can find the Leviathan V2 going cheap, it'll blow your socks off with cinema-grade THX sound. It can compete with some of the best computer speakers, but if you're planning to connect anything else, better stick with the Leviathan V1. It's a shame because the V2 speakers sound superb, but it has to lose points on its nerfed feature set and messy Razer app ecosystem.
Ben is the channel editor for all things tech-related at Windows Central. That includes PCs, the components inside, and any accessory you can connect to a Windows desktop or Xbox console. Not restricted to one platform, he also has a keen interest in Valve's Steam Deck handheld and the Linux-based operating system inside. Fueling this career with coffee since 2021, you can usually find him behind one screen or another. Find him on Mastodon @trzomb@mastodon.online to ask questions or share opinions.
Windows Central Newsletter
Get the best of Windows Central in your inbox, every day!
Thank you for signing up to Windows Central. You will receive a verification email shortly.
There was a problem. Please refresh the page and try again.