Best GPU for Intel Core i5-10600K in 2022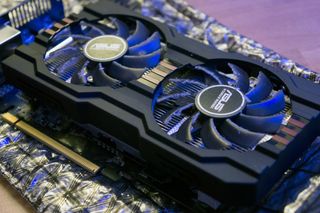 (Image credit: Windows Central)
Intel's Core i5-10600K is part of the company's 10th Gen family of processors. Succeeding the excellent Core i5-9600K, this newest iteration is one of the best processors for mid-tier PC builds and gaming rigs. With six cores, there's plenty of performance here when matched with a capable GPU. Lucky for you, we rounded up the best graphics card picks to use with the Core i5-10600K.
(opens in new tab)
XFX AMD Radeon RX 5700 XT RAW II
Best AMD for 4K

Sure, the Intel Core i5-10600K isn't the most capable processor out there, but it's more than able to keep up with the beefy RX 5700 XT, which will unlock 1440p and even some 4K gaming. You've got 8GB GDDR6 RAM to boot and the drivers from AMD are pretty good. It's not quite as good as the NVIDIA RTX 2080 and RTX 2080 Ti, but it's also considerably more affordable.
EVGA GeForce RTX 2080 Ti XC Ultra Gaming (opens in new tab)

Best NVIDIA for 4K

The NVIDIA RTX 2080 Ti is a GPU you likely don't need, but it's a GPU you absolutely want. It's a monster in games, regardless of the resolution up to 4K. If you want the best a decent chunk of change can buy right now, this is it. You could find the i5-10600K struggling a little with more demanding tasks like video editing.
(opens in new tab)
XFX AMD Radeon RX 5600 XT RAW II PRO
Best AMD for 1440p

The RX 5600 XT is perfect for 1440p gaming. The 6GB of GDDR6 RAM and hefty processor are more than enough performance to handle advanced high-resolution textures and other visual effects. Paired up with an Intel Core i5-10600K processor, you've got one awesome gaming PC.
ASUS NVIDIA GeForce RTX 2060 SUPER (opens in new tab)

Best NVIDIA for 1440p

The NVIDIA RTX 2060 SUPER is our favorite mid-range GPU and is recommended throughout our PC building guides. It's about as good as the GTX 1070 Ti from the previous generation of cards and comes with ray tracing support with an affordable price tag. There's also 8GB of GDDR6 RAM to sweeten the deal.
(opens in new tab)
XFX THICC II Pro AMD Radeon RX 5500 XT
Best AMD for 1080p

When looking at budget-friendly cards, you'll be considering GPUs that can run games at 1080p comfortably. If so, the RX 5500 XT is a solid choice with PCIe 4.0 support and a massive amount of RAM at 8GB GDDR6. You could even push into 1440p territory if you upgrade your monitor at a later date.
MSI GAMING X NVIDIA GeForce GTX 1660 SUPER (opens in new tab)

Best NVIDIA for 1080p

There are GPUs that cost less than the GTX 1660 SUPER, but they won't run games very well. This GPU was made for 1080p gaming and offers incredible value when you want to let your hair down in the evening for a session or two. 6GB GDDR6 RAM is present, allowing for reliable 1080p performance, as well as 1440p if you turn down some settings.
Choosing the right GPU
Whether you need the best option around or a budget-friendly GPU largely comes down to how much money you have to spare and what resolution your monitor supports. Also, if you have an AMD FreeSync display, you'll want an AMD card. Likewise for NVIDIA G-Sync and NVIDIA card, though some NVIDIA GPUs will actually sync up with select FreeSync displays. Yeah, it's a little confusing.
Here's our conclusion: if you want to go all out with 4K or have a 1440p monitor right now but plan to upgrade in the future, the two best GPUs you can buy are the XFX AMD Radeon RX 5700 XT RAW II (opens in new tab) and EVGA GeForce RTX 2080 Ti XC Ultra Gaming (opens in new tab). These two GPUs will let you game at 4K, though the 2080 Ti is vastly more expensive and powerful.
It's possible to save money without sacrificing performance too much with our mid-tier suggestions. You'll struggle to find faults with the XFX AMD Radeon RX 5600 XT RAW II PRO (opens in new tab) or ASUS NVIDIA GeForce RTX 2060 SUPER (opens in new tab). These GPUs are perfect for 1440p gaming, won't break your bank, nor will they bottleneck the Intel Core i5-10600K CPU. A match made in heaven, if you will. Not seeing a GPU here that catches your eye? Have a look at our overall best graphics card roundup.
Rich Edmonds is Senior Editor of PC hardware at Windows Central, covering everything related to PC components and NAS. He's been involved in technology for more than a decade and knows a thing or two about the magic inside a PC chassis. You can follow him over on Twitter at @RichEdmonds.
Windows Central Newsletter
Get the best of Windows Central in in your inbox, every day!
Thank you for signing up to Windows Central. You will receive a verification email shortly.
There was a problem. Please refresh the page and try again.