Best Movie Apps for Windows 10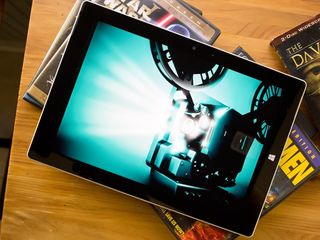 If you are a movie aficionado or simply looking to cut ties to your local cable provider, the Windows Store has a nice selection of apps that can help you catch your favorite motion picture or television series. These apps are great options for entertaining friends, keeping the kids occupies or simply curling up on the sofa to become a couch potato.
While many rely on the native Movies and TV app, these Windows 10 apps offer an alternative for those looking for something different. These Windows 10 apps are perfect for a tablet or PC viewing and those with Windows 10 Mobile versions can be great for catching a movie when you are on the go and away from the couch. To complete the Windows 10 circle, a few are available for Xbox One for those times you need a break from gaming. Just keep in mind that most require a paid subscription or operate on a pay per view model. Here are our best movie apps for Windows 10.
Update 4 February 2017 We have made a few changes to this article based on new releases, reader's input, and staff debate. There may be some new titles in the mix, as well as those that we continue to view as the best from the Windows Store.
Netflix
Netflix (opens in new tab) is a subscription service for watching television episodes, movies, and original programming. The free app is available for Windows 10 PC and Mobile, as well as Xbox One. The service fees start out at $7.99 per month that allows you to access Netflix from one device and tops out $11.99 per month that allows you access to Netflix from up to four devices simultaneously and Ultra HD playback. There is a middle ground with a $9.99 per month plan that gives you access to HD playback and the ability to access Netflix from two devices at the same time.
The app itself is laid out simply with access to the entire Netflix library that includes movie and television genres such as action, sci-fi, romance, family and more. The library of titles includes the likes of Unforgiven, Zootopia, Captain America Civil War, Gotham, Star Wars Clone Wars, along with original programming such as Luke Cage, but the offering differs per region.
Streaming quality is top notch and only limited by the display you are viewing from. Speaking of which, viewing can be paused on one device and resumed on another. This is a handy feature as you transition from the small screen of a Windows Phone to the larger screen of a laptop or Xbox.
The Netflix Windows 10 app has support for watch lists to keep your favorites readily available, with comprehensive descriptions for all titles that include recommended alternatives. Overall, the Netflix app is a solid option to access the subscription services.
Download Netflix from the Windows Store (opens in new tab)
Hulu
Hulu offers you unlimited, instant streaming of popular movies, television series, and original programming. Available for Windows 10 PC and Mobile and Xbox One, the Hulu app is free to download but does require a subscription to access the content.
Subscriptions begin at $7.99 a month, and there currently is a free week trial available to let you try things out before committing to the monthly fees. Much like Netflix, Hulu offers a broad range of content for your viewing pleasure, but probably more focused on made for television movies and series than major motion pictures.
Content ranges from popular television shows such as Modern Family, Law and Order and Empire. There is also original series available for streaming such as The Path, Casual and The Mindy Project. Along with the adult oriented content, Hulu does provide a large collection of popular kids shows such as SpongeBob SquarePants, Pokemon and Inspector Gadget.
Hulu includes Live Tile support to allow you to pin your favorite shows to your Start Screen for instant access and you can search for content using Cortana. This free movie app is a great option for delivering entertaining movies and television episodes to the comfort of your Windows 10 PC or Mobile device, as well as your Xbox One console.
Download Hulu from the Windows Store (Windows 10 Mobile) (opens in new tab)[.cta.large}
Download Hulu from the Windows Store (Windows 10 PC) (opens in new tab)
MovieMatic
MovieMatic is a free app for Windows 10 PC that delivers your favorite movies and television series to the comfort of your PC or tablet. The movie selection ranges from classic titles to those just ending their theatrical release.
Genres include the usual suspects such as comedy, action, horror, family, documentary and more. The layout of MovieMatic is rather simple with a toggle menu at the very top to switch between movie and television listings. You can search for titles by genre, keyword, or by browsing manually. Selections are respectable and include the likes of X-Men: Apocalypse, Star Wars: The Force Awakens, Jason Bourne, The Big Bang Theory and Arrow.
Playback was smooth and launches a few seconds after you pull up the movie or episode description, requiring you to close out the description manually to enjoy the full-screen view.
MovieMatic is a free, ad-supported app that is available for Windows 10 PC. It is an attractive Windows 10 app that offers you the best of both the large screen and small screen movies.
Download MovieMatic from the Windows Store (Windows 10 PC) (opens in new tab)
Crackle
Crackle is a Windows 10 app that delivers free, full-length movies and television series to your Windows 10 PC or Mobile device. The catalog of movie and television titles features older titles such as Seinfeld, Firefly, News Radio, Dead Rising, Heavy Metal, Godzilla (the originals) and more.
Individual listings include clips and trailers to let you get a feel for the movie and playback was smooth. Titles can be search by keyword or filtered by genre, most popular, featured and recently added.
While Crackle offers a nice library of movie and television titles in an easy to use layout, the collection does feel a little dated when compared to other movie apps. This isn't necessarily a bad thing, but don't look for recent releases on Crackle to be recent movies just out of their theatrical run.
VUDU
VUDU (opens in new tab) is a paid subscription service for movies and television episodes that can be enjoyed from your Windows 10 PC. Both app and VUDU membership are free, but most of the titles are pay per view. Think of VUDU as a RedBox or Blockbuster for Windows 10.
VUDU does have support to connect to your Disney Movies Anywhere or InstaWatch (opens in new tab) accounts and stream the videos through the VUDU app. Payment for movie or television titles can be paid via your credit card, Paypal account or Wal-Mart Gift Card.
The VUDU library contains an entertaining collection of movies that includes The Legend of Tarzan, Ghostbusters (2016), Warcraft, Agents of SHIELD, Flash, Once Upon a Time and more. Titles can be rented or owned, but the television series appear to only have the purchase option. Pricing ranges from $0.99 and higher, with standard definition and high definition options available. I did notice bundled sales available to save you a little and there are a number of free first episodes available for some television series.
If a pay per month model isn't for you and you prefer to buy or rent your movies, VUDU might be a service worth checking out. The app is laid out in clean fashion with easy to use (and understand) controls and the collection of movies/television episodes is vast. VUDU is a free app and available for Windows 10 PC, as well as Xbox One.
Download VUDU from the Windows Store (opens in new tab)
If you have given any of these Windows 10 movie apps a try, let us know what you think of things in the comments. Even though there isn't an Amazon Prime app, there are other options for enjoying movies from the comfort of your Windows 10 PC or Mobile device. If you have a favorite movie app that wasn't mentioned, feel free to toss out your recommendation in the comments as well.
George is the Reviews Editor at Windows Central, concentrating on Windows 10 PC and Mobile apps. He's been a supporter of the platform since the days of Windows CE and uses his current Windows 10 Mobile phone daily to keep up with life and enjoy a game during down time.
Loooove movie matic ++ it supports casting.

Yeah, but is it just with me....but that app's library never changes?

Well, since it has some really quite recent titles on it, it has to be updating pretty frequently. Perhaps you should try reinstalling the app? Also, the article is wrong. The WM10 version of the app is completely free (ads not withstanding) and there is no store charge for it. Not sure why this article suggests otherwise, perhaps they confused it with another app?

An article about live tv streaming apps would be nice. I can only think of 1.

For MovieMatic, some of the TV show's episode, the audio is out of sync. Btw, in my network monitor, I can see the ip address showing data are from server in Romania. Some of Netflix movie also found in there 😅.

Interesting choice of topic for an article. Keep up the good work promoting apps for the Windows ecosystem.

Promoting apps that encourage illegal streaming of copyright material again. Posted via the Windows Central App for Android

MovieMatic. Read the linked article about it and you'll find lots of comments questioning the app's legality.

Which one of these supports illegal activity? None...

If the studios were mad, wouldn't MS pull the app fairly quickly? Though, I too am curious how it is possible.

Kodi with Exodus add-on all the way.

Does it shows TV watching or only movies?

EDIT: It posted my reply on the wrong line...

Check out the gearsof war build for kodi. It has Exodus and a bunch more

I'm using the desktop version now and have Phoenix,Genesis,OnliFilmer addons can someone suggest a good addon for Tv Series and movies?

Crackle not available in Windows 10 mobile store. Is it region locked?

It must be becasue I have it on my Lumia 640 XL

Ohh, thanks for the info.

It's available in the Canadian mobile store.

Sadly, it's not available in Indian store :(

uhhhh....which one would be illegal???

MovieMatic looks to be the illegal app. Crackle is a distibution service owned by Sony, Vudu is a distibution service owned by Walmart, and Netflix is Netflix

Moviematic is awful. Bought it some time ago and it hasn't had a library update once. Seems dead in the water.

The best way to watch movies on Windows 10 (not mobile) is with Media Player Classic Home Cinema or any other real player that can use madvr as renderer. Not with some store app that screw up quality themselves + download crap quality illegal streams and can't even support proper 24p on connected TVs.

What settings would you recommend for the Surface Book?

I just want a video app that organizes our video library in a professional manner like Plex without having to have a server. The Movies & TV app should do that, but instead is just barebones and is even bad at being that.

Have you looked into Kodi?

Actually I was looking for something for the phone. Sorry for not clarifying that.

You have a video library in your phone???

I recently published an app called Mister Movie, which essential does what you're looking for. Currently in public beta.

Appreciate it! Downloading now!

After downloading it, the directions say the app will not play videos on Windows Mobile. Is this true?

Hi Missionsparta, yes, unfortunately (for now), that's true. I do not know of a way for WM to access external drives or NAS. I've spent a lot of time researching this, and AFAIK it cannot be done. The only way is if the video file resides on the phone or SD card.

Umm, research? So you didn't try any DLNA supporting app from the store? Personally I use Smart Player to play my NAS content on WM10 but other apps do exist. Plex for example if your NAS supports it will organise your content excellently. Even if it doesn't, DLNA apps are not exactly tough to find. How on earth did you do a lot of research and miss, well, everything?

Is Microsoft Killing Off DLNA Support With Windows 10

Sorry. I'm confusing you. My files are on my SD card. If I go to unknown movies and find them on IMDb through the settings, then back out to the app, it still says I have no movies.

I'm checking it out. Like the OneDrive sync in description.

Yeah...but again that requires meter connection if your away. Just want a nice looking and professional app that organizes and plays my TV shows and movies while looking organizes and nice.

Check out MediaBox UWP. A beautiful looking app that organizes your movie collection.

Yeah, I've had it forever but it struggles on Windows Phone with items stored on SD. It takes many tries to get it to see them, then after they are removed, the app often doesnt update to reflect that.

which is best video player for windows

Or one could say VLC (top of the line supported dev team for windows).

I used moli player in windows phone 8 and was the best video player for windows phone. I havent used it on windows 10 mobile. But I think it is worth a try, you can use gestures in it and can play almost every format you throw at it in any resolution.

I have gotten a huge collection on VuDu from all the UV codes I get with the movies I buy. It makes it nice cause VuDu is on alot of devices and you can watch your movies from anywhere that has internet.

Crackle is horrible and VUDU is the best

Every time I start a video in Crackle, the app crash. Anyone else with this issue? I'm using a 640 on 10.0.14942

The Crackle app on my android TV is a crashy piece of garbage too. Crackle is a Sony app and my tv is Sony and they still can't make it work well.

missed the movie hub app. thats one i have for free movies lol. i forget to use it though.

Netflix is blocked by my ISP

I didn't know Vudu had an official app. Good News!!! As a old timer who still rips blu-ray movies uncompressed, Vudu is the only service worth investing in from my perspective. Most of my Vudu content came included with my physical discs, or discounted by T-Mobile's Tuesday giveaways.

Yeah, came out in September and has been upgraded since. Doesn't work on mobile, but is in Windows 10 and on Xbox One now as UWP. Supports downloads on the W10 version too and works great in tablet mode on a 2-in-1.

Do you have yo have to pay to watch the movie/tv shows?

Amazon Prime movies for mobile still just a dream, I guess.

Can anyone tell me which one of those support Greek subtitles

I prefer hotstar.. But compared to android version wp , a bit slow..

Really wish HBO would make HBO now into a UWA instead of just an Xbox App

I agree. When I watch through a browser, there's a noticeable stutter every 6 or 7 seconds and it drives me bonkers.

I don't pay to watch movie, mostly because I am not a fan of movie:)

Do y'all think any of these apps will be shutdown soon?

It is worth noting that VUDU supports the use of your MSA / Xbox Live Account for purchases on Xbox One. The same support does not seem to be built into the Windows 10 app. It also supports UHD streaming on the Xbox One S. Movies and TV does as well but they haven't released major titles with UHD yet.

Vudu also enables you to store digital versions of DVD's that you own for a reasonable charge which can be viewed on any device through the app or the web site (or a smart TV).

Will Netflix ever let you download movies onto your devices like they do with iOS and Android:-(

My seedbox and Plex is my go-to. Hulu and Netflix are a close 2nd and 3rd.

I love that Hulu works in continuum. Also, it does suck that there is no Amazon Prime app, but I have the comfort of knowing that it works perfectly in continuum mode on the Edge browser.

+1 for Vudu. I've been a happy customer for years. Their HDX quality is about as close as you can get to Blu Ray on a streaming service.

It kills me that there's no HBO app. Somehow they had an app for Windows Phone in Romania years ago but never did anything here in the US. And Amazon's unwillingness to support Windows has kept me from investing in their content on other platforms. (Same reason I won't use a Snapchat).

DirecTV Everywhere.... Excepted Windows. Thx blu death star. POS.

Ok Neflix and Vudu (although limited right now to about 80 movies and television shows) Delivered UHD Dolbyvision DolbyAtmos content right now, which is great for the Xbox One S. VUDU has the ability to Crush it one day but for now is just a middle weight contender.VUDU also need to have a few UHD sales and of Couse the app is better on IOS (God forgive me for saying this ) But it is so cool to stream 4 K stuff from an iPod. ( I feel so dirty gotta take a shower )

I'm probably just stupid but don't like all of these and many more work in a web browser. I've never even looked for Amazon/Shudder or Mubi since they work in browser.

When will Netflix support downloading on Windows?
Windows Central Newsletter
Get the best of Windows Central in in your inbox, every day!
Thank you for signing up to Windows Central. You will receive a verification email shortly.
There was a problem. Please refresh the page and try again.