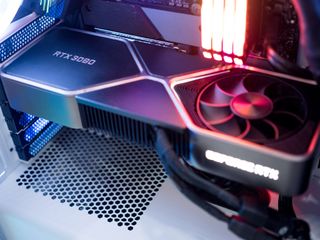 (Image credit: Harish Jonnalagadda / Windows Central)
NVIDIA has plenty of options that make the cut in our list of the best graphics card options, but which one should you go for? Whether you have a 1080p, 1440p, or 4K monitor, the available budget also plays a significant part in your decision-making. Here are the best NVIDIA GPUs you should consider.
Best overall: NVIDIA GeForce RTX 3080
Why you can trust Windows Central Our expert reviewers spend hours testing and comparing products and services so you can choose the best for you. Find out more about how we test.
NVIDIA GeForce RTX 3080
Insane RTX performance
Reasons to buy
+
8,704 CUDA cores
+
AI-enhancements from DLSS 2.0
+
Impressive performance
+
4K capable
+
Outperforms the RTX 2080 Ti
Reasons to avoid
-
Overkill for most gamers
-
Pricey
It's difficult to choose one GPU as the best for everyone, but if we had to for the NVIDIA camp we'd choose the NVIDIA GeForce RTX 3080. There are plenty of good choices from team green, as well as AMD, but if you can afford the relatively high price tag, the GeForce RTX 3080 offers impressive performance.
Ray tracing remains a highlight feature, but NVIDIA worked hard to implement some serious improvements to the capabilities of the RTX 30 series compared to the outgoing 20 series. The RTX 3080 is even better than the NVIDIA GeForce RTX 2080 Ti, making this one serious graphics card.
DLSS also comes standard with the RTX 3080, allowing AI to reduce screen resolution on the fly to improve frame rate, without you noticing a dip in quality. It employs dedicated Tensor cores to run AI rendering in real-time, allowing the use of ray tracing without suffering the usual performance penalties.
Ready for 4K gaming? The RTX 3080 is as well, thanks to its beefy internals. NVIDIA recommends a PSU with a power output of at least 750W for this GPU. Graphics cards are ridiculously difficult to find right now, but we're continuing to compile lists as to where to buy the NVIDIA RTX 3080.
Best for 1080p: NVIDIA GeForce RTX 3060
NVIDIA GeForce RTX 3060
Perfect companion for FHD
Reasons to buy
+
3,584 CUDA cores
+
AI-enhancements from DLSS 2.0
+
Excellent 1080p gaming
+
Great value
+
Outperforms the RTX 2070
If Full HD (1080p) is where you want to aim in terms of quality, the NVIDIA GeForce RTX 3060 is all you need. It's affordable, being the budget GPU from the RTX 30 series, but comes with enough performance to outmatch an RTX 2070 from the generation prior. You'll be able to crank up the quality settings and enjoy a butter-smooth experience.
Compared to our top RTX 3080 pick with its impressive 8,704 CUDA cores, the RTX 3060 comes with only 3,584. This is still more than enough for FHD, especially when trying out some ray tracing with AI-driven DLSS enabled for high-end gaming. Interestingly, while the more capable RTX 3060 Ti comes with additional CUDA cores, the non-Ti 3060 has 12GB of 192-bit GDDR6 RAM.
Best value: NVIDIA GeForce RTX 3060 Ti
NVIDIA GeForce RTX 3060 Ti
Great for saving money
Reasons to buy
+
Affordable Ampere card
+
Beats the RTX 2080 Super
+
Capable of 1440p and some 4K
+
DLSS and ray tracing
Reasons to avoid
-
Almost impossible to find
-
Not as future-proof as more expensive options
When seeking out the best deal for NVIDIA 30-series GPUs, you'll want to pay close attention to the NVIDIA GeForce RTX 3060 Ti, a GPU priced at about $400 under normal circumstances. Despite this price, it bests the RTX 2080 Super in terms of raw performance for 1080p and 1440p gaming. That's mighty impressive, and it's likely going to be extremely popular for anyone who's not too interested in 4K gaming.
Our comparison of the NVIDIA RTX 3060 Ti vs. AMD RX 6700 XT has more information on how it goes up against AMD's counterpart GPU. Despite it coming later than the other RTX 30-series cards, you're still getting capable ray tracing and DLSS technology. The 200W TDP should be perfect for those who don't want to upgrade the PSU inside an older PC.
This card isn't going to be as future-proof as the heavy hitters on this list, but if you can find one and want to keep your wallet from catching fire, it should make a great choice. It's also our top pick for best mining GPU thanks to a strong hashrate and bargain price.
Best for 1440p: NVIDIA GeForce RTX 3070
NVIDIA GeForce RTX 3070
Godly mid-tier performer
Reasons to buy
+
RTX 2080 Ti performance for far less
+
Easily handles 1440p
+
Will run 4K
+
Ray tracing and DLSS
+
Great for those on a budget
Reasons to avoid
-
Just 8GB of VRAM
-
Less raw performance than AMD's RX 6800
Quad HD (QHD) is the sweet spot with a resolution of 2560x1440, which is where the NVIDIA GeForce RTX 3070 comes into play. It's possible to get away with the RTX 3060 Ti for 1440p, but if you want to build a gaming PC for the future without having to upgrade the GPU sooner rather than later, it's better to pay a little more and pick up the beefier graphics card.
While not quite as capable as AMD's RX 6800, this GPU has a lot going for it. It can match the impressive RTX 2080 Ti from last-gen, rocking 5,888 CUDA cores, and 8GB of GDDR6 RAM. Ray tracing support and DLSS are both inside the RTX 3070, making it possible to crank everything up to 11 and enjoy PC gaming at its best.
Best for 4K: NVIDIA GeForce RTX 3090
NVIDIA GeForce RTX 3090
UHD gaming
Reasons to buy
+
Absolutely enormous specs
+
Can game at 8K in certain circumstances
+
Crushes 4K gaming
+
Excellent for professional design and dev work
Reasons to avoid
-
Very expensive
-
Not a whole lot better than the RTX 3080 for gaming performance
-
Physically enormous
NVIDIA went all out with the GeForce RTX 3090, making it the most powerful GPU from this new generation. Sporting a whopping 24GB of GDDR6X VRAM and 10,496 CUDA cores, the numbers certainly scream incredible gaming performance. But if you're planning around 4K gaming, you'll likely see only about a 10% increase in performance over the RTX 3080.
Our comparison of the NVIDIA RTX 3080 vs. RTX 3090 has more information on that front. And don't even think about buying this GPU for 1440p or 1080p; it's just not worth the money. Considering it's more than double the price of most RTX 3080 cards, this is going to be a piece of hardware reserved for professionals and those with big budgets. Yes, this is the card to kill the expensive RTX Titan, and developers and designers will be very interested.
NVIDIA posts quite the power requirement for the RTX 3090, so you'll need to ensure your PSU is more than up to the job of supplying this monster with some power. We've put together a collection with options for the best PSU for RTX 3090 to help you get started. And for further information, check out our guide on how to prepare your PC for NVIDIA RT 30-series system requirements.
Bottom line
When looking at the absolute best GPU from NVIDIA, you'll want to go for the RTX 3080. This is the value king of NVIDIA GPUs with more than enough firepower for 1440p gaming. Ray tracing and DLSS technologies are impressive, so too is the incredible amount of memory and dedicated cores for a fluid gaming experience.
You don't have to spend so much on PC gaming, however. If you're just starting out with your first gaming PC or need a card for only 1080p and some 1440p gaming, the NVIDIA GeForce RTX 3060 Ti would be an excellent fit at a vastly more affordable price. It's amazing how far GPUs have come.
Windows Central Newsletter
Get the best of Windows Central in in your inbox, every day!
Rich Edmonds was formerly a Senior Editor of PC hardware at Windows Central, covering everything related to PC components and NAS. He's been involved in technology for more than a decade and knows a thing or two about the magic inside a PC chassis. You can follow him on Twitter at @RichEdmonds.
Windows Central Newsletter
Thank you for signing up to Windows Central. You will receive a verification email shortly.
There was a problem. Please refresh the page and try again.