Best Portable 3D Printers of 2022
3D printing is a passion here at Windows Central. We use as many different printers and filaments as possible to give the most up to date and informative reviews that we can. From the cheapest to the expensive, no 3D printer escapes our scrutiny.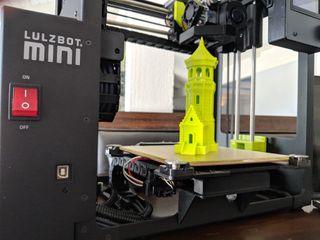 The LulzBot Mini 2 is the clear choice for a 3D printer you want to travel with. The automatic leveling and unique belt-driven systems make sure your prints are perfect every time, no matter where you travel.
LulzBot Mini v2
The LulzBot Mini 2 offers consistent prints every time
Who should buy this 3D printer?
Why you can trust Windows Central Our expert reviewers spend hours testing and comparing products and services so you can choose the best for you. Find out more about how we test.
Buy this if you are looking for a printer you can safely travel with while getting the very best results possible. This is not the cheapest printer out there, but it will give you the prints you want, where you want them, every time. If you're the type of person who needs to prototype out on the road or needs to showcase 3D printing, this would be an excellent choice.
Solid as a 100% infill rock
Without question, the LulzBot Mini 2 is a fantastic machine. The construction is a solid aluminium frame with extremely well printed 3D parts tying everything together. Everything about it screams quality — the PEI build plate is a solid 3mm piece and each of the bed leveling discs look like they are expertly milled — and you can expect your Mini 2 to last for a very long time.
Because of the unique belt-driven Z-axis, the Mini 2 has fewer rods and screws to damage. Moving something like a Prusa or one of its clones around adds the potential for the lead screw — the threaded rod that moves the extruder up the Z-axis —to bend or dislodge. The belt system removes that problem and gives you a much easier part to fix — after all, drive parts are extremely cheap.
Automagic leveling
One of the most important aspects of 3D printing, the thing that really decides whether a print will succeed or fail, is how level your build plate is. As someone who has several 3D printers that require manual bed leveling, I can tell you, getting that first layer right is key.
With the Lulzbot Mini 2, that hassle is erased. Every time you start a print the Mini 2 will use the leveling discs on the corner of the print bed to make sure your first layer is put down as smoothly as possible. As an added bonus you can go into movement settings and trigger an X-axis level procedure too.
This fixes any issues with the leveling of the X-axis that may occur during travel, so if you're traveling with the Mini 2, using the X-axis leveling will set your machine level to itself. The International Space Stations 3D printers rely on this to allow them to print at any angle, including upside down. As long as your X-axis is level with the print surface, your prints will come out well.
Transport is simple
LulzBot has thought about how easy it is to transport these 3D printers. Each printer comes with a firm grip under the top part of the frame and all the bits that stick out can be folded away securely. The U.S. military uses LulzBot machines out in the field and I'm sure it appreciates the ease at which they can be packed up and shipped out. That the military uses them on-the-go is a testament to the portability.
Alternatives to the LulzBot Mini 2
While the LulzBot Mini 2 is one of the very best printers around, it's also at the high-end of the budget for a lot of users. If you're looking for a cheaper alternative that will still be easy to use in a hotel or at a family member's house, then these two printers are excellent alternatives to the Mini 2.
Monoprice Select Mini Pro
An advanced feature for an incredibly cheap price.
Monoprice have made some of my favorite printers over the last few years and the Select Mini Pro may be one of the best it's ever made. It's not for everyone — you aren't going to be printing any large-scale cosplay items or things to sell to the public — but for anyone just starting out, the Mini Pro is an excellent choice.
Monoprice Mini Delta
The cheapest portable printer we've seen
The Mini Delta is not only good for taking other places but could, in theory at least, actually print pretty well while traveling. The leveling system is dynamic so the printer constantly adjusts the bed to keep your prints stable. Now I haven't actually tried it while driving but I think it could work. Maybe.
Bottom line
The LulzBot Mini 2 is our choice for portability but it isn't cheap. There are alternatives if all you want is to take a printer to show off to your friends or family, but for a 3D printer you need to work no matter where you are, the Mini 2 is one to have.
Get the Windows Central Newsletter
All the latest news, reviews, and guides for Windows and Xbox diehards.
James built his first PC when he was 13 and has never looked back. He can be found on Windows Central, usually in the corner where all the 3D printers are, or huddled around the Xbox playing the latest games.