Best Roblox games 2021
There are so many games to play in Roblox. Here's the best of the best.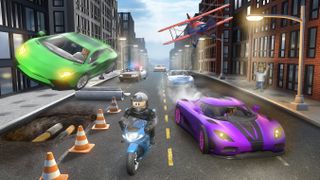 (Image credit: ROBLOX Corporation)
Roblox has been around for over 14 years, and in that time, many games have made their way onto the platform and not all are created equally. Trying to find the best games to play on Roblox can be overwhelming for new players, but not to worry, we're here to guide you to some of the best games Roblox has to offer. Every game within Roblox is free, all you have to do is join a server to play a game.
Endless possibilities
Tons of games

Roblox is a free-to-play game where creativity knows no bounds.
Adopt Me!
Adopt Me! is one of the most popular games on Roblox and probably the most played RPG available. At its heart, It's a Sims-style game about taking care of the home, with players take the role of either an adoptive parent or an adopted child. Chat with others, customize your home, and explore the world, however you'd like. It's geared towards younger audiences.
Adopt Me! enjoys weekly updates and even cross-over events with recognizable properties. It's also ripe with in-app purchases, so be mindful of that as you start to play.
Jailbreak
Jailbreak is as close to a kid-friendly Grand Theft Auto as you're going to get. Play as either a cop or a criminal. The criminals have to escape from jail and commit crimes to earn money to buy better gear, while the police explore the city and take out the crooks for bounty money that they can use on weapons. It's all the fun of GTA online but wrapped in a kid-friendly skin (or as kid-friendly as crime can be). It's one of the most popular games on Roblox and gets updated with new content frequently.
MeepCity
Like Adopt Me!, MeepCity, takes place in an open world where you can adopt a Meep creature and customize your own house, including choosing a map to place your home in. The difference is between MeepCity and Adopt Me! is that MeepCity is geared toward home building on your own. There are even mini-games within MeepCity, where you can get more currency to buy furniture and other items for your new home. With servers that support a whopping 200 players, MeepCity is sure to please Roblox players looking for social interactions.
Murder Mystery 2
Murder Mystery 2 is pretty self-explanatory. You and a group of others uncover a murder and must work together to solve it. When the game starts, every play is given the role of an innocent, the sheriff, or a murderer. As an innocent, you just need to survive until the murderer is caught. Or, you can step in and become a hero by stopping the murderer. As sheriff, it's your duty to figure out who the murderer is and kill them before they kill all other players. And yes, the murderer's job is to murder. With several maps to play on, Murder Mystery 2 is a great party game to play with friends.
Natural Disaster Survival
Natural Disaster Survival is just that — you are surviving a natural disaster. There's no reason why these natural disasters are happening, and quite frankly, you don't really need a reason — it's all natural, baby! Like any good disaster scenario, players enter a seemingly normal environment and must react quickly when nature's fury strikes in the form of meteor showers, volcano eruptions, and acid rain. this is another great choice for quick pick-up-and-play games. Adapting to the impending chaos is part of the fun!
Piggy
On the surface, Roblox games are most family-friendly, but if you're craving something with a little more edge, you might enjoy Piggy. Piggy is a survival horror game where players must avoid a killer and solve puzzles to escape. If you're the killer, you must stalk the other players and capture them. There are two chapters available, each with their own storylines, as well as a custom game option where you and your friends can experience the horror on your own terms.
World // Zero
World // Zero is one of the most impressive games you will come across on Roblox. Modeled after MMORPGs, you create a character, choose a class, and then venture into a hub world where you can farm for XP, shop, and complete challenges. Partner up with other players and explore different worlds and dungeons as you earn that sweet, sweet loot. This game's production value is a perfect showcase of what a dedicated group of gamers can create with Roblox's game creation platform.
Brookhaven
Like Adopt Me! and MeepCity, Brookhaven is a chill life simulation game that's all about luxury living. The Second Life-style RPG became incredibly popular over 2020 as folks looked for a peaceful escape to roleplay in a pandemic-free space. Hang out with friends in small intimate servers, or pay to set up private servers that support up to 100 players.
Arsenal
Roblox isn't all about simulating life, sometimes it's about fast-paced shooting. Arsenal is an FPS game reminiscent of old-school arena shooters like Quake and Unreal. Yes, you read that right. With a massive amount of weapons and cosmetics and constant updates, Arsenal is the perfect game to blow off some steam and blow off some heads.
Tower of Hell
Obstacle course games are notorious on Roblox because of how many there are and how crappy most of them are. This isn't the case for Tower of Hell. Think Fall Guys and you'll get what Tower of Hell is all about. With randomly generated levels and absolutely no checkpoints to make things easier, race up to 20 players to the top of the titular tower.
Anime Fighting Simulator
Who doesn't love a good anime fight? In Anime Fighting Simulator, you do just that — simulate anime fights. As a fighting game inspired by anime of all kinds, there are tons of weapons, items, and equipment to use and even different modes. Participate in your own Tournament arc, or even play through a single-player story mode.
Start playing now!
Why you can trust Windows Central Our expert reviewers spend hours testing and comparing products and services so you can choose the best for you. Find out more about how we test.
Roblox, like Minecraft, enjoys a huge player base of both young and older players alike, and the powerful game creation tools have created tons of excellent Roblox games. Roblox is one of the best games for younger gamers on the Xbox and PC, so no matter what platform you're playing on, you're sure to have a good time. Be sure to check out our list of promo codes for Roblox so you can grab some free swag before getting your hands dirty in these exciting games.
Is there any Roblox game we missed? Let us know in the comments.
Endless possibilities
A creative wonderland

Almost anything is possible in Roblox, the free-to-play creation tool that has inspired millions of young would-be game designers.
Get the Windows Central Newsletter
All the latest news, reviews, and guides for Windows and Xbox diehards.
Zackery Cuevas is a writer for Windows Central, Android Central, and iMore. I like playing video games, talking about video games, writing about video games, and most importantly, complaining about video games. If you're cool, you can follow me on Twitter @Zackzackzackery.