Best Surface Pro docks and docking stations 2022
Turn your Surface Pro into a connectivity centerpiece with one of these docks.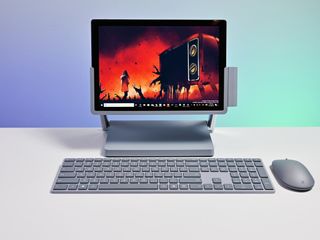 (Image credit: Windows Central)
The best Surface Pro docks and docking stations can turn your Windows 2-in-1 into the centerpiece of a potent workstation. The Surface Pro 8 and Pro 9 now feature Thunderbolt 4, opening it up to the best TB4 docks on the market, including the CalDigit TS4. If you're using an older Surface Pro, you can still get some great docks that add plenty of ports. We've rounded up the best of the best right here for all Surface Pro models.
CalDigit TS4
Best dock for Surface Pro 8 and Pro 9
Reasons to buy
+
Most ports available in a TB4 dock
+
Lock slot for added security
+
DisplayPort 1.4 included
+
UHS-II SD and microSD card readers
+
Up to 98W charging
Reasons to avoid
-
One fewer TB4 port to make room for DP 1.4
-
Spotty availability due to popularity
-
Expensive
The Surface Pro 8 finally added Thunderbolt 4 ports, opening the Surface line up to a bunch of new docks. The new ports carried over to the Surface Pro 9 as well. As it stands now, the best docking station for the newest Surface Pro models is the CalDigit TS4. It has a wide range of ports, it charges your Pro while you work, and it's built to last.
In my CalDigit TS4 review, I noted that the TS4's 18 total ports offer the best connectivity of any dock currently on the market. It comes packed with three Thunderbolt 4 ports (one for the host), three USB-C (10Gbps), five USB-A (10Gbps), DisplayPort 1.4, 2.5 GbE, 3.5mm combo in/out, 3.5mm out, 3.5mm in, and UHS-II SD and microSD card readers that can be used simultaneously.
The ribbed aluminum chassis dispels heat, is durable, and can be used horizontally or vertically with included non-slip rubber feet. The dock can power a single 8K display at a 60Hz refresh rate, or dual 4K displays each at 60Hz. When the dock is attached to your PC, it offers up to 98W of charging power to keep your battery topped up. This dock is expensive and can be hard to find due to its popularity, but it's the best Thunderbolt 4 dock on the market and will set you up nicely for the future.
Kensington SD5780T
Thunderbolt 4 for the office
Reasons to buy
+
Includes downstream HDMI 2.1
+
Sturdy aluminum shell
+
Mounting accessories available
+
11 total ports (with host)
+
Up to 96W charging
The Kensington SD5780T is another quality Thunderbolt 4 dock that I recently reviewed. Kensington essentially combined the SD5700T and Surface-certified SD5750T to come up with this new model, adding more charging power (up to 96W), an HDMI 2.1 port, and universal compatibility.
The dock offers two downstream Thunderbolt 4 ports, HDMI 2.1, Ethernet, four USB-A (10Gbps), 3.5mm audio, and a UHS-II SD card reader. As for charging, the dock can deliver up to 96W of power back to the host Pro 8 or Pro 9. Display support includes dual 4K at a 60Hz refresh rate.
The aluminum shell gives way to plastic faceplates, and the dock works in a horizontal orientation. The build quality isn't quite as high as our top pick due to the plastic, but it's still a quality dock. It comes with a three-year warranty, and you can buy separate mounting accessories to get it off your desk.
Kensington SD7000
Best dock for older Pro models
Reasons to buy
+
Excellent build quality
+
Articulating hinge for different modes
+
Plenty of ports
+
Perfectly matches Surface line
Reasons to avoid
-
Very expensive
-
No SD card slot
-
No front-facing ports
The Kensington SD7000 is undoubtedly the coolest dock on this list, but it only works with older Surface Pros (4, 5, 6, and 7). In his Kensington SD7000 review, Executive Editor Daniel Rubino says the dock is so good he wonders why Microsoft didn't think of it first. It's unique design essentially allows you to insert your Surface Pro and turn it into a mini Surface Studio.
While it's a docking station first — complete with USB-C, four USB-A, Ethernet, DisplayPort 1.2, HDMI 2.0, and a 3.5mm audio jack — the hinge design lets you pull the screen down and forward for easy inking or a different viewing angle. Add a Bluetooth keyboard and mouse, and you essentially have a desktop PC.
This dock is expensive and does have some blind spots (like no SD card reader or front-facing ports), but it's pretty much the ideal accessory for Surface enthusiasts who like a bit of experimentation.
Surface Dock 2
Surface-branded docking
Reasons to buy
+
Hook up with Surface Connect
+
Great for older Pro models without USB-C
+
Decent port selection
+
Up to 120W charging
+
Dual 4K@60Hz display support
Reasons to avoid
-
Outpaced by newer docks for USB-C and TB4
-
Expensive
The Surface Dock 2 doesn't hold up well to many of the overall best docking stations on the market, but it has one trick that Surface Pro owners might want to check out. It connects via the Surface Connect port on your PC, leaving the other ports open. If you have an older Pro without USB-C, this might be your saving grace.
The Surface Dock 2 has four total USB-C ports (two in the front and two in the back), two USB-A 3.2, Gigabit Ethernet, 3.5mm audio, and a lock slot for a bit of extra security. The dock's black finish looks good on a desk, and it's used horizontally. If you have a newer Pro this dock isn't really recommended, but it is a great pick for older hardware.
CalDigit Element Hub
Best compact dock
Reasons to buy
+
Adds four USB-A 3.2 (Gen 2)
+
Adds three Thunderbolt 4
+
Durable aluminum design
+
More affordable price
+
Compact size
Reasons to avoid
-
No Ethernet
-
No SD card readers
-
Comes with a large AC adapter
If you're looking for a hub that doesn't take up much space on your desk, the CalDigit Element Hub is a top pick. When I reviewed it I found it to be a more affordable way (at least compared to high-end TB4 docks) to expand Thunderbolt 4 and USB-A connectivity.
The Element Hub has three downstream Thunderbolt 4 ports as well as four USB-A 3.2 (Gen 2) ports with 10Gbps transfer speeds. If you're working with modern accessories, that might be all the ports you need. You still get dual 4K display support with up to a 60Hz refresh rate, and there's up to 60W charging power to the Pro 8. The dock is very small and might look good for traveling, but note that you will have to lug around the sizable AC adapter.
Bottom line
Why you can trust Windows Central Our expert reviewers spend hours testing and comparing products and services so you can choose the best for you. Find out more about how we test.
The best Surface Pro docks and docking stations have now moved on to Thunderbolt 4 connectivity. For the latest device, I recommend checking out the CalDigit TS4. It has the most ports, the most charging power, and the best design. The Kensington SD5780T is a great alternative if you can't get your hands on our top pick or if you want lock slots and bracket mounting options.
For older Surface Pro models, the Kensington SD7000 is an outstanding pick, while the Surface Dock 2 can take advantage of the PC's Surface Connect port. And if you'd like a hub that adds USB-A, Thunderbolt 4, and not much else, the CalDigit Element Hub is a more affordable alternative to the big docks in this roundup.