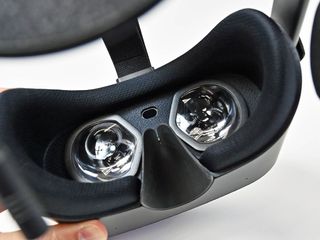 (Image credit: Windows Central)
The VR industry continues to grow, and the best VR headsets continue to improve. While your system choices were limited just a few years ago, there are now quite a few options available. A quick search for VR headsets brings up plenty of options, and it's easy to get lost wading through the different hardware and ecosystems. Whether you're looking for a PC-based experience, a standalone experience, or a budget system that still delivers stellar VR, we've put together a collection of the best VR headsets, as well as some guidance on choosing the system that will deliver you the most joy.
Best overall: Valve Index
Why you can trust Windows Central Our expert reviewers spend hours testing and comparing products and services so you can choose the best for you. Find out more about how we test.
Valve Index
Best option if you have the budget
Reasons to buy
+
Impressive display aimed to work for most people
+
Natural and realistic hand tracking
+
Comfortable fit with plenty of padding
+
Precision motion tracking with SteamVR 2.0 base stations
+
Tons of content through SteamVR
Reasons to avoid
-
VR cost is on top of PC cost
-
Not very portable
We're starting with the best of the best in terms of hardware and overall experience. If you have the budget and don't mind being tethered to a powerful PC (expensive in its own right), buy Valve's Index. You can check out our collection of the best desktop PCs for VR on that front. That's all there is to the short story, and any VR enthusiasts should get the most out of this head-mounted display (HMD) and motion controllers. Recommended PC specs include at least a dual-core processor (CPU) with hyperthreading, 8GB of RAM, and an NVIDIA GTX 970 or AMD RX 480. DisplayPort and USB-A 3.0 or later connectivity are also required.
Valve's Index, released in June 2019, is a premium system inside and out. It uses dual LCD displays — one for each eye — with a combined 2880x1600 resolution, able to reach a 144Hz refresh rate in experimental mode. The Index can more commonly hit 120Hz, which is still impressive. The higher the refresh rate, the smoother visuals inside the HMD will be, decreasing the chance of feeling ill or suffering from motion sickness. Keep in mind that pushing high frame rates requires powerful (and expensive) PC hardware.
The Index is built to accommodate the needs of as many people as possible. Eye relief and interpupillary distance (IPD) are both physically adjustable. The lenses have a flatter design, allowing them to sit closer to the eye, which allows for a wider field of view (FOV). If you've tried VR in the past and have felt like you're looking into a tunnel, the Index aims to eliminate the effect with a maximum FOV of about 130 degrees. Each pixel has three subpixels (which is 50% more than the original Vive that Valve developed alongside HTC), which cuts down on the grid known as the screen-door effect (SDE) that you can sometimes see over a VR image.
Wearing a monitor strapped to your face doesn't exactly sound comfortable, but the Index is equipped with multiple adjustable points so you can get as perfect a fit as possible. The face gasket is easily removable for quick cleaning, and the main headband is padded. Each band has an attached headphone that hangs down near the ear to deliver immersive audio, and the headset includes built-in microphones.
Index motion controllers, also known as "Knuckles" controllers, are the best available, rivaling what Oculus has done with the latest-gen Touch. A strap lets you attach each controller to your hand, allowing you to completely let go and not have it fall away. This works with grip input that tracks each finger, allowing for a realistic and natural input. How you move your hands in real life is almost completely translated into VR.
Tracking for the HMD and controllers is handled by two base stations using SteamVR 2.0 tracking. The Index isn't as portable as headsets with inside-out tracking, but you should find that precision is spot on. While the Index can be used sitting and standing, the base stations allow for a 360-degree room-scale experience that can reach up to 19 feet (6 meters) diagonally. With four base stations, that area can almost double in size. You get a full six degrees of freedom (6DoF) from the Index, meaning you can move naturally in space and have your actions translated into VR.
As for content, you'll have immediate access to hundreds of VR titles available on Steam. Oculus indeed has some intriguing exclusives, but there are third-party options to get them running on Index. As a bonus, you won't have to deal with Facebook (owner of Oculus) encroaching on your VR space. You can buy a full Index system, complete with HMD, controllers, and two base stations, for about $999. You can also break things up and buy each piece separately, which helps cut down costs for those who already have some compatible hardware, like original Vive base stations. An Index headset alone costs about $499.
Check out how the Valve Index compares to the HP Reverb G2, another one of our top picks.
Best standalone VR: Oculus Quest 2
Oculus Quest 2
Take it with you
Reasons to buy
+
Excellent performance from built-in CPU
+
Impressive display clarity
+
Affordable price
+
Very portable
+
Can connect to your PC
Reasons to avoid
-
Forced Facebook login
-
Disappointing battery life
-
No manual IPD adjustments
The Oculus Quest 2 is the successor to the original Quest, a mighty fine VR system in its own right. Compared to the first generation, the Quest 2 is more affordable, you can get more storage, and it has several hardware upgrades that boost performance and visual experience. While the Oculus Rift S is still available for those who want a strictly PC-based VR system, the Quest 2 has better specs and can, in fact, connect to your PC.
Oculus Link, basically a glorified 15-foot USB-C cable, allows you to tether the Quest 2 to a PC, turning it into a Rift. You get access to all PC Rift games and will even see the Rift home screen. Since the Quest 2 starts at about $300 and the Link cable is about $80 (or $20 for a third-party version), that's still cheaper than a Rift S and allows you to take VR on the go.
Portability and ease-of-use are really the selling points of the Quest 2. Thanks to having the Snapdragon XR2 CPU, 6GB of RAM, and 128GB or 256GB of storage space right inside the HMD, you can use the Quest 2 wirelessly in an unlimited play area. You're looking at an LCD display with a resolution of 1832x1920 per eye, plus an RGB sub-stripe that cuts down on the screen-door effect. It all runs off of a built-in battery, which will last about two or three hours before needing a charge.
The Quest 2 comes with updated Touch controllers that are comfortable to hold and offer precision tracking. Touch-capacitive sensors mean you can point and give thumbs up, and battery life is far better than the previous generation.
So the Quest 2 is a great option if you want a hybrid VR setup that can run independently, without any wires, or attached to a PC, but what about the downsides? Battery life might be a bit of a drag if you're used to looooong play sessions, and no manual IPD adjustments will cause issues for some people whose eyes are spaced outside of what Oculus considers "normal." Then there's the whole Facebook factor, which is explained quite well in Android Central's review of the Quest 2. Basically, you're going to need a Facebook account if you want to use your Quest 2. Whether or not that matters to you, there's also the matter of Facebook bricking headsets due to Facebook account mix-ups.
In the end, though, this is still a quality piece of hardware that's going to deliver a high-end VR experience at a very reasonable price. There are a ton of games available, it's comfortable to wear, and the lack of a tether is truly freeing.
Best Windows Mixed Reality: HP Reverb G2
HP Reverb G2
The best visual experience
Reasons to buy
+
Spectacular visual experience
+
Robust audio
+
Comfortable, tight fit
+
Full compatibility with SteamVR
+
20-foot tether cable
Reasons to avoid
-
Controllers could be way better
-
FOV could be wider
-
Motion tracking is spotty
HP's new Reverb G2, technically a Windows Mixed Reality (WMR) headset that is completely compatible with SteamVR, is now widely available. It's the successor to the original HP Reverb, and this time around, HP worked with Valve to improve certain areas, namely the lenses and audio. This collaboration has ultimately been an enormous boon for HP, and you can compare the Reverb G2 with the Valve Index in a lot of ways.
With speakers that sit about 10mm off the ears, the audio system is about the same as you'll find on the Index. You get loud, clear spatial audio that is absolutely blaring in your ears and quiet to anyone watching. The fit is comfortable thanks to more foam and a redesigned head strap, and the face gasket has a tighter seal that doesn't let in any outside light.
All this really makes the high-res displays pop. The Reverb G2's LCD displays have a combined resolution of 4320x2160, with an RGB stripe that eliminates the screen-door effect. Its dual-element Fresnel lenses, developed with Valve, also means almost no God rays or mura. You get a clean look at the high-res displays, and the result is the best picture available in VR.
The FOV doesn't match up to the mighty Index, but at least there is a manual slider for IPD adjustments. More people will be able to get a comfortable fit, and the 90Hz refresh rate delivers smooth visuals to help reduce nausea. Do note that you will need some beefy PC hardware to keep up with what the Reverb G2 offers.
The HMD is excellent, but even a redesign for the WMR controllers doesn't bring them up to par with other VR controllers. They're more comfortable to hold, but there's still no touch-capacitive sensor for any finger. And while tracking will do for most scenarios, the four cameras built into the headset do, at times, have trouble keeping up.
If you're looking for a VR headset that is as comfortable in the professional world as it is in the gaming world, this should make a great option. Just don't expect as immersive an experience as from the Index.
Best console VR: PlayStation VR
PlayStation VR
Affordable VR for team PlayStation
Reasons to buy
+
Low-cost way to enjoy VR with 6DoF
+
Lots of great content available
+
Comfortable to wear for extended periods
+
Others around you can watch your experience on TV
+
Hardly any SDE
Reasons to avoid
-
PlayStation Move controllers are often frustrating
-
Not a full room-scale experience
-
Tracking can be spotty in bright rooms
When it comes to VR powered by a console — in this case, the PlayStation 4 (PS4) — you only have one choice in PlayStation VR (PSVR). A full system includes the HMD, PS Camera, and two PlayStation Move controllers, though you can skip the Move controllers and simply use a DualShock 4 controller in many instances. There are also several accessories, like the PSVR Aim controller, that can boost your experience with certain games.
First released in 2016 and re-released in 2017 with some minor hardware updates, the PSVR is certainly starting to show its age. However, the relatively low price and the fact that many people already own a PS4 make it an attractive option. There's a large game library waiting to be played, and you can even connect the PSVR to a PC for some advanced tinkering.
The PSVR has a 5.7-inch OLED display with a 1920x1080 resolution. This seems low, but each pixel has three subpixels that make the image appear much clearer than you might imagine. It was one of the first VR HMDs that cut down drastically on SDE. Depending on the game you're playing, the display is capable of either a 90Hz or 120Hz refresh rate for a smooth experience. The maximum FOV is about 100 degrees. Unfortunately, there is no physical IPD adjustment, but you can tweak it with software. Eye relief is adjustable, making it easier for those with prescription frames to use them with the HMD.
The PS Camera tracks movement, so you mostly have to face it directly while in PSVR. The HMD, Move controllers, and DualShock 4 controllers have lights on them that are seen by the camera, so it's best used in a room with low natural light. If you want spot-on tracking, the PSVR will likely cause some frustration, and it's not cut out for a full room-scale experience. However, it does deliver 6DoF, and you can sit or stand while playing.
The Move controllers, very dated at this point, are also a letdown. While they will let you get your hands into VR games, they're quite basic in that they offer no finger presence or even a joystick for movement. They get the job done, but they just don't compare to more advanced options from Valve and Oculus.
PSVR is a system that's easily enjoyed with friends. It's comfortable and easy to put on and take off, and it's designed so that the VR experience can be watched on TV by others not wearing the HMD. It's great at parties, but there are also plenty of games and experiences that will leave the solo gamer satisfied.
Choosing PC, console, or standalone VR
One of the first questions you should ask yourself is whether or not you want to go with PC-based VR, standalone VR, or console VR.
If you already have a powerful gaming PC capable of delivering a smooth VR experience, a Valve Index or an HP Reverb G2 are no doubt quite attractive. We've used all kinds of VR systems, and those working with a PC seem to deliver the best overall experience in terms of performance, customization, and content to enjoy. If you don't have a PC, though, the extra cost is no doubt a huge shadow looming over the buying process.
That's where the Oculus Quest 2 comes in. It's a standalone VR system capable of delivering a room-scale experience with no need for a tether back to a PC, though it does have the ability. It comes with excellent third-gen Touch controllers, and there's a whole lot of available content. For those who don't want to remove the option of PC-based VR completely, Oculus Link software is available to essentially turn the Quest 2 into a Rift with nothing but an extra USB cable.
And if you have a PlayStation 4 sitting around, PSVR is no doubt quite attractive. It's relatively affordable, and there's a ton of content available. The ability to play on the TV what's being seen inside the HMD makes it a great tool for get-togethers, and while the tracking and freedom of movement don't compare to PC VR or the Quest 2, it's still a great way to enjoy VR without the elevated cost.
External or internal tracking?
This decision applies to PC-based VR, and it's a rather important one. The now-discontinued HTC Vive and Oculus Rift CV1 systems were among the first externally tracked VR experiences many people got their hands on, and precision tracking was a key selling feature. The same holds for the externally tracked Valve Index.
The Quest 2, which uses Oculus Insight built-in tracking, generally does a great job of keeping track of your position, and the same is true for WMR headsets that also rely on inside-out tracking. You'll no doubt experience motion controllers losing their place more often on these options, but ultimately they're still going to work as intended.
For most people, internal tracking does a good enough job. Yes, you'll likely see more hiccups than with an externally tracked system, but the convenience (and lower cost) of no extra hardware is a huge boon. Enthusiasts or anyone who wants the absolute best VR experience, though, will no doubt opt instead for external tracking.
Get the Windows Central Newsletter
All the latest news, reviews, and guides for Windows and Xbox diehards.
Senior Editor, Laptop Reviews
Cale Hunt is formerly a Senior Editor at Windows Central. He focuses mainly on laptop reviews, news, and accessory coverage. He's been reviewing laptops and accessories full-time since 2016, with hundreds of reviews published for Windows Central. He is an avid PC gamer and multi-platform user, and spends most of his time either tinkering with or writing about tech.