The five best Windows Phone games of May 2014 are really quite good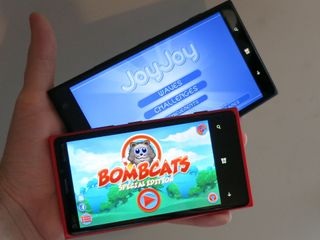 Hey cool kids, are you ready for the latest installment of our new monthly feature, the best Windows Phone games of the month? Each month we look at a collection of newly released Windows Phone games that stand out from the crowd. The titles we choose range in genre and production value. Anything goes as long as it's fun, original, and freshly launched.
This month we did get a couple of new Xbox-enabled games: Kinectimals Unleashed and Wordament Snap Attack. But for my money, it's the non-Xbox games that took the cake during May. Competitive players received two excellent raiding games: Cloud Raiders and Royal Revolt 2. Racing and obstacle course enthusiasts got the Trials-like Old School Racer 2 to challenge them. And a one-man developer called Radiangames published a sleek twin-stick shooter called JoyJoy while giving away the amazing Bombcats SE completely free.
Quick impressions and Store links after the break!
Cloud Raiders
Although it launched on the first of the month, Game Insight's Cloud Raiders remains one of May's best Windows Phone titles. For one thing, it has unrivaled cross-platform multiplayer and cloud support. Jump between Windows Phone, iOS, Android, and Facebook at will – all of your progress will follow.
More importantly, Cloud Raiders is simply the best Clash of Clans alternative on our platform – better than Gameloft's Total Conquest by a mile. Players will create a base on their own floating islands and then attack other players' bases in order to steal their resources. But they can attack you as well, so you'll need to design your base wisely and upgrade its many turrets and walls as often as possible.
The actual battles in Cloud Raiders are a bit on the simplistic side, as you basically just decide where and when to launch the various type of units you take along on the raid. But there is some real strategy in those decisions. Plus it's always fun to see how much of an enemy's base you can destroy.
I started playing this game months ago on Android and I still play it daily on Windows Phone. We even have a WPCentral clan that skilled players can join! There's a lot more to say about Cloud Raiders, so check out our full review to learn more.
Old School Racer 2
Hey Trials fans, are you feeling left out due to Trials Fusion's recent launch on non-Windows Phone platforms? Luck for you, Riddlersoft's Old School Racer 2 is the next best thing. I'm talking about a 2D obstacle course-based motorbike game with detailed bikers and lovely parallax-filled backgrounds. And it's hard as balls too, just like Trials.
The goal in Old School's 40 levels is simply to reach the finish line, collecting all the coins you can along the way. But you'll face numerous twists and turns, loops, pits, and other obstacles that threaten to knock your rider off his bike. Adjust his position with the left-right slider and work the gas, brake, and reverse pedals like mad in order to keep him in one piece and on the right track.
New to this sequel is the ability to morph the track at certain points. When the Windows Phone icon pops up above your racer's head, shake the phone and the ground will raise, lower, or twist in order to create a new pathway for you to follow. It's a fresh mechanic that opens up even more routes in the large and dangerous levels.
Other features include multiplayer (which unlocks a little later in the game), bikes to buy, and vehicle mods. Give it a download and prepare for lots of bruises and concussions!
Royal Revolt 2
Although the original Royal Revolt was a single-player campaign-based game, Royal Revolt 2 is a multiplayer-oriented raiding game – much like Cloud Raiders. But the raids in this game play like the campaign levels of the original, meaning they're all action with just a hint of strategy.
When attacking another player, your goal is to destroy as many of his or her defenses as possible, including the castle gate. The more damage your team does, the more gold you'll steal from that player. Yes, you do command a squad of AI warriors in this game. But you also run around on the ground with them, hacking away at enemies and trying to stay alive. The battles are exciting and somewhat console-like, albeit with simple touch-screen controls.
The other side of the coin is defense! Each player gets to customize the path leading to his or her castle. You can unlock and upgrade a variety of towers to guard the path, as well as customizing the waves of soldiers who will defend it. Again, the defense component is similar to other multiplayer raiding games. But with Royal Revolt's unique gameplay, it still feels very fresh and natural.
As with the first game, Royal Revolt does suffer from difficulty issues stemming from its free-to-play nature. We'll examine those and reveal some upcoming features that Flare Games has planned for the game in our review, which is coming very soon!
Bombcats SE
Radiangames is a one-man development studio that has just published several Windows Phone games in the last two months. According to the developer, the porting process has been mostly painless thanks to the Unity Engine. Good news for us, because his games are really good!
BombCats Special Edition is a physics puzzle game, sort of like Gerbil Physics (remember that one?) but even better. The story goes that a bunch of round little kittens have ended up trapped in magical cages. Thus it's up to the larger cats (who have the power to explode at will) to save them. They'll do so over the course of a whopping 194 levels of cat-blasting fun.
In each level, the goal is to launch your cat towards the caged kitty and blow up the cage, freeing it. You'll do so by pulling back and launching your cat sling-shot style. Sometimes you'll need to make the cat jump another time by pulling and launching again mid-flight, making the gameplay more dynamic than single-launch games. The cat automatically asplodes after flying through the air a bit, and it can also be detonated manually when needed.
Bombcats is a beautiful game, with way-too-cute cat designs, vibrant colors, and plentiful layers of parallax scrolling. Besides offering a ton of levels, it also has lots of Achievement-like goals to complete and tons of silly costume pieces to unlock for the kitties. Best of all, the game is FREE for a limited time only. After that, it will switch to a paid app (no in-app purchases!) so be sure to download it right now.
JoyJoy
Hey, another Radiangames title made the best of list in the same month! JoyJoy started life as an Xbox 360 indie game in 2010. The developer recently retooled the game for mobile and launched on all three major platforms simultaneously – again, very impressive for a new dev.
JoyJoy is a twin-stick shooter, something we don't see much of on Windows Phone nowadays. Each level takes place within a rectangular arena, with swarms of enemies spawning on all sides. Think of it as similar to Geometry Wars, only without the neon vector graphics. Instead, the game has its own distinctive (and colorful) art style that perfectly fits the name "JoyJoy."
It's hard to imagine a mobile game with better twin-stick controls than this one. The ship's movement and firing are extremely responsive. In fact, JoyJoy really puts Halo: Spartan Assault to shame. One guy working on his own churned out way more responsive controls than an entire team of developers – fancy that! Oh, and if you have trouble aiming and firing simultaneously, the ship automatically fires forward whenever you let off the firing stick.
The main game consists of 24 lengthy waves of enemies to eliminate. Every fourth wave is filled with crazy-large swarms of enemies. You only get a fixed number of lives per wave, but luckily the game can be restarted from checkpoint waves if you die or need to resume later. For extra variety, try the challenge mode and its unique timed levels. Both game modes offer several difficulty levels, so JoyJoy can be as FunFun or ToughTough as you like.
Paul Acevedo is the Games Editor at Windows Central. A lifelong gamer, he has written about videogames for over 15 years and reviewed over 350 games for our site. Follow him on Twitter @PaulRAcevedo. Don't hate. Appreciate!
I am pretty satisfied with the amount of quality games so far. But as a mobile gamer I believe WP has still a long way to go to become a good mobile gaming platform.

Like USB controller support. More timely releases. More Xbox branded stuff. More app interoperability with Xbox or PC apps. This isn't even getting into the app specific requests...

There needs to be an update letting us connect Xbox One controller to a WP via BT or WiFi. Games like MC4/5, Nova 3 etc can be enjoyed more with those.

That wouldn't be possible because the Xbox One controller doesn't use BT.

The Xbox One controller doesn't use Bluetooth it uses Wi-Fi Direct. In theory this is definitely possible though and I hope we see it as well. Windows 8 support would be fantastic as well.

FPS games like MC4 and NOVA need to be updated via a simple update for Moga controller support. Gameloft has already done this for all their games on Android, but only for Asphalt 8 on WP. If you don't know what a Moga controller is, Google Moga Power Pro.

What is happening to Xbox Windows Phone games? I can't remember the last time a publisher other than Microsoft pushed an Xbox game for Windows Phone out. :(

Totally agree, its so ridiculous that MS doesn't take advantage of its obvious strengths such as Xbox live and its gaming ecosystem to be at the forefront of mobile gaming. It should dominate in multiplayer and be able to utilize existing hardware to truly enable unique mobile controls but by neglecting the gaming experience, (including hamstringing the game hub) and its gutting of Zune with the crappy Music app it shows MS is missing the boat on two of the most important uses of mobile technology. They need a vision and then stick to it just like they originally did with the Xbox. They take one step forward and then two steps back. Gaming and Media consumption on WP have actually regressed in the last two years especially when compared to apple and android imho.

Totally, totally, totally agree! Microsoft aren't narrowing their efforts into the weaker areas of their company. But I shouldn't even be saying that considering mobile gaming used to be a very powerful force for Microsoft. How and why they have let it slip and crumble like they have I will never know. In terms of the Music app, I don't have Windows Phone 8.1 yet (just going to download it the standard way lol) but I know that it is not being received very well, along with the Windows 8 app. I rarely use it on my PC. Zune was fantastic, and again, why they seem adamant on destroying these wonderful services they had so proudly created I will never know. Perhaps now that Microsoft has a new CEO, things may change. That's not a "diss" toward Ballmer, but things certainly need to change. But you're right; gaming especially has become rather rotten for Xbox titles on Windows Phone. Lets hope things improve. :)

Block x 3 is a really good game too.

A little off topic but can you tell me how to install xap deploy and windows phone power tools in windows 7 32 bit

You cant, you need windows 8, also you need developer account, and mircosoft SDK

I have installed sdk on my pc and even unlocked my phone but cannot install those two apps any other suggestion

U need to register ur fone by entering ur hotmail email id, then install preview for developer app on ur mobile and enter ur hotmail id. I think it should show success. Then open application deployment from pc, visual studio sdk folder from all programs... N install app from the above website I mentioned. I played modern combat 4 n subway surfer...

I will try .... I registered my phone with 2 xap limit....xap deployer 2.0 doesn't open at all in windows 7 32 bit....i will install visual studio and check it....thanks for ur help

Yes u can, get visual studio update 4, for more info go to www.windowsphonehub.in

U mean visual studio 2010 express???

I think its visual studio 2012 update 4, u can get it at microsoft website for free

The Amazing Spiderman 2 is really good! Surprised that's not on the list.

Yeah, definitely a good game. I'm just a little tired of Gameloft's stuttery 3D engine.

No XL, no but. Good quality? Still light years from iOS, which welcomed Dragon Quest VIII this month. Microsoft really needs to make/provide Windows and Windows Phone stores with quality moblie games. Without strong gaming presence WP will never succeed. Yet having an ace in the form of XL they refuse to take advantage.

Agreed. Even simple (but innovative) games like Plague.Inc. can make lot of difference in popularity of gaming in WP.

When is ages of empire coming?

That would sure be interesting, but all I expect is to see them put in microtransactions. And so far, the uninstall rate for me for any game that relies heavily on expecting people to buy stuff to keep playing is 100%.

Just give us clash of clans already

Every game should be Xbox supported like how every game is game center supported on IOS

That's up to the developer. Not everyone cares to make achievements for their games.

But why? It's an added value. Afaik the process of XL certification was largely simplified and shorten. Devs should care. Duh, they should care about releasing their games on WP. As far as I'm concerned Microsoft has some mobile gaming studios. Now what the hell are those guys doing? Having all those high profile franchises and yet nothing, literally nothing happens. Look at SmartGlass - so many possibilities and the functionality is basic at best. We can't even buy games through it and come home with downloaded content waiting on HDDs of our consoles.

No, it's really up to Microsoft more than anyone. Only a few individual developers like EA and Ubisoft are allowed to publish their own Xbox games on WP. Microsoft has also turned down many games that would have been Xbox WP titles, such as WSOP Full House Poker. They're just plain not interested in allowing Xbox WP to become a Game Center/Google Play-like system - not yet anyway.

Who cares for game centre. Xbox is a brand that's y ppl demand for it on wp

We need games to leverage features that support one Windows. If I leave off on my Xbox I should be able to resume on my Surface or Lumia. For RPGs there should be some companion app for WP that lets me mine or grind while I'm away, remember the Sega Dreamcast VMU? Stuff like that would be unique only to Microsoft sorta like their ink that they're finally utilizing.

That's up to the developers and has nothing to do with Microsoft. Microsoft doesn't need to invent some special tech to accomplish this. They can do it now by utilizing OneDrive.

Not really off topic since it was mentioned but while I despised the twin stick controls in Halo: Spartan Assault on WP and I really couldn't get into it with the controller on the 360, I recently started playing it on my DVP8 tablet and the twin stick controls seemed spot on and I can't put it down. Its seems to be in its element in that size with the better graphics and the extra thumb range and I am thoroughly enjoying it.

Compared to any other WP game, I thought the dual stick controls for Halo were awesome. And that's even after having purchased the game months before on my Surface and playing it on a tablet.

It may just be me and my big clumsy thumbs then, LOL. I had the hardest time on my 1020, and was just a bit better with the Xbox controller, but I am slaying it on my tablet ;D

Screen size matters too I suppose.. And the size of your thumbs.. Lol. I didn't have Halo on my phone until Microsoft utilized their new Universal app feature that was announced when they announced 8.1. When they did that, the game updated to where I didn't need to purchase it on my phone (because I want going to buy it twice, especially when I had it on my tablet). But, I got the Lumia Icon 1 week after the 8.1 announcement, so I have a larger screen than I think the 1020 has. 5" is the Icon. And I have kinda small hands/thumbs .. Lol

I also thought the twin stick controls in Halo: Spartan Assault were awesome. The only thing that sucked was tossing a grenade. But moving and shooting was spot on.

I know that's right, can't hit the broad side of a barn with a grenade. Tried different things and the only thing that works for me is to run straight at em and throw on the run. If I stop it goes sideways. I think I'm missing something there but trying to aim hasn't worked for me. I like this game so much I'm gonna go back and try to gold medal every mission and fulfill as many of the challenges as I can. I am also trying to double skull the ones I can get away with and that is cool when it works out.

Have you played Zombies on the Phone, Rocket Riot, and Gun Bros? You thought Spartan Assault's controls were better than those titles?

Did a search for "zombies on the phone" and "gun bros". Neither showed up in the store.

Gun Bros is delisted, I think. The sticks were too tiny but otherwise performed very well. Zombies on the Phone: Review - Store Link - Not the best controls I've encountered but better than Halo SA's. Radiangames' JoyJoy and Inferno+ are the best I've experienced on WP. But we really don't have many other choices in the genre, other than Rocket Riot and Square Off.

Paul, have you played Spartan Assault on a small tablet and what did you think? It's like a different game for me. I do agree with you on the WP version and also on Rocket Riot's controls being very good, loved that game, but truthfully I had a terrible time with Gun Bros sticks even though I liked most everything else about it, then again I already owned up to having big clumsy thumbs, LOL. . .

Hey NH, I played it on the Surface Pro (10 inches) and Lumia 920. Agreed that the tablet version feels at least a bit better. And yeah, I can see why the tiny sticks in Gun Bros would give people problems. Weird that they didn't consider screen size, but the WP version of that game was a mess anyway.

How many twin-stick shooters have you played on WP? Spartan Assault's are literally the worst of the bunch compared to JoyJoy, Zombies on the Phone, Gun Bros, Square Off, and Rocket Riot. It's good that they didn't bother you, but controls can be far more accurate and responsive than what Spartan Assault offers.

Rocket Riot is interesting. The controls are definitely good. But the game speeds are totally different. It's hard to tell if Halos works for itself only or not. I never had problems with it, so I feel if I'm not fighting the game to play, then they are good controls.

Props to Cloud Raiders for the cross platform support. I don't know why in the year 2014 we have so little cross platform multiplayer games!??!? This is a big request from me, Xbox, multi platform, multiplayer games (although I know hell will probably freez over first)

Does anyone know how to reset the game in progress. I want to start over... (cloud raiders)

EA should make more games for windowsphone, seems like they forgot about windowsphone