3 features we're most excited about in the Windows 10 Creators Update
Create more with the Windows 10 Creators Update.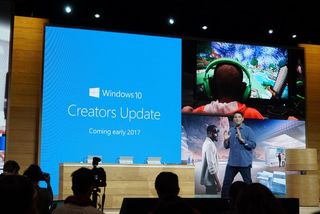 The Windows 10 Creators Update is just a few short months away from launch, meaning most of what's coming in the update has now been revealed by Microsoft. Because of this, we thought it'd be a good idea to compile a list of the 3 biggest and most exciting features arriving with the Creators Update in anticipation of its arrival this Spring.
Paint 3D and VR
With a name like 'Creators Update', it shouldn't be a surprise that Microsoft has focused a lot on creators. Paint has been a part of Windows ever since Windows 1.01 shipped back in 1985, and over the years has seen some updates and improvements. The last noteworthy improvements to the Paint app came with Windows 7, and hasn't been touched since.
That changes with the Creators Update however, as Paint has been rebuilt from the ground up under the Universal Windows Platform, and given an entire new spin with 3D creativity front and center. Some might argue that Paint 3D is the reason Microsoft is calling this Windows 10 release the "Creators Update", as Paint 3D allows users to create images, emoji and more in 3D for sharing with a huge community of Windows creators.
You can also design 3D objects and get them printed in 3D directly from the app. There's also a new "View 3D" app coming in the Creators Update too that will allow users to open 3D objects and view the natively within Windows, another excellent addition.
All this 3D stuff plays well into the focus on VR that Microsoft has with the Creators Update also. Just recently, several hardware makers unveiled new virtual reality headsets that will play very well with the Windows 10 Creators Update.
Microsoft is also introducing HoloShell, a new feature with the Creators Update that will bring the HoloLens UI to VR headsets, making it super easy to experience Windows 10 via virtual reality. Of course, apps like Paint 3D will shine thanks to VR, as projecting 3D objects that you've created in a virtual world will be easy and fun.
MyPeople
MyPeople is, in my opinion the most interesting and exciting feature arriving with the Creators Update. As someone who is constantly communicating with people via email, Skype, GroupMe and many other services, being able to respond or send them something directly from my taskbar will be a godsend, something I've been anticipating for as long as I can remember.
Windows MyPeople will allow users to pin their favorite contacts to the Windows 10 task bar, along the right side next to the system tray. Once there, you can easily drag and drop documents, photos, videos, or simply chat with them without having to open an app or navigate away from your current workspace.
Not only that, but the contacts pinned to the taskbar will be able to send you interactive emoji's that popup on your desktop, meaning you won't ever miss a conversation again! I like the idea of bringing your favorite contacts to the taskbar, as it makes communicating with them far more quicker and convenient.
Right now, you have to hunt for the app/service in particular that you want to converse with them on, but with MyPeople, all the services you use to connect with them with will be accessible from one location.
This really is one of my most anticipated features arriving in the Creators Update and I can't wait to get my hands on it. It definitely won't be for everyone, especially if the services you use to communicate with your friends isn't available directly from within MyPeople.
Personalization Improvements
People like to customize their devices, physically and virtually. With the Creators Update, Microsoft is adding a few more customization options and making it easier for users to change the appearance of their desktop with built-in themes that can be downloaded and applied via the Windows Store.
Up until now, users could customize their desktop by manually applying a wallpaper and accent theme, but it was difficult to change sounds and other system elements. With the Creators Update however, building theming support into the Windows Store means users can simply 1-click a theme and have it change everything, including your wallpaper, sounds, cursor, accent color and more.
Microsoft is also giving users more control over their Start Menu experience, with the addition of Live Folders allowing apps to be grouped under a single tile, and the option to remove the apps list butting live tiles front and center when opening the Start Menu.
There's also a new Blue Light filter feature that's built directly into the Creators Update, which will give the screen a warm-ish color at night time to help with keeping your brain at ease from thinking it's still looking at daylight. This feature is heavily inspired by f.lux, and if you're a user of that you're going to love this addition to the Creators Update.
But wait, there's more!
This isn't everything coming in the Creators Update, but these are our biggest picks that we're personally excited about. There are improvements coming to Edge, Windows Defender, a number of built-in apps and a whole lot more. Stay tuned at Windows Central for more regarding the Creators Update and beyond!
Windows Central Newsletter
Get the best of Windows Central in your inbox, every day!
Zac Bowden is a Senior Editor at Windows Central. Bringing you exclusive coverage into the world of Windows on PCs, tablets, phones, and more. Also an avid collector of rare Microsoft prototype devices! Keep in touch on Twitter: @zacbowden.
I'm pretty excited about Groove Music Maker.

It does not make sense, it would have to be called Microsoft Music Maker!

I am even more excited about Microsoft killing their own app for Windows Phone without announcing anything to replace it.

I'm even more excited about the prospect of people like you going away.

You didn't see the update I take it?

You should make a similar article for Windows 10 Mobile and top 3 things to be excited about for Creator's Update. It would be nothing, since there are no new features.

Lol morale is real low around here

I'm actually hoping that Microsoft does give up on mobile so i can stop reading comments from the 5 of you left lol

Lately, I don't know if you're sarcastic or serious... And this worries me a lot :D

Well, I've not really kept up wrt this update, but don't I remember that MS promised it'd be mobile focussed or something? Surely there must be something in it for mobile, or have they 'retrenched' the update since I last looked? I'm about to start looking for my next Windows phone (to upgrade my 930) in Feb that I expect to last for 2 years, so I'm now getting interested again.

I have this exact question. I too thought that rs2 was supposed to be mobile focused, and so far all the changes are about the desktop

Exactly, that's what we all thought too, I don't know if it was just rumoured to be the case or Microsoft failed to deliver, maybe Daniel can shine some light.

Toba degree I think rs2 has shown elements of focus to mobile. Aspects like seeing aspects from mobile come to pc such as folder tiles, a lot of core reengineering to smoothen out differences across the windows devices for windows 10 and improve conectivity between devices for cross device connectivity and synchronization. That doesn't lead to many obvious visible changes. That will be rs3. I thinking I can agree though that many were surprised by the creators update philosophy for rs2 taking stage front and center. To that point I can understand about the idea of expecting mobile improvements, and that creators update baptizing is a surprise.

At one point they were putting in windowed apps in Continuum but I do wonder if this has been dropped now. Maybe the new cellular PC stuff means they don't think they need it.

That was before WOA was viable. Now, Microsoft has no use for Windows Mobile. Once WOA is released, they will back away from Windows Mobile and the phone market. Bummer the few x3 and 4s phones sold will not be getting meaningful updates.

Aren't you one of the 5 with the HP Elite X3 being your daily driver? :D haha

Check your girl friend. It's time ;)

I checked, she's in fact telling me to move to Galaxy so she can Whatsapp audio call me without it crashing half of the time haha.

Does Daniel know something? Sounds like he is starting to make excuses! It is quite obvious Microsoft is done with Windows Mobile though. If the Surface "phone" was running W10M, they would be working on it in the meantime and keeping it relevant.

I see a brilliant future for creators, if you are not a creator, then just bug off! SMH

I know 3D is all the rage bu they should have created something for 2D to all those with laser cutters to use. All the current options are lacking in their usability or too expensive. There is nothing in between

I am missing a full screen crosshair cursor for W10.

are you still confident all of that will make it to the creators update? some things aren't even in the fast ring yet and Microsoft is supposed to do a feature lock in the coming weeks....

True.. From the past experiences, I will not be surprised if some of the features like MyPeople get pushed to RS3. If not, most probably they will launch as beta.

Here's hoping there are cross-overs between the My People and the Groups in W10M. Hoping even more My People and W10M Groups can restore the WP8 functionality of linking FB, LinkedIn, and Twitter contacts to People profiles. The absense of Groups from W10M for several itterations was almost frustrating to leave Windows Mobile all together.

If none of the MyPeople stuff comes to mobile I'll be a little disappointed. At least sync the selected people with speed dial and other places

I am more excited for VR and Gaming mode for PC.

you can do these things now

Whoa! 😱 Really, the MyPeople feature is very interesting one. If its API can be used by WhatsApp also, then it will be much better, in addition to Skype and some. Can't wait for its final version (though I'm an Insider)! 😁

I don't think WhatsApp could take advantage of any API it may expose as they are still a (very good) WP8.1 app

Yeah it's good (I had WhatsApp since I had Lumia 620), but it's interesting, though, if they made it also, and have their chats synced too. The desktop app is just like a webapp, and has less features (such as user mentioning in groups) than their W10M (WP8.x), iOS, and Android app...

No sign of MyPeople so far...

Will MyPeople allow third party apps to connect to it, so for example I can use Facebook Messenger through it, or WhatsApp or some other chatting app?

I wish they would make it possible to color the tiles different (not all tiles). That's what I liked about Windows 8.1, all the colors!

Estoy muy emocionado por esta enorme actualización, microsoft lo hace bien en PC, en mobile, Meh! LOL

I just want to touch a text input box and have the keyboard rise from the whatever depths it lurks in...

That doesn't happen now? Are you in tablet mode?

I rarely change any customization on my devices. I prefer consistency, I prefer a clean UI. As a result, I also keep nothing on the Task Bar. I never used it in Windows 7, never use it on my Windows 8 machines and I see no reason to start using it in Windows 10. Also, my conversations with people are almost exclusively via text messages. Speaking as someone using the latest Insider builds, I can say that Windows 10 handles SMS horribly, ESPECIALLY if you are forcing yourself to use Skype for it. I'll keep using my phone for communicating. I won't be using MyPeople. And Microsoft destroyed the People app anyway, so it's virtually useless. Finally, I was very hopeful for Paint 3D, but they removed all the great things about the original Paint. It's so painful to use Paint 3D and is missing so much that I have gone back to Paint. 3D doesn't interest me and I have no projects that benefit from it.

Project Neon is mostly an RS3 thing.

Windows 10 mobile update ...693 is here! 😊

I'm actually the most excited about having an easy way to pause updates and turn off driver updates. Maybe that's why this update is called the "Creators Update;" automatic driver updates aren't required so they can't mess up audio (and other hardware related to video editing and game capture) drivers and make people buy a MacBook as a backup for when Windows messes up the drivers.

For me the most exciting are: - MyPeople
- Battery life improvements
​- Improvements to Edge Afraid I have very little use or desire for Paint3D or the like for now.

New paint su.cks and i didnt find how to enable the win 7 old paint yet

Up until the latest fast ring build the old paint redirected you to paint 3D. Now in latest fast ring both are accesible

Looking forward to the blue light filter for Mobile. I use f.lux on all my tablets and PCs, really wish they had an app for W10M

I hope mypeople comes to mobile in some form... Maybe swipe to the right on start screen to see a list of people?:)))

It is quite obvious at this point that Mobile is dead. Feature updates will be nearly non-existent until WOA is released, then development of Mobile will cease completely.

For me personally, the Live Folder means a lot.

My wish is for drag and drop in the photo app for desktop. I would like to know why this is an issue...

Sounds underwhelming to me. All I want is for it to start up quickly, be stable (as Win 7 was), and allow me to opt out of MS invading my privacy.

Apart from telemetry, you can opt out of anything. Telemetry data is anonymous, so no privacy involved (and, btw, W7 also collected telemetry, as is macOS, Ubuntu,...).

OneDrive. Placeholder files return. FTW.

MyPeople... easily replicated by a 'pin to taskbar' function, that would be universal. Dumb implementation.