Bing introduces new modern logo to integrate the "One Microsoft" vision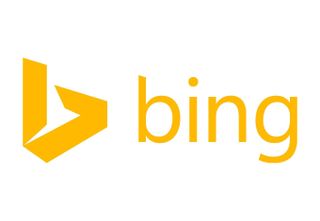 Microsoft's Bing has been part of Windows Phone since the beginning. But it's more than just a search engine. Earlier this summer we learned how Microsoft planned to turn Bing into a platform, one where developers and users can tap into a vast array of data to get things done. Last summer, Microsoft introduced a new corporate logo. Now, Bing is getting a logo makeover as it brings in a bunch of new features online. Let's check it out.
New Bing Logo
The first thing you'll notice is the new Bing logo. There's an entire blog post dedicated to what went into the new look, but we'll just summarize a few of the highlights. Why a new logo? As Bing goes through a year of reinvention, a new logo was needed. According to Microsoft, the new Bing logo is clean, simple and direct. If you understand how color can communicate and what Segoe is, you'll probably want to read about the design process behind the new logo. Link is down below.
New modern redesign and features for Bing.com
Bing isn't just getting a new logo. The website is getting a new redesign that's a little more modern. In addition to that, you'll be seeing a few new features throughout Bing.com as you use the service. Here's what is new and improved with Bing.com:
Snapshots: Helpful information at a glance
Last year Bing introduced a feature that showed you what your friends on Facebook knew about a particular search query. You would see results from Bing on the left and your friends on the right. The new redesign of Bing.com integrates the two in a more seamless manner.
Page Zero: Finding without Searching
Here's a pretty cool feature. Most modern search engines like Bing and Google will give suggest for the search query you're typing. But Bing is taking that idea one step further with a new feature called Page Zero. As you're typing, Page Zero will bring in relevant results on the right. This feature can be as superficial as typing in Jon Stewart and seeing either the person or show populate on the right. It can also be really advanced by deep linking. For example, type in United Airlines and you can get deep links to their service to either check in or get the flight status.
Pole Position: High confidence results
Another interesting feature is called Pole Position. When you type in a search query, Bing will put some results up top in the Pole Position. This feature works best with ambiguous terms or those that have multiple intents. Bing is using a combination of the Snapshot feature above and their own metrics for determining the intent of the user. For example, if you type in Temple you might be looking for the religious structure, the university in Pennsylvania, or a subway station in London with the same name. Bing places the one it's confident you want in the pole position section.
The Right Search Experience for the Right Device
Bing is also committed to delivering the best search experience for a given device. From Windows Phone to your Xbox, Bing wants to dial in the experience. The new Bing layout will work and reflow to fit and fill the screen regardless of size. We saw some changes to Bing on Windows Phone earlier this summer.
What do you guys and gals think of the new Bing logo, redesign, and features? Don't worry if you don't see the new features yet. As they don't appear live yet and could be rolling out slowly.
Source: Bing Blog Next Phase, Bing Blog Logo Bonus: Explore New Bing
You just made my day. Sunday cannot come soon enough.

I like it.. Can't wait to see it on my phone❗❗

You like it then just hope it is for all the world not just for USA.

If you see the web link, it says "webbluepreview" which to me suggests that this is part of the web blue update, or what we will see on Bing app with the Blue update. http://www.bing.com/?sf=flt37:webbluepreview

And once you go to this link, the new Bing becomes your regular Bing.

I'm still getting the old bing even if I go to the preview page.

I wonder if your cache needs to be purged.

Yeh, not only for US! For the rest fans all over the world!

Just made the preview page my homepage. Why wait?

Hey Sam what's your favorite childhood cartoons

And now we sit back and wait for Google to conjure up with a court case that the new Bing logo too closely resembles the Google Drive logo...

First thing that crossed my mind, well, not the lawsuit part.

I think it looks more like the Doritos logo (the small version)

And Apple will sue because the letters are Arabic which, as everyone knows or should know, Apple invented along with "white" and the "rectangle".

Don't need the graphic, the text alone is fine imo

Agreed. That logo is kinda ugly.

Agreed again! Ugly logo, ok font.

I like it, but I liked the "boomerang" one from the concepts shown months ago, way simpler.

Glad to see Microsoft services being improved and unified. I went from scoffing at Bing, to trying it every now and then to using the Microsoft service solely. Just combine Bing maps and Nokia maps (as planned with the buyout) and you'll have an unbeatable experience. Looking forward to it.

*in the US, otherwise not so much

That logo honestly looks pretty sexy. Along with the new features, Bing seems to be gaining heat on Google. A few years ago, I laughed at the sight of Bing. But now Bing's got potential. This is going to be exciting.
Good job, Bing team.

Much better than yahoo's redesigned logo

haha.. Yahoo's new logo looks terrible.

Agreed. The new Yahoo logo is horrible. 90% of the concepts they revealed for the month leading up to the official logo reveal were much better than the final.

The new logo and UI looks so good!!

I love how MS is firing on all cylinders, I can smell the glory days coming back. I can't stand the evil google.

They are a long way from Super Buggy, still Schlep Car, but heading in right direction.

Curb your enthusiasm. Just because the patient's vital signs are improving doesn't mean the Olympics are just around the corner.

They're still misfiring beyond the US. They really need to change out of first gear and step on the accelerator when it comes to rolling out features worldwide. My enthusiasm for announced features long since sputtered and died after having to wait 1-2+ years for even basic stuff to roll out. Okay, that's enough car metaphors :P

It looks like a messed up Office logo. I do like it a lot though :) Hopefully the AU site gets it soon.

That was my first thought too! Except, unlike the coolness of that logo, this logo looks like it's "broken". I liked the font and simplicity of the "bing" logo they currently used.

Hopefully they don't replace the magnifying glass icon with this... this doesn't make think "search". (Not saying they plan to, just saying...)

I don't really like the logo, but the new features are great. In 2-3 years Bing will be as good as google search. For now at least in Hungary it is not good enough. I have to use google. But adding a map is great.

One feature I wish Bing had is the ability to narrow down the results by how old they are. (Maybe Bing has this ability, and someone can tell me how to access it). Right now, if I search for.. oh... I don't know... "Windows phone 8.1" for example, with Bing I can't tell which results are 10 hours old, or 10 days old. With the other popular search engine, I can not only see it directly in the results, I can also select to only show results of a given age.
If Bing could also do this, I would use Bing 100% of the time.

Ok, if I add the word "news" to the search, it will tell me the age. I can do that from now on.
It would still be great to select "no older than..." for the results, but hey, I'll get use to it.

I'm interested in the answer to this question as well. This feature is one (if not my main) reason for still using Google as a search engine.

Ah, just saw a possible solution that I can try, thanks for answering your own questions, Deamion :-)

At the top of the search results, just to the right of the hit count, there's a selection drop list where you can choose "Any time, All, Past 24 hours, Past week, Past month." You don't have to add "news" to your search. When the search results appear, if you want only news about the topic, click the news link at the top edge, images if you want pictures, etc.

I have to admit, my FAVORITE Bing feature is videos. For instance, YouTube requires you open each video to find the one you want from search results. Try it in Bing and just hover over the video to preview it! Awesomely excellent feature!

We don't seem to have that pull-down in the UK, just narrow by language or region. As an avid Bing user I also miss search by date.

It's a bit of both. In the UK, at least, the date filter doesn't always appear. For certain searches it does, though, which is the reason it's perhaps necessary to add "news" to the search. My understanding is that the date filter was once there, but MS 'hid' it for some reason, only presenting it when they thought it was necessary. Seems rather silly to me, and it's the only time I ever use google, too.

Nah,we don't have this option in Bing Switzerland or Germany

We don't see this option in Canada either. But it sounds like Bing US has it. Humm... how hard would it be to allow all countries to have this feature??
Google has it for Canada, (and has for a long time now) so what's this hold up Bing?
@Nerdy Woman: Thanks for your help. It's nice to know Bing has the option at least.

THIS!!! The ability to narrow results by date/age are super important. We need to have it, Bing!

When will it be released?

Soon my dear boy.. Very, very soon...

Yes, lot better than the old one. WP's search button is taking us to the same old round logo :(

You'll probably have to wait til 8.1 for that one.

With 17% in the US alone already, not including the Yahoo deal....Bing will soon be nipping at Google's heels. I'm in South Africa and whenever I work on a PC I set Bing as the default. My mother calls me up and yells at me because Bing isn't the default on her PC whenever some random program she installed changed it.
People enjoy the daily image. The average person likes pretty. And Bing is pretty.

Looks like "the verge" logo but of course with a "b"

Not sure if MS's blog post alluded to it (haven't read it yet) but it's nice to see how it's similar to the Office logo.

Windows Phone needs UNIVERSAL SEARCH powered by Bing search That will be sexy!!

But I do like the new logo, looks contemporary♡.♡

They need to open Bing for a whole lot of other countries. If it weren't for that, I would use it a hell lot more.

+920
Bing's experience in Slovenia is still very poor.

I agree entirely, Bing in the US is way ahead of here in the UK and elsewhere. We are missing all of the features which have supposedly been implemented in the last 18 months or so. Nevertheless, its still my search engine of choice.

Aaaaaawwww yeeeaaaahhh!!! It looks awesome and fits so well with the rest of the logos

I like it. I'm still trying to ween myself off google. Its so habitual to go to google first.

Aw, Micah. Easy solution.... make Bing your homepage. You'll like the pics every day. Also, crack open the browser options and make Bing your default search engine. Break the Google chains, dude.

Haha thats a good idea :D

As Arnold Schwartzenegger would say, "You Can Do It"!

Will it update the Bing "app" on windows phone?

Looks way too similar to the Office 2013 logo...

Maybe that's the idea...one Microsoft = one unified identity. Bing and Office should be easily recognised as part of one Microsoft.

Cohesion makes sense. The new Windows logo and the new Xbox logo look like they're part of the same "identity" but that doesn't mean they have to look exactly like one another.

That's kind of the point. Microsoft is trying to make everything "cohesive".

You guys crack my ribs sometimes.LOL

I'm still waiting for Bing rewards built into the search button on Windows Phone. (some day my precious, some day) o_O

And, dear Microsoft, while your at it, pretty please give us Europeans Bing rewards as well ;-)

Me too. Hopefully they integrate them together.

Please give us WP users a chance to earn rewards from the app. I use Bing a whole lot lore on the phone.

Definitely. I use Bing on my phone a few times a day.

Hmmm the emblem doesn't quite flow with the font... i.e. the 'b' has sharp edges whereby 'bing' has round edges. Details are this is where Apple crapple is sharp at. Apple have innovated marketing/PR not technology! Lol

You mean like their off centered dates in the calendar app that took them literally years to fix?

Not really digging it yet. Reminds me too much of the Google Drive logo.

Stop Looking at Google Drive then an use Nokia's Here Maps & Here Drive instead!

Google Drive is not a driving app.. It's the equivalent of Skydrive.

This is good, although i will miss the old Bing logo.

love it way better than the current one

This feature isn't available yet in your country or region

Yawn, bing logo on my 920 doesnt change...

Hello there,
I didn't read all the comment so I'm maybe repeating something already said.
Did you notice the messenger notification on the new bing ? And in the ad (2nd one), seem new surface will include a kinect like in the camera (18sec). :)

That's just for that app...but seems like others could do the same thing and it works on the current surface ;)

Guys, guys, guys... Common. Just use bing US. Soon or later this will only one Bing but selecting region search automatically. I always use US bing and results appear in Portuguese too. Good Bingation!. Let's Bing!

Just love it! Bing is way cooler than Google. Yeah, I know, Google gives search results as well, but Bing (as you can see) enhances the search experience. Google may trump about its super search results but that's it! Microsoft is putting effort in all of its services (apart from WP8, but that's about to change :) ). Great job!

Oooooh liking the cut on the b ascender matching that on the logo

Those commercials are pretty solid

Why not rebrand bing to Cortana?

Anyone noticed in the commercial the guy used a hand gesture to move the screen? Is this feature already available for the W8 and/or will it be enabled for WP8.1.

That was built into that food app that's coming in Windows 8.1 was featured when they did the preview announcement...pretty neat for cooks who don't want to dirty their surface. ;)

Doesn't it look a little like G Drive logo

My wife and I wish Bing on our phones still had the dedicated local results column :/

Looks awesome. I hope wp 8.1 come with it. Even gdr3

i hate then newlogo. looks so boring and the same as other logos like office and google drive. change it back immediatly.

Does anyone ever use Bing? Google's search is much better for finding the obscure things on the internet. Bing is good for finding and downloading Chrome though ;-)

Yes. Full time since 2009. Except for searching Cisco support-related things, I find Bing remarkably good. My only complaint is that it doesn't accept -NOT operators to filter out terms/sites.

I've used both and see no differences with results. The only thing google does better is filtering by date/age. Other than that, bing is superior in the way it displays results. And as an amateur photographer, I love how the home page gets an interesting refresh every day.

As soon as Bing starts returning logical UK search data, weather and news I'll use it, but until then it's Goole all the way.
You US boys can have it for now.

BING = But it's no good.

the new bing logo looks like a folded logo of the new MS Office

Not gonna lie... Liked the old one better

I actually like the old better, but I'm sure the new will grow on me.

I use Bing for pretty general searches Google for specific searches

Looks too much like the Photoplay logo

They've pretty much confirmed now that the colors in the Microsoft logo are Office, Xbox, Windows, and Bing which I think a couple of people called out before. It's just that they hadn't finished the new Bing logo yet.

Ha ha, hadn't noticed that, but I like it! Support that whole unified Microsoft theme, very clever.

Bing is becoming into a bang

Microsoft is getting better and better... More of my friends are ready to jump on the MS train... It's only uphill from here and no one is gonna walk...

Looking forward to seeing a Microsoft font.

Boost Mobile's logo similar

Anyone else see the flying bird in the middle of the logo?

Glad they spend hundreds of thousands of dollars on that. Now, the marketshare numbers are going to fly up. How about spending money on getting apps for my WP8 and geting xbox music to work correctly.

I think this is great. As I switched from all Google services in the last 8 months, I've really come to love Bing as a search engine and service. I think its really well done with a lot of thought put into it.

Aesthetically, I like the new design. However, Microsoft has been making some design changes lately to Bing that are really disappointing. Removing the "Local" pivot on the Bing Search on WP8 is a huge let down. Combining local results into the Web pivot is messy and inconsistent. I probably used that pivot more than anything else on Bing, and now it's gone. What a shame.

Will the new logo come to wp8 with gdr3 or will we have to wait till 8.1?

Yay !!!! Something to look forward to when I get a surface pro 2 ohhhhh!!!!! Yeah!!!!!!!!!! (in super deep voice)

These services never work accross US borders... its funny cause windows phone is not big in the US, shouldn't microsoft invest where the phone's doing really well instead?
I'm sure if a person has a windows phone it serves as a good prerrogative for acquiring a surface or any other kind of windows 8 tablet.
Regards

Márcio

Yes, so much innovation and on the windows phone 8 when i use the bing search button, and search for images since the last update, they all come blurry and low res. What's up with that?

It preloads a low quality version initially, to make it load faster, and to avoid chugging up data. Then, once you tap a picture, it starts loading the full quality version. You have to give it a second, perhaps even a minute or so, depending on the speed and reliability of your connection.

well not on my phone it doesn't. It just displays a low res heavily compressed image. And why would it do that when I am on wifi and have an HD screen? It looks terrible. Sincerely, who thought this would be a good idea?
Terrible terrible. 1 step forward, 2 backward.

It remind me of Photoplay

That logo is hideous. It looks like something a 15 year old would've drawn on a trapper keeper.