Bing is offering predictions for the winner of the 2015 Eurovision Song Contest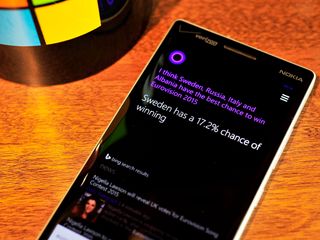 A few weeks ago, Microsoft helped to relaunch the official Eurovision Song Contest apps for Windows Phone and Windows 8.1. Now, the company's Bing search engine is trying its best to offer predictions on which country will win the contest.
Currently, the Bing Predicts website does not list Eurovision as one of the categories, but the predictions started around three days ago according to tips sent to Windows Central. Unfortunately, the Eurovision predictions do not seem to work for those in the U.S. and instead, is isolated to those in the UK and the rest of Europe. Considering the low-awareness of Eurovision in the States, this makes some sense.
The 2015 Eurovision finale is happening on Saturday, and in a press release issued on Monday, Microsoft said that Bing's engine was predicting Italy to win the whole thing. However, that has changed since the first semi-final was held, and now Bing is predicting that Sweden is the top country to win with a 17.2% chance.
So how does Bing figure out what the final results might be for Eurovision 2015? Microsoft says:
We will see if Sweden will indeed win on Saturday. In the meantime, you can check out the official Eurovision Windows Phone and Windows 8.1 apps right now:
Download the Eurovision Song Contest app from the Windows Phone Store (Free)
Download the Eurovision Song Contest app from the Windows Store (opens in new tab) (Free)
Source: Microsoft (opens in new tab); Thanks, Dave D., for the tip and screenshot
Windows Central Newsletter
Get the best of Windows Central in in your inbox, every day!
What did you ask? I can't seem to get Cortana answer me.

It was me who tipped this earlier in the week. At that time, all I did was type "Eurovision 2015" into a Cortana/Bing search and got a Cortana style answer that Sweden would win at something like 17% likelihood. It seems to have changed slightly since then, as when I type the same now I get the top three but in a different format. (Lumia 1520, Three UK)

"Who will win Eurovision" worked for me :)

Just tried that ("Who will win Eurovision?") and can confirm the same as you. Makes sense really! (Lumia 1520, Three UK)

I used "Who will win Eurovision?", and she said that Sweden have a 17.1% chance of winning with the singer Måns Zelmerlöw.

Yeah, I'm using US version. Didn't read that it's EU only.

Italy was the first just some hours ago

I asked - Cortana, who will win Eurovision 2015? Got web search results only. L930/Budapest.

Mee too, Switzerland (Region settings to Germany)

"Who will win Eurovision" seems to work :)

Te shpresojme per Tirana 2016

Paska më shumë shqiptarë se çmendoja në Windows Central

"wer gewinnt den eurovision song contest?" works in Germany (Switzerland with region set to Germany)

Doesn't work for me, just "Eurovision 2015" works.

Bing offering IPL 2015 results in India.
That's pretty amazing.

That's easy as all games are fixed.

I guess it's impressive that they know the fixers :D

It won't be Sweden. Guaranteed. Sorry Bing :(((

Sweden has won at least once. If you want something trully garanteed, bet on Portugal.

Five times actually, and I think it's quite likely it will be six on Saturday. It's a pretty cool show with some clever visual effects I haven't seen before.

Whoever it is, you can bet your bottom dollar it won't be UK!

Very much NOT the rest pf Europe, since Sweden is in the cold when it comes to these features like bing predicts and such... :(

It works if you ask Cortana "Who will win Eurovision", apparently, or just "Eurovision 2015" - the latter gives an identical response to what is seen at the top of the article. It's great how powerful Bing and Cortana are getting together and how they can be used. I'm hoping that this prediction stuff can be used for many different events - I'd love to see predictions for the Rio 2016 Olympic and Paralympic games, for the finals of different sports.

I predict that Georgia wins :)

So happy MS applies resources to this shit but doesn't do crap for the phone itself where Cortana is found....SMMFH

Problem is, Bing will base the prediction on the chatter about which song people prefer. The voting, however, will be largely political so I fear Bing will not get it right.

That is one prediction it will never get right. The voting has no bearing on the song or the music. They could get rid of the songs and just have a "Europe Voting For Who They Hate And Who Are Their Allies" competition.

Works in Australia too - we're in the Eurovision this year for the first time! I'm sure Guy Sebastian will prove Bing wrong!

Just tried in Australia, works but still gives Sweden the best chance - how dare you Cortana! ;) Also voted from the Windows Phone app this morning - works well!

Well, congratulations to Sweden and Cortana predicting the right winner!! Astonishing!

Hmm, looks like Cortana is right...
Windows Central Newsletter
Thank you for signing up to Windows Central. You will receive a verification email shortly.
There was a problem. Please refresh the page and try again.