"Bing for Schools" has officially launched - brings safe and secure browsing to students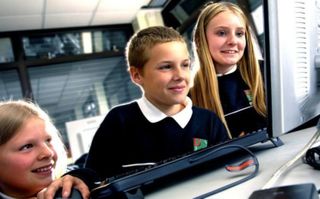 The folks at Microsoft have spent time and energy attempting to get consumers to switch over from Google and to instead use their in house search engine, Bing. The company is now focusing their efforts on the education system as it launches "Bing for Schools". The new program is described as "a new initiative designed to improve digital literacy for students by putting technology in classrooms".
The new "Bing for Schools" program officially launched on August 21st with a few partnering school districts jumping on board to try out Microsoft's latest project. Schools that are not currently in the pilot program can have their system administrators' sign up for the experience on Bing's website (opens in new tab).
According to a recent poll from Pew Internet, 94% of teachers "believe their students are very likely to use a search engine during a typical assignment." Microsoft aims to help empower students in their searches while continuing to make them safer and ad-free.
The "Bing for School" program has three key features; first is the removal of all advertisements from search results, second is the automatic strict filtering setting to keep students from accessing adult content, and lastly, augmented privacy protections.
On the launch day of the program, "Bing for School" will be reaching and serving over 800,000 students when they start school this autumn.
As if integrating a safe and secure system for students wasn't enough, Microsoft is also giving schools the chance to earn Surface RT tablets for their students. The program will work using Bing's Reward program; the company will aggregate credits from everyone supporting a specific school district and send out a free Surface RT tablet and Touch Cover once the target of 30,000 credits has been reached.
Lastly, Microsoft reminds teachers that they can use the daily Bing homepage as a way to incorporate digital literacy into the classroom. Free activities will be paired with the current Bing homepage image and will help teach students to solve questions by surfing the web for answers. Various activities will be available to target students in K-4th, 5th-8th, and 9th-12th grades.
Are you a high school student – would you want to see "Bing for Schools" in your district?
Source: Bing Blogs
This is a GREAT thing! Comcast & Microsoft should Team up seeing how the are both very involved with bringing a safe internet to younger students!

MS had a ad on TV last night about this. Very cool. They should block iPads from using it. J/K

Microsoft is pushing hard

Schools, prepare to switch to Bing for Schools!

Going to try and get my son's school to switch to this.

My high school is too pro-google to try this probably.

My school just deployed Google Apps for some reason. We've been using Exchange and Office forever.

This is great news. I wish I could use it myself and go back to the original intent of the Internet before Google ruined it with ads and privacy violations.

How can I get this on my childrens computers at home .. already using Open DNS but would love their Bing searching locked down as well.

You can also donate your Bing Rewards points to the school to help them earn those Surface RT tablets. Pretty cool!

I really like the idea what Microsoft is doing with Bing, however i would much more like to see them focusing on other parts of the world with Bing services. I'm trying really hard to use Bing instead of google but in my country (Slovenia, Europe) Bing search results can simply not match the ones google provides. Too bad.

well...the idea behind it isn't bad...but what bing needs to do is offer something similar for university students...like google has with scholar.google.com. Thats a great way to find academic texts and even gives you citations for referencing and easier access to even more texts and journals.

I want to use Bing more than Google. But the problem is the results that is shown in Google cannot be find in Bing. That's why I can't use it.
Windows Central Newsletter
Thank you for signing up to Windows Central. You will receive a verification email shortly.
There was a problem. Please refresh the page and try again.