"Bing for Schools" has officially launched - brings safe and secure browsing to students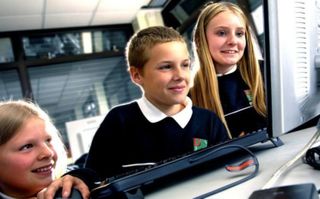 The folks at Microsoft have spent time and energy attempting to get consumers to switch over from Google and to instead use their in house search engine, Bing. The company is now focusing their efforts on the education system as it launches "Bing for Schools". The new program is described as "a new initiative designed to improve digital literacy for students by putting technology in classrooms".
The new "Bing for Schools" program officially launched on August 21st with a few partnering school districts jumping on board to try out Microsoft's latest project. Schools that are not currently in the pilot program can have their system administrators' sign up for the experience on Bing's website.
According to a recent poll from Pew Internet, 94% of teachers "believe their students are very likely to use a search engine during a typical assignment." Microsoft aims to help empower students in their searches while continuing to make them safer and ad-free.
The "Bing for School" program has three key features; first is the removal of all advertisements from search results, second is the automatic strict filtering setting to keep students from accessing adult content, and lastly, augmented privacy protections.
On the launch day of the program, "Bing for School" will be reaching and serving over 800,000 students when they start school this autumn.
As if integrating a safe and secure system for students wasn't enough, Microsoft is also giving schools the chance to earn Surface RT tablets for their students. The program will work using Bing's Reward program; the company will aggregate credits from everyone supporting a specific school district and send out a free Surface RT tablet and Touch Cover once the target of 30,000 credits has been reached.
Lastly, Microsoft reminds teachers that they can use the daily Bing homepage as a way to incorporate digital literacy into the classroom. Free activities will be paired with the current Bing homepage image and will help teach students to solve questions by surfing the web for answers. Various activities will be available to target students in K-4th, 5th-8th, and 9th-12th grades.
Are you a high school student – would you want to see "Bing for Schools" in your district?
Source: Bing Blogs
Get the Windows Central Newsletter
All the latest news, reviews, and guides for Windows and Xbox diehards.