Bing Smart Search updated to understand natural language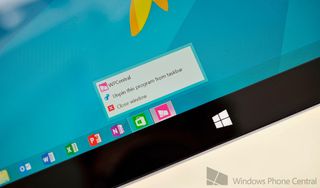 Smart Search on Windows 8.1 is getting a nice update this week that tailors to natural language. Usually when you make a search in Windows, you need to type in exactly what you're looking for, but now phrases like "how do I install a printer?" or "get more Windows apps" will yield helpful, tailored results. The Smart Search improvement will also include predictions based on common misspellings. As you might expect, all of these improvements are made thanks to the Bing search engine.
The update to Windows 8 Smart Search should start rolling out this week. These are some solid additions and should make the lives of newer users a lot easier. How have you guys found Smart Search? Are you happy to see these tweaks, or are there any specific changes you've been holding out for?
Source: The Bing Search Blog
Windows Central Newsletter
Get the best of Windows Central in your inbox, every day!
When its this coming to WP?

Does this by a longshot mean that Cortana can come on my desktop too??

MS has already hinted that will happen.

Ohh, I guess I didn't catch that hint earlier.
Thanks for the reply.

FWIW the voice control currently on W8.1 is great.

Whoever is working on Cortana for PC and XBox One needs to work harder. Things like sharing Cortana, Reading List apps (finally here today), etc, across my PC/Phone/Console needed to start rolling out a year ago. That's the differentiator that everyone is STILL waiting on. Let's go Microsoft Pay these guys some overtime and big delivery bonuses. It's time to stop playing catch up to everyone else and pull ahead.

Is this US only again like Bing site or Windows version is global? (we're in UK)

US only I would think, remember there isn't a world outside America!!!!

Hope they address that too soon as not having fully featured Bing as US in UK is causing issues and people immediatly switch back to Google because of so many minor missing features.

It's global... Works here in Canada.

Generally speaking, It's getting a little sad that for the rest of the World, the first thing we have to do with articles like this is scan for the words 'US Only'. Sort it out MS.

I love smart search. I'm just waiting for voice support, and the ability to choose which app to use for Wikipedia results and stuff.

I agree, the voice search will be great however I would think they'll just bring Cortana as they did with Windows Phone.

So this would be a backend update right ? Sounds good, especially if it would mean the website bing.com handles such things too now, and not just the search charm.
Though i still have some reservations shifting totally to bing as it doesn't support India that much. In google my bro just types mi vs srh and gets the current scores of that cricket match, and bing doesn't do anything about it, just gives me searches. Besides, the desktop interface looks a little dated.
P.s. I love the smart search and the bing search on my phone. Just that the desktop version isn't that good for me.

I use smart search to open just about everything. Windows key plus Q to search and open what I want.

So to what extent does it understand natural language? Could I type, "Play playlist X," and it'll start playing said playlist? Basically, what exactly does this entail? I know that Windows won't be receiving Cortana for awhile, but will this at least go as deep as TellMe does?

So how is the photo related to the topic?

What does the awful wpcentral app has to do with Bing Search? Don't be shameless wpcentral.