Bing teams up with Robocop – showcases the future of search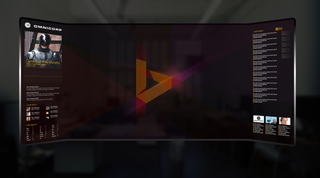 When Robocop hits the streets, he uses his weaponry and might to bring uncompromising justice to the people; among those weapons is Microsoft's search engine, Bing. In a fictional world where crime is out of control, Sony Pictures reached out to the Bing team and asked them to come up with a concept for search in the "not-too-distant future" and, needless to say, they delivered.
Microsoft's Bing team wanted to create a visualization of Bing in the future and decided to build the foundation off the current versions of Bing we have on Xbox One, Windows Phone, and Windows 8 devices. Voice recognition and natural speech were a vital component of the concept, and were centered as the perfect way to interact with the web and instantly receive relevant results.
The Bing design team expressed the need to display millions of various search results, while not overwhelming the user with too much information. The solution was to create a constantly updating list of the latest results in the background, while the most important information was displayed larger and in the foreground.
Science fiction films have always stepped up to display computers of the future and vital information in an exciting visual format, but they do not always take the most practical of approaches. As many of us are familiar with in past movies of the genre, sometimes the generated displays do not even make sense or show any relevant information at all – this was not the goal of the Bing team.
The beautifully animated displays created by the Bing team took center focus on delivering relevant content in a practical form, but did not forego the excitement of future technologies – 3D holograms in this instance.
You can check out the Bing concept in the latest Robocop film, which should have already landed at a theater near you. If you can, we recommend seeing the film in IMAX for the full experience.
Enjoy and let us know what you think of the Bing team's future concept!
Source: Microsoft
Windows Central Newsletter
Get the best of Windows Central in in your inbox, every day!
Gonna try to see this tomorrow after work

Saw this movie last weekend... totally missed that Bing Product Placement. *turns in MS fanboy card*

*Looks down at Roun's card and hands it back* We will give you one more chance...


You know that's sux because if a fan boy couldn't spot it then your average person will not spot Bing either.

Which is why we have the WPCentral team to help us out in that department ;)

This is much better and realistic, than those fancy graphs jumping up and down over those flashy blue screens like in the avengers. By the way on what OS do they operate on? Windows 20.50? :] :P

This is unrelated, but there have been an update which has been pushed to my Verizon Lumia 928. I've downloaded the update, but it won't install due to low battery. Hopefully it's the Lumia Black update!!!!

I've tipped WP Central as well.

This has already been reported.

They already posted an article about this yesterday.

Yeah I missed that one. Statistics and Calculus take up most of my time..... All in all, I'm a happy camper today. :-)

Microsoft is the king of all time for me. Whatever you do is just great but at the moment debating about "android apps on Windows Phone & Windows" just isnt a topic to discuss. Microsoft please grow your own app eco system, it will take time to reach the amount of app on app store and play store but you can do it. You the best. Please I would not suggest toget plat store apps on windows...ill rather hate it.

Sony and Microsoft sure are friends!

Only when it comes to their relatively small entertainment divisions do they pose as "enemies". They work together in harmony in every other department.

Wouldn't this be from Sony's "entertainment division"?

I should have said entertainment and electronics, which basically pertains to PS Vita and PS4(actual name escapes me). The film branch is whole different beast, as is the Music division. The PC arm would have been too, had it not been sold off.

So the UI of bing would be the same for WP 8.1??

What, The Island is not futuristic enough? http://youtu.be/zeVQwomIgjs?t=1m44s

Tron and Iron Man should also do this :P

Man, I wish the folks at Almost Human would ask for Microsoft's help. Their 'future' GUI is awful. Like, really really awful.

Would've been better if it was in the unofficial Robocop remake:)

Bing is only focused on USA. Outside US, you don't get Bing services (except search) and can't even get Bing dictionary using "define:" prefix keyword, unless you change your location to US. And its like this since 2009. Whats the wisdom behind making "Dictionary" US-only?? Bing!
Windows Central Newsletter
Thank you for signing up to Windows Central. You will receive a verification email shortly.
There was a problem. Please refresh the page and try again.