Bing teams up with Robocop – showcases the future of search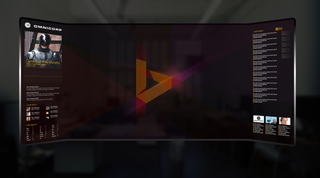 When Robocop hits the streets, he uses his weaponry and might to bring uncompromising justice to the people; among those weapons is Microsoft's search engine, Bing. In a fictional world where crime is out of control, Sony Pictures reached out to the Bing team and asked them to come up with a concept for search in the "not-too-distant future" and, needless to say, they delivered.
Microsoft's Bing team wanted to create a visualization of Bing in the future and decided to build the foundation off the current versions of Bing we have on Xbox One, Windows Phone, and Windows 8 devices. Voice recognition and natural speech were a vital component of the concept, and were centered as the perfect way to interact with the web and instantly receive relevant results.
The Bing design team expressed the need to display millions of various search results, while not overwhelming the user with too much information. The solution was to create a constantly updating list of the latest results in the background, while the most important information was displayed larger and in the foreground.
Science fiction films have always stepped up to display computers of the future and vital information in an exciting visual format, but they do not always take the most practical of approaches. As many of us are familiar with in past movies of the genre, sometimes the generated displays do not even make sense or show any relevant information at all – this was not the goal of the Bing team.
The beautifully animated displays created by the Bing team took center focus on delivering relevant content in a practical form, but did not forego the excitement of future technologies – 3D holograms in this instance.
You can check out the Bing concept in the latest Robocop film, which should have already landed at a theater near you. If you can, we recommend seeing the film in IMAX for the full experience.
Enjoy and let us know what you think of the Bing team's future concept!
Source: Microsoft
Get the Windows Central Newsletter
All the latest news, reviews, and guides for Windows and Xbox diehards.