Bing Translator on Windows Phone updated with voice conversion for Chinese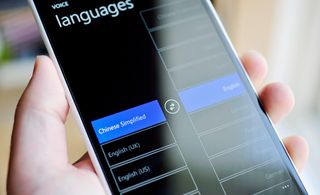 For those who travel around the world, Bing Translator is an indispensable app for not feeling lost amongst the crowd. The useful app is perfect for translating foreign text to your native tongue, either by typing, scanning the text with your camera or speaking directly into the app.
Today, version 3.0 of Bing Translator is now available, and although it is a big version-number update, the changes in the app itself are singular: Voice translation for Chinese.
Heading into the app to the Voice section, when a user chooses what languages to translate into, the option to translate from Chinese (Simplified) to any other language is now possible. Previously, users could select Chinese (Simplified or Traditional) as a target, but Chinese was not available as the source language. With today's update, travelers could use their Windows Phone to 'listen' to a Chinese speaker and have the language translated into English, Dutch, Maltese, or more.
Microsoft and China getting closer together
Considering Cortana is about to be launched in China, this additional language for Translator should not be a surprise. In order for Cortana to work, those Bing services need to be localized, and voice-recognition of that language is a goal for Microsoft; Cortana can even speak Chinese now. Now that Chinese localization is nearly complete for Microsoft, we see the trickle down effects in apps like Bing Translator.
Update: Some users are reporting some minor UI changes like a new Live Tile with a photo and the spinning globe on the app's background.
Windows Central Newsletter
Get the best of Windows Central in your inbox, every day!
Daniel Rubino is the Editor-in-chief of Windows Central, head reviewer, podcast co-host, and analyst. He has been covering Microsoft since 2007 when this site was called WMExperts (and later Windows Phone Central). His interests include Windows, laptops, next-gen computing, and for some reason, watches. Before all this tech stuff, he worked on a Ph.D. in linguistics, watched people sleep (for medical purposes!), and ran the projectors at movie theaters because it was fun.
Still lacks full Japanese support, yet they invested time and resources in perfecting Klingon. Oy vey.

Bing weather needs an update too to work properly ..!! After update it keeps on hanging and is utterly slow..!

Klingon, is by its nature, easier (less vocabulary). Japanese though, for Microsoft and the business world, has increasingly become less important. Not that it shouldn't be done, but Microsoft didn't even launch WP8 there, and do not have much presence. Considering Translator is powered by Bing, focusing on Japanese services implies that Microsoft has prioritized Japan over other regions, which would be odd when compared to China, India, etc.

Isn't it odd that Microsoft has not focused on India that much? Its support is inverse in ratio as compared to our support.

Microsoft - and every other company in the technology sector, including my own - are studiously ignoring India until that country can sort out its taxation issues. Corruption is also a major issue that needs to be dealt with as it's almost impossible now for international companies to do business there. As the saying goes, why are there so many Indians in Singapore? To make the Chinese look good.

Seems... More Chinesey...

Totally agree needs Japanese support

It still needs Pinyin for Chinese.

But wouldn't you just use the pinyin input Chinese keyboard?

I'll second that. I find myself using Google translator more than Bing these days simply because Google has Pinyin.

Yay. Still no good language support here in Australia lol

Translate from American English to Australian English? lol! Add a bit more potty mouth and use a bit more UK spelling. LOL! Have Cortana use a similar accent as Aussie English in car GPS (which for the record is the more friendly sounding of the English accents on those GPS's).

Can she talk indian launguages....Oops that may be something hard....

It's good to hear that finally MS works out with Chinese language, hopefully the keyboard input method on the phone also will get improvement as well.

We need Indians language.

Hindi is already there and Urdu just got added.

Not Hindi, I m talking about Bengali, bihari, telegu , malayam, etc.

well, i don't mind if bengali adds or not, mostly i speak english and hindi, when out of town. So better support for indian english accent would be much better than adding bengali or other langs.

There should be auto detect option in camera

+9001
Absolutely agree. Cortana integration would also be nice; asking Cortana to translate into a specific language without the opening the app steps inbetween would be great.

Man this new update to this wpcentral app is hot! But yes I'm updating my Bing translator now...

My language is Dutch When I compare the results of translations to and from my language then I can only say that Bing Translate is a laughable catastrophy. Google, Babylon and Yandex are the better ones (although not perfect), but Bing gives me hilarious and really stupid translations.

Give us an example, of 'hilarious & stupid translations' we need a laugh...

Don't bother, you wouldn't understand it anyway

Bing translator is shit. Pure and utter shit. Here, I said it. The fucking thing translates every word with a single equivalent, instead of giving multiple options like any GOOD translator. It's completely pointless for looking up single terms. By now I have come to think that the language team at Microsoft doesn't understand languages. Their latest demo of a Skype translator didn't have a sanity check for the grammatical structure of its German translations, for fuck's sake. How fucking hard can it be to add grammatical classification to your table of words?

Translator with speech is free for a day, through myAppfree & apparently you can speech into your phone & it gets translated into the language of your choice, played back so it can be heard! Babel Fish have come true...!!

Don't accuse another member of being drunk because you're too stupid or fucking lazy to find out what they're talking about, cunting troll... Drop fucking dead!!

Guys cyan update showing L520 in France available.

Hopefully it'll make it across the channel soon...

They should build this directly into Cortana. "Cortana, translate for me"

Ha! I just wrote that idea too, so I'm claiming it! ;) 'Cortana translate for me,' would be excellent...

What would be good, if you were abroad somewhere & need to translate your language, you spoke into the phone, then Cortana translated that into the language of the country you're in. Failing that a 'Babel' fish stuck in your ear would help, like 'Hitch Hikers Guide To The Galaxy...'

To bad it doesn't work kik described. Tried to scan text in French while in Paris and it never worked

Did you download the language pack? It usually works very well!

It works really well, great update. I wish they would show Pinyin though - not only in the app but also on the Bing Translator website. Besides the voice translation the app also got an animated background image (when swiping left or right) and the app stays open in the background when exiting it.

When is full language support coming for Alabama?

Or if you could have Cortana speak in regional accents, that could be fun, like in the UK, we could translate London English to Liverpool, Wolverhampton or even Scottish. (sorry Scots I don't mean actually Scottish, just accented English)

I'm having so much fun with this chinese update. It's fun to speak giberish and see it translated xD

All the other bing apps got rid of the bing in the name, why do they keep it in translator? Seems inconsistenter[sic]

Can any one tell me does it support all indian languages??

Not seeing it in the store yet.

resetted all my settings in bing translator and the word of the day seems bugged. not displaying the picture and text at the same time nor displaying the right picture to the text

Come on MS why are you ignoring one of your biggest markets - India???

The change isn't only that, they have also updated the UI !!!!! can't you see that????

No, they haven't!?!?! I compared both versions side by side before posting !!!

I think the spinning globe is new :)

Actually they did update the UI as well, the splash screen, spinning globe in the background and redesigned live tile are all new. Maybe the UI update is for WP8.1 only seeing as it adds a transparent Live Tile!!!

I can't open and use the app now, a message appears about the app not working properly, try reinstalling or buying the app to fix it. I have reinstalled it many times without success. Anyone else having the same issues?

They need to add Thai before I visit Thailand next year. I don't want it to be TOO obvious that I am a dumb American tourist :)

And Urdu got added...yey!

Microsoft's view: ..... So many.... So many people....... MARKETSHARE!!!!!!

This update features a completely redesigned live tile and a redone home screen layout with animated background.. The tile now flips to show the word or phrase of the day, uses HD photos on the front side, and no longer features the translator logo. C'mon WPCentral! This update is huge. An essential overhaul of an essential app for those of us who are linguistically inclined.

If only they would add the language that is on the App Tile, that would be great.

Wicked! Support for the most used language! That's great news.

Still not seeing the update a day later.....

When they say Chinese, I assume they mean Mandarin and not Cantonese. Many people call Mandarin and Cantonese dialects of Chinese, but try telling that to someone who speaks Cantonese like my wife. I wish they would just call it Mandarin and not Chinese. It's like calling a language Canadian without specifying English or French.