Bing Venue Maps gets updated with thousands of shopping malls for around the world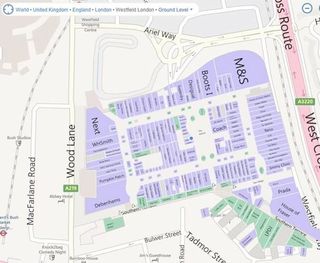 The chaps at Microsoft dropped us an email this morning to let us know that an international update of Bing Venue Maps is rolling out.
The update brings us over 2700 venue maps across 30 countries which predominantly are shopping malls. While the update may not be a huge benefit to us daily it may well come in handy for planning visits to new shopping centers. Google rolled a similar service out not too long ago. It's nice to see Microsoft keeping on their toes.
All new Venue Maps are now available through www.bing.com/maps (opens in new tab). Simply zoom in over your favorite mall to enter the experience. You can also browse all the available Venue Maps and countries at www.bing.com/maps/venues (opens in new tab).
You've doubled up the http's in your links.

Fixed. Thanks for pointing this out.

Would this automatically show up on the WP Maps app as well? Currently there are only a handful of venues that show up on the phone. It would be awesome if this update was compatible with the "maps" used on our phones as well. The reason I ask is because I did a quick comparision and new venues that show up on the website do not on the phone (yet).

Not showing up on my phone yet either, hope they eventually do. A feature like this is slick and a step above Google Maps

They take a while to show up on the phone

That is where it will be most useful. Still waiting FYI.

You had me at Windows Phone with Beats Audio.

Wow, Germany is a part of this :D
Microsoft is improving! Even my small hometowns shopping center is featured!

This is very useful -- it also shows some racecourses and stadiums. I just hope it comes to WP too.

They did my school! University of Southern California. :D

USC area so gross with bunch of bugs on the streets. UCLA so clean and more safer.

I wonder where they get the information from? I just checked for my local mall, and while Bing Venue has it, many of the stores have long since closed or moved. Some for even more than 5 years.

Whoa!!! Something cool on Bing that's available to people outside of the USA, careful Microsoft, some might think you've looked at a globe. Nice addition though and can't wait to try this. =D

Now here's an update I won't be bringing to my wife's attn...

Techiedude

Generally a great development. I notice though that they have missed out the new Stratford Westfield shopping mall. There are several reasons why this should get on there fairly quickly - biggest mall in Europe and right next to the Olympic site, so loads of visitors in 4 weeks time!

So does this type of stuff show up for WP in Bing maps? I quickly tried it for a mall here in Cali and nothing came up :(

Does Bing have hotel maps? Or are there plans to? And do developers have access to this?

Wonder how they picked which malls to release maps of? My city has a map of a small mall but no map for West Edmonton Mall, which is the biggest in North America.

Almost good, but currently bad:

* I get a cerificate error on the page
* Missing the Harlequin Centre in Watford
* Some centres are ALL CAPS, some are Mixed Case
* Staines has 2 shopping centres, 1 is populated - the other one isn't


Now, only if the local scout feature would work in Puerto Rico. Only shows 2 closed restaurants.

This works just fine on my windows phone HTC Titan for the malls we have here in Milwaukee. I'm not sure why it's not working for some people. I will say that the map on my current phone behaves completely different than the maps on my previous phone (HTC Surround).

Yup even includes DisneyWorld! Definitely coming in handy on vacation. Check it out!

That's really a good application , just within a sec we can find shopping malls around us, with the help of this application we save lot of time. Koh Tao Diving
Windows Central Newsletter
Get the best of Windows Central in in your inbox, every day!
Thank you for signing up to Windows Central. You will receive a verification email shortly.
There was a problem. Please refresh the page and try again.