Bing Weather for Windows Phone 8 Version 2 gets lockscreen support and wide tile
Microsoft has updated their Bing Weather app to deliver user-demanded features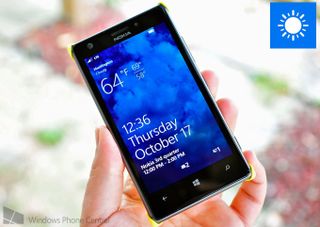 Besides Windows 8.1 rolling out today and Microsoft refreshing their core apps on that OS, Microsoft is also pushing out updates for some of their super popular Bing apps, including Weather, for Windows Phone. (Sports got a small update as well, which we'll cover later, but it's minor compared to Bing Weather).
Bing Weather has been bumped to version 2.0.2.170 and according to the site Plaffo, it includes quite a few new additions that should make the app a lot better.
Are you ready for what's in store?
Bing Weather version 2.0.2.170
Improved graphics
New settings
Doublewide Live Tile
Integration with the lock screen
Let's take a look at the lockscreen support. Upon setting the lockscreen and giving it time to update, it should mirror the main page of the app. That means current temperature, conditions, highs / lows, location. The wallpaper reflects the current weather as well, for a nice touch. It's basically everything you ever wanted from the Bing team to deliver. Kudos, to them on that.
The doublewide tile is something that many users have also requested since the app launched on day one. The tile flips to reveal two bits of information:
Side 1 – Current conditions, highs / low, chance of rain, wind, weather image and of course location
Side 2 – five day forecast with icons and highs / lows for each day
Once again, it looks fantastic.
Regarding improved graphics and new settings, we really haven't seen too much in that regard, but we'll trust Plaffo that they have noticed some improvements.
Microsoft has delivered a hearty update to their Bing Weather app. It's so good, we're starting to feel a bit bad for third party apps. While those third party apps will still excel in many ways, Bing Weather will be "good enough" for many users out there and it reflects highly on the Windows Phone 8 OS.
Pick up Bing Weather 2.0 here in the Store. Windows Phone 8 Only
Daniel Rubino is the Editor-in-chief of Windows Central, head reviewer, podcast co-host, and analyst. He has been here covering Microsoft since 2007 when this site was called WMExperts (and later Windows Phone Central). His interests include Windows, Microsoft Surface, laptops, next-gen computing, and for some reason, watches. Before all this tech stuff, he worked on a Ph.D. in linguistics and ran the projectors at movie theaters, which has done absolutely nothing for his career.
this is the best weather app...

Great App, it would be ideal though if you can toggle the image to use the daily bing image vs. just the weather image....

Good Idea that would be awesome, +1020 ...,

Especial since it's called BING weather!!

I posted the suggestion on the App review section, y'all should do the same!

Yeah until they do this in sticking with Amazing Weather HD. I like my daily Bing images!

A thousand times yes.. I was thinking the exact same thing while reading this.

Agreed. Overlay data on bing lockscreen image ftw.

I would prefer I can choose the one I like. I usually use the same image in order to differenciate my phone from others (love to see my kid when unlock the phone)

I'm regreting about having bought Amazing Weather HD, this is the same and free :/

I bought the Amazing Weather HD to support our community developers, sure there is a free competing product, but I appreciate the hard work these folks have done! No regreattting buddy!

Totally agree. I didn't want to sound like disliking AW HD. It's a great app and I won't change it :P

Next feature I like to see is a map with H and L pressure info along with weather front line.

finally i just gave them a 3 star review because my tile doesnt update itself hopefully this helps out
EDIT: YES IT DOES LOVE THIS UPDATE!!

It updates fine after this update!

Finally! About time... Let's check it out, see if it can replace weather flow Edit: wide tile is alright, a little too simple, something like the windows 8.1 tile will be nice. Lock screen support is also quite basic.

They just need to allow for the BING daily image for the lockscreen.

Yes!!! Hello it's called BING weather! Lol

Yup and also ability to show forecast on lock screen. Actually the tile is quite well done, I like it. Before the background wasn't showing yet so I thought it was just plain

Also no option to add detailed status on lockscreen.

Killer App.. i just uninstalled bunch of weather apps

I used Vieather for some time, until I discovered that it drains battery now use Bing

I love this app! Exactly what I wanted in weather app... Not too heavy, easy to understand, and beautiful!

Great update, nice to see them listening to user requested features

User requested feature my arse... Well I requested a live tile radar. Where is it ???

There were 3milliom asking for double wide tile and you and my mate Jack asked for radar. They laughed.

well it has wide tiles. I gotta try it out.

This update makes it even better. In my opinion bing apps are the perfect examples for metro UI.

Oh baby, I hope this means I can finally uninstall Amazing Weather HD--great features, but inaccurate data and poorly named.

Looks like I spoke too soon. The lock screen features aren't as good as Amazing Weather HD (no Bing image integration or 5-hour forecast), and the live tile doesn't include precipitation chance. Sigh. Still need to use Amazing Weather HD, it seems.

Haha, exactly what I said a few comments back about replacing Weather Flow.. Not quite there yet

Well try expanding the live tile to wide size. Precip chance is present along with wind speed :)

I had to remove it from the Start Screen, and then add it again to get the wide tile option.

Not for the 5-day forecast it isn't. Precipitation and wind speed are only listed for the current forecast. Amazing Weather has precipitation listed for all 5 days on the live tile and for five hours on the lock screen.

I want to see it for each day. Check out Amazing Weather HD. It will have the precip % on the live tile under each day, not just the current day. Thanks.

Bing Sports also just got updated today!

$2 for Amazing Weather HD is still the best $2 I've spent since it alwasy works. Including the live tile.

I have a different experience. Lockscreen and Live tile doesn't update at all.
I regret spending my $2


I just uninstalled Amazing Weather which I still feel has a superior live tile...but it loads so slow in comparison and isn't as slick once you open it up or as informative 'at a glance'! At first the live tile looked a bit meh, but now it's got pics after playing with it! Hazzahhhh

Its inaccurate in the UK so no matter how much lipstick Amazing weather puts on, I ain't kissing it.

Installing it as we speak. I've long since replaced Amazing Weather with this app. That was a decent app, but it always seemed rough around the edges. And their live tiles always looked sloppy. So these updates to Bing Weather are welcome. I just wish I could pay to get rid of the few ads that appear. And it would be nice if I could retain my own background while still getting weather information.

I wish that lock screen Apps could be more dynamic. I like the background images that I put on my lock screen, and I don't need weather info covering it up all the time, but I would love it if the jnfo appeared there initially, then faded out, ir only appeared there once every few times you activated the lock screen. Of course, Weather Alerts should display and stay there till the alert is cleared.

Give this man a MEDAL! Exactly what I would like. I have a georgious pic of a camaro as my lockscreen wallpaper and would like the weather info to overlay for 3-5secs (a customizable fade out would be perfect) and have it *not* replace my wallpaper. Or expose the Bing Weather app as "extended info" display (like Facebook, Twitter, Weave, etc.) so I can display some sort of weather info on my lockscreen. :D

I like the idea of the fade out for the weather info. My current lock screen image has my contact info photo-shopped onto it so that I have a chance of getting my phone back if I lose it, so it would be great if it allowed us to have our own image also.
Aside from the above, I love Bing Weather!

I guess I'm not alone in wanting this. Nor am I alone in really like Bing Weather - lockscreen notwithstanding, its my goto Weather App

Finally a wide live tile!

Battle of the weather apps, who wins? YOU DECIDE!

hopefully they are updating the bing news/sports app so we can share articles

I still can't give up on SkyMotion which matches my Start screen perfectly with Super Caldendar.

Nice, updating now.

Bing Sports updated today as well, not sure what changed yet though. No obvious changelog that I saw.

Just updated it. I quickly checked football and there are new leagues and national cups added ( FA Cup, DFB pockal, Turkish football league, etc.)

They have added in game match up experience for EPL games

I would prefer if they would just put the weather Info on my current Backgrounds. I used Bing Background until now. I hope they switch the Background often because I don't want to look at the same rain drops every week here in rainy-Berlin.. but anyway thumbs up Microsoft and keep up the work!

Yeah for lockscreen they need to add overlay option to standard bing image of the day and your own wallpaper and also add multi-day forcast rather than just today's conditions. Great update nonetheless. Love the flip tile now.

Not bad. Still missing a feature to add more than 1 app to lock screen. I'd love to have Bing background + 5-days weather forecast in another layer.

That's OS issue not app issue

Not really. Amazing Weather has the ability to use Bing background with it's lockscreen layouts as well as using your own images.

So does Weatherflow buy I'm not fussed. Happy with Bing weather so far..

This app is just really clean and packs a lot of information. The Windows 8 version is great, too.

Sweet! But aww man because I JUST bought amazing weather HD last week for the fact it had a nice wide tile! Oh well, two wides on my home screen now :)

I still prefer Weather Flow...

Downloading now....
I hope it's on par with HTC's weather app. The HTC lock screen can't be touched. It's the only thing about HTC I miss.

The pictures used on the lock screen and live tile are absolutely horrible and pixilated, I'll stick withe Amazing Weather

How to set bing weather on lock screen? I couldn't see bing weather option in lock screen app list.

You have to set Bing weather as a background image. Currently there is not an option to set Bing weather as a notification

when you lanuch the app for the first time it will ask you for lock screen option also you go to app settings - lock screen settings then background select bing weather

Seems like we both had the wrong 3rd Quarter date for Nokia Earnings. It's actually October 29th.

Still wishing this app would have sunrise/sunset times. Only reason I keep my AccuWeather App.

It actually does show sunrise/sunset times. They are displayed on when you tap on any of the days in daily panel. :)

I see that now. Let me say I wish I didn't have to go so deep to see it. ;) Moving it to the first page would be better for my liking.
Thanks.

That is kind of weird, that the first display for the current day shows less information than if you go into the multi-day list and click on the same day. Especially given the huge amount of whitespace at the top.


I prefer the AccuWeather lockscreen info, but use the Bing Weather tile.

Damn! Just reviewed yesterday. Might as well change 1 star to 5 stars now!

Now get lock screen support and article sharing option for Bing news please..

Nice update. Lock screen support is what I have been waiting for. Would be nice if it used Bing image of the day as background instead of weather image but that's ok. Was using weather flow but that never updates and it kept breaking my tiles. Good bye weather flow. You won't be missed.

still no notifications???

The app is clean and looks great. I have it pinned next to my current app and the one that gives me the most correct information and forecasts over the next week stays. I ride a motorcycle so accurate weather trumps a pretty interface any time.

Used to use weather flow. It had some bugs, and I reported it. I got a reply a month later asking what my issue was. I had to reexplain the issue, and they replied back in a week, saying they couldn't reproduce the issue, even though I tried it on 5 devices and they all had the same issue. Disappointed it hasn't been updated in a while. I might just switch to this.

Still needs a few things, but it's getting updated nicely so far. Not quite ready to replace Amazing Weather yet, maybe in another update or 2. Great option though, for those who don't want to spend the money on AW or WF.

Installed this App and I prefer using it over Weather Flow. Though I keep using Weather Flow for the lock screen since the lock screen customization is way better there. I would wish Bing Weather would support live tile and lock screen customization, but their ain't any options to change anything. :'(

Yeah, I think lockscreen/tile customization, weather alerts and a update time setting would sell Bing for me.

Amazing app. The only thing missing (or I'm not finding this option) is the abillity to use my own image for lock screen or atleast bing daily image. I hope they will add this in the next update.

Love it..I would just add the ability to zoom on radar image. :)

Just allow us to select the images to cycle through and use bing wallpapers and this app will be a killer. Would piss off certain developers thugh.. :P

No custom images on lock screen also five day forecast on lock screen. Will wait

I just bought the Amazing weather 3days ago for the wide tile ...

Yes, nice..way better now

Yes, nice..way better now

Ok man, we get it..I agree

This is my favourite weather application for Windows Phone. It's even better now with the double wide tile.
At first, I wanted the live tile to follow the phones accent colour but having a background image that reflects the current weather conditions is much better which helps the start screen to look more interesting. Having a sea of tiles all in the same colour can quickly become boring and makes the phone look a bit like it was made by Fisher Price.

finally i have been waiting for wide tile and lockscreen support

i use ACCUWEATHER i just need accurate weathr details i dont mind an average appearence of the.. is BING WEATHER as accurate as d ACCU?? :/

Bing Weather shows accuweather as one of it's sources so it should be.

If its true thank you for the tip :) :)


Accuweather is more accurate in Australia. 5C out here. Useless.

Weather is just inaccurate for Australia, 5C out. Nice app, useless data!

Agree the data isn't using the BOM data but I have been running this side by side with BOM app (Bureau if Meteorology for the US folks on here) and the maximum difference is 2 degrees so I can live with that. As long as it does say rain when its dry etc.

I suspect that the data for Australia isn't getting updated regularly enough, here in Sydney it was 4 degrees out during late morning today but then at noon it was suddenly correct.
Night time is usually spot on here.
Also the most I've seen it out has been 10 degrees! lol
On the plus side Bing correctly had the conditions yesterday as "Smoke" from all the bushfires whereas Accuweather and the others had Partly Cloudy etc..





I am from INDIA nd i have been using ACCUWEATHER from several months nd now il b moving to BING :)

That's great!
I will not switch to Bing weather yet because weather flow allow put Bing wallpaper AND temperature together on lockscreen. When Bing weather do that.. I uninstall every weather app in my phone!
But the Bing wallpaper have to be on my region, not only US. I already sent them my ideia and review about it, so I don't know how/when they are going to release..
That's the only thing missing to be a perfect app.

Uhm... How do I set it as my lockscreen after ignoring the first popup message?!

Settings > Lock Screen > Background --> Bing Weather

I'll wait for them to add Bing image with the Bing weather app before i make any change.

I wish it would let you choose your own picture backgrounds to be used with it on the lock screen instead of just the Bing Weatehr ones.

The app having lock screen is a major missing part so congratulations to the Bing team at MS, I agree with posters that the Bing wallpaper as an option would be great but not essential for me. There is only one thing stopping me from adopting this as my main weather app and that is there is a major bug.
Current location doesn't work.
I tried setting it in settings and it keeps exiting the app when I chose this option. The next time I tried it worked but I was without a signal at that time. When I try it with a signal available it exits the app after about a second. If just set as home location and I try location from the main screen it consistently says I am over 100kms from my actual location in a ski location. I live in inner Melbourne Australia and am running on a Lumia 920. I have rebooted the phone and that doesn't help. Is anyone else experiencing or tried this setting or function?

LOVE THIS! I hope in the next update they bring these improvements:
1. Customizable live tile options:
a) Bing background image or current weather imagery
b) Have options for showing week view / hourly view / etc. (similar to Weather Flow) 2. Sync locations/favorites with Windows 8 app

Wide tile at last, squeeee!!!

Awesome :) Chill :)
Come on :)

Bing Weather suddenly quit finding my location about two weeks ago, after working perfectly since Day 1. Have done everything short of a hard reset to get it to work, but with no luck. Every other app/service using location on my Nokia Lumia 920 is performing flawlessly. Funny how a Microsoft app is the only one that can't find where it is within a Microsoft OS!

You're missing one MAJOR feature in this release - ski resort data. Trail maps, fresh snow, open lifts and more. that goodness also goes on live tiles.

Love the update - hate how the maps look like maps that existed on circa-1999 web sites. AccuWeather's app will remain my weather app until this changes.

I noticed the exact same thing... I expected a more bing-map-style map, not something that looks like a screen capture off of the weather channel.