Microsoft combines the power of Bing and Wikipedia in new app for Windows 8.1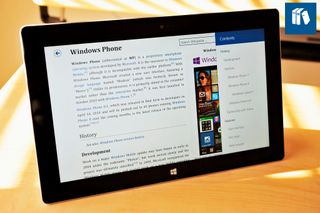 What happens when Microsoft takes the Bing Knowledge repository and combines it with Wikipedia? You get a new app for Windows 8 called Bing Wikipedia Browser. It's a brand new app in the Windows Store that gives you enhanced search capabilities and content recommendations. Let's check it out.
Here's what Microsoft says you get Bing Wikipedia Browser for Windows 8:
Search and browse articles with comfort
Explore related topics with the bottom recommendation bar
Flip through all images in an article in high resolution
Share interesting topics with your friends
We already have an official Wikipedia app in the Windows Store, so why do we need one from Microsoft? Few differences. The official Wikipedia app is certainly serviceable for your needs, but the Bing Wikipedia Browser has a few extra features and a level of polish you won't find with the official app.
We'll be using Bing Wikipedia Browser to access Wikipedia on our Surface 2 going forward. We're big fans of how the app will show you related topics and related people using Bing, something you don't get with the official Wikipedia app. We also prefer the layout of scrolling vertically to read the Wikipedia articles. A handful of buttons in the upper right hand corner give you quick access to specific functions. You can browse the images in an entry, view the contents of the page, favorite the page and much more with those buttons.
Bing Wikipedia Browser for Windows 8 is a nice app for using Wikipedia. Download it today from the Windows Store (opens in new tab).
Thanks for the tip Fahmi!
Windows Central Newsletter
Get the best of Windows Central in your inbox, every day!
I like this app! Please that this app comes to Windows Phone 8.1 :D

Agreed. Would love to see this as a universal app on Windows Phone.

i can see universal app logo in Website... dont check it in Windows Store.. check it in Website https://www.windowscentral.com/e?link=https2F%2Fclick.linksynergy.co...

I jumped excitedly at that litle logo too. Alas, no sight of an equivalent Windows Phone app........... yet?

What's wrong with Rudy Huyn's app? It has the blessing of the Wikipedia Foundation and it's really good.

Is it universal? Does it have Bing? Is it from Microsoft?

It's not universal. I even uninstalled the Wikipedia app, still, universal search results would open in IE instead of this app, Sadly, it has to be uninstalled. No need to have 2 Wikipedia apps. Anyone knows if it's possible to configure default apps for universal search?

It's not from Microsoft but that having Wiki's blessing makes it official and official > from Microsoft I will probably be happy if this comes to WP, though.

yeah unlike that fake ass flipboard app that popped up

I like the Rudy Huyn's app, but the power of Bing and Wikipedia is so awesome :) Microsoft has combined this in a beautiful app.

I'm sorry microsoft,but I don't like the name :( Great app though.

And the icon! Bad minimalism! It seems like some Publisher '95 clipart gallery picture!

Saw this app in the store yesterday and thought it was fake. Maybe cuz of the name.

Check under 'Publisher' for 'Microsoft Corporation'. Then tap it to see their other releases. Good rule of thumb :)

Yeah...will follow that ;-)

Bingipedia. (surprisingly not in the Word Flow dictionary..)

... Too bad this isn't supported fully in Bing Smart Search, meaning that if you want that search to link to a Wikipedia app, you still need the official one installed.

Microsoft should buy Wikipedia and for once be ahead of the game... It will be an excellent compliment to Bing.... And provide something that is better than google for search
IMHO

Never going to happen. Nobody can buy wiki

I'm not sure that even makes sense. Wikipedia is owned by a non profit organization devoted to the growth of open knowledge. Everything they have in there is public domain and on a Creative Commons license, which means it will continue to be public domain, so buying it is in a sense buying something that you already own.

The thing one reads in here...

Bingapedia? Wiking? On a serious note, how much data does Wikipedia consist of. 10tb?

As of 13 February 2014, it was 9.85GB compressed, and 44 uncompressed.

Right. You can even download all that and keep it offline.

This should replace the Wiki app.

Hope they bring it over to Windows Phone 8.1 also!

I Wonder when they finally combine the great power of Facebook and Bing news...to make possible sharing articles with others -_-

How about the Bing IMDB app?

I actually downloaded this app this morning and not too long afterwards I uninstalled the official Wikipedia app.

Pretty much what I will be doing when the windows phone version appears

Amaazziinnnggggggg jobb Microsoft Developers ;) ;)

Very nice. Mighty Microsoft is on a roll!

Saw it in the store.. So I came here. Sure enough, a little light has been shed! Whoo. Interesting app -- Bam --

Other drawbacks: it does not integrate with Windows 8.1 Universal Search like the official Wikipedia app does. Also, on a large monitor such as my 22" one, the article column is too wide whereas the official Wikipedia app's are just right. Think I will stick with the official Wikipedia app for now.

Absolutely beautiful! Looks like Wikipedia should look like formatted for touch. I just uninstalled the Wikipedia app earlier today because I got so fed up with the tables and figures being pulled out--I'd rather have the webpage but it was tiny and didn't scale properly. This one is perfect.

Hmmm.. Microsoft.. Buy Wikipedia.. But change nothing on it.

Love this app already. It's just nicely done

Now, we need and update to select our country and language please... ;)

Well I hope they make one for WP 8.1

Was anyone able to install this on a WP? It seems to be a universal app but cannot be downloaded on WP.

Shouldnt cortana cover all search functions?

This is called windowsPHONEcentral right?