Bing's homepage now shows HD widescreen photos for all users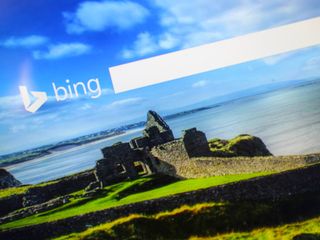 (Image credit: Windows Central)
If you visit Bing's homepage just to check out the image of the day, you will have even more to gaze at starting today. Microsoft has added full HD widescreen (1920×1080) images to the Bing front page for all of the search site's markets worldwide.
While the HD home page photos are the most visible addition to Bing today, Microsoft has also added some other features. One offers a faster way to view information on what the image is with a title card. Microsoft said " ... you can move your mouse over the Info button to reveal the new image caption and click to learn more or download the image to use as your desktop wallpaper."
The top of the Bing home page now has an Office Online menu selection where users can access the free versions of Word, PowerPoint, Excel, Outlook and OneDrive, among other web apps. Finally, the news carousel at the bottom of the page can also be customized to "follow news, stocks, weather, or even track a flight right from the Bing homepage." This particular feature is just for US users at first.
Source: Bing
Windows Central Newsletter
Get the best of Windows Central in your inbox, every day!
Sometimes when I wanna see the world burn I Bing "Google" and Google "Bing"

Have you ever tried binging Bing and googling Google?

Looks like Cortana search is coming. I'd love Bing but for continuity sake lets just rename Bing.

Rather rename Internet Explorer than Bing.

Couldn't agree more. It's so 2 decades ago.

Since they are renaming everything back again, MSN Explorer will be yours!

Hope Bing on phone and desktop start dishing out HDs!

Boooo, why only US first and the rest 10 lightyears later. C'mon MS, you can do better than this! Posted from my ultra cool 930.

Looks like with this rollout they have also removed a bunch of countries from their Worldwide list. It's at least 30% smaller. New Zealand is gone, for one.

But a light year is a unit of distance, not time, hahaha

I guess this is one of the main reasons why WP, Bing or Zune never really take off. As a non-US user you will always get a crippled experience. Not even talking about not having Cortana or no proper Bing services, but even simple things in WP for example. Things like Quite Hours should be something standard on any phone. Even when you set your region to enjoy Cortana you are still confronted with archaic things like miles, gallons, inches, Fahrenheit etc. Serious issue this.....

As an American, I am trying to use alternatives like 24 hr time, and sometimes trying Celsius. The problem is getting our education system in order.

I've had this for 2 days now and I'm not a US user https://twitter.com/ThinkDIGGITYDAN/status/534677403927584769

Also seems they are rolling out a new feature not sure if the US version shows this but the search box has been overhalled in the UK https://twitter.com/ThinkDIGGITYDAN/status/535551602652766210

I had this for a few months, and also, some other layouts....

I really wish there was a Bing Image of the Day option for Windows 8.1 & RT, like there is for our phones. I'd love to see the images change on my lockscreen and desktop on a PC and tablets. When are they going to make this happen??

If you download the Bing Desktop app there is a setting that will change the desktop wallpaper to the Bing photo of the day. It is best to set it up in options to be USA based, then you get more configurability options. You can make it do that the app sits inert in the system tray, and just cycles your wallpaper.

I did not know this. Thanks!

But it doesn't change the lock screen image. Yet.

You are welcome. You can change the cycle frequency with lots of different options, and you get a nifty little ghostly set of controls on the desktop in the upper right hand corner. This gives you information about the current photo as well as other things.

On Windows RT that won't work but there are Bing Themes available and I believe there is a Image of the Day Theme as well but I can't find it at the moment.

You can install and use the app Amazing Lockscreen to set Bing daily image to your lock screen as well. I hope that this possibility will be added to Windows in future though.

Paul Thurrott mentioned yesterday that he has heard that the lock screen in Windows 10 is being completely redesigned. If this is true, then it could include that functionality by default. It is certainly worth suggesting it to Microsoft

I wish my Bing lockscreen wouldn't lag a day behind on the images. Always has and I cannot figure out how to fix it. Third party apps work though. Weird. I agree it would be cool though to have a built in setting on my tablet and desktop to automatically change the lockscreen to that day's Bing image. Or set it on one device and it syncs to all my others including the phone...maybe Win10.

There's an app called 'Amazing Lock Screen' that does just that. Unfortunately the Store is down right now...

Daily Picture store app changes lock screen to Bing image every day.

Animated images of day wallpapers for Windows phone a possibility?

Well the Office menu and the new carousel is also US specific... Its not on the Danish site...

I get it in Norway, so maybe they're not done rolling it out yet? I'm just glad we finally get a Bing feature they deploy to more than the US...

That office online link was has been there but a great thing to have anyways.

Great to see features coming to another countries... Keep them coming...

Now fix the WP lockscreen refresh

Although Bing is good, Google is still better when it's about searching the web, imho :)

When they will be release www.cortana.com for search? :)

Haha, I think they'd have to obtain that URL first. xD

Bing wallpaper works well for me on 2 notebooks and my Lumia 1520 Lockscreen. I would love to have the feature extended to my Xbox One screen background.

US only, as usual as ever.

Firstly, I haven't been to the Bing homepage in a while but I thought we always had full page images? I'm not in the US but I'm sure that was a cool thing about Bing, the homepage images? Secondly, because these are 1920x1080 they don't fill the whole page on my Surface Pro 3 or even my desktop 1920x1200 monitor. Looks a bit yuck tbh, I liked it better before.

Sadly the image never used to fit on larger screens, it would always have a thick gray area. I thought that's west this was supposed to address, but my large monitor is disconnected currently so I can't check.

I had to enable bigger images in the settings to get the wide screen version. Not sure why, I've never set it to small in the first place...

The mouse hover works intermittently in chrome but I like it nonetheless.

I think that last feature (news, stocks, flight info, etc.) has been out for months. I get that Microsoft is only just now announcing it, but I noticed all of my Cortana interests syncing to the Bing homepage, and via verse. I love it! I add a new interest on Bing, Cortana doesn't miss a beat and starts tracking it. Same thing the other way if I add something on Cortana. Glad Microsoft is spreading awareness. And HD is great! I just hope they update it to scale better to devices with less-than-usual screen ratios, like the Surface Pro 3 with its extremely uncommon 3:2 aspect ratio. Still, great updates! This is why I'll continue to use and love Bing. :D

I had it since Sunday. Looks great.

My regional country Indonesia is already get this.

that's cool.......but I think the actual searching is broken........?!

Among other things, I manage the 5 - 52 inch LED displays on the wall where I work and the display is a web app. I had to go in an reset the browser and this was Bing's Picture of the Day. Man, talk about a beautiful portrait. I left the image there for about an hour before setting it back to the normal display. Even my boss was in awe.

The feature... Downloading of the wallpaper is awesome

I more of a google fan but ok

ohhhh gosh it looks so much betterrrrr

i want bing tp give me more deep suggestions. the results are the same as google but when typing in the box it needs to give motr suggestions specially the windows phone Bing.

cool, now they should add the new black top menu bar to all the links/services

I love Bing, but as beautiful as the home page is, it always has looked sort of stupid on my 27 inch HD monitor. WIth this change, it still doesn't fill the screen, but it looks a whole lot better. And, I really like the pop-up info on the photo. Thanks for the changes Bing team.

I'm still not getting the HD version on my work system but I do at home. The same Bing image comes up, just lower resolution.

Is this not on WP 8.1? I still get redirected to the all black Cortana search screen.