Biotix: Phage Genesis - an infectious Windows Phone game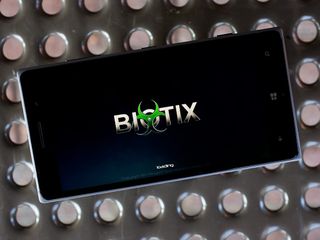 Biotix: Phage Genesis is a war game for our Windows Phone where you are battling for the survival of your species on the cellular level.
The game has a single player, multi-level gaming mode and an online multiplayer quick battle mode. Add the ability to upgrade your cells with over 100,000 upgrade combinations and Biotix is an appealing, addictive title to add to your Windows Phone gaming library. Biotix is available for low-memory devices as well as Windows 8 devices.
Up until game play, Biotix: Phage Genesis has a rather modest layout. The main menu covers three main options as well as a mute button to silence the game's sounds. You can jump into game play, visit the gaming store and check out the online leaderboards.
You do have the opportunity to enter your screen name for the leaderboards when you first launch Biotix. I do not see an option to change that screen name beyond uninstalling/reinstalling the game.
The gaming store is where you can upgrade your cellular army's abilities, choose the color of your cells and purchase gaming coins via in-app purchases. The upgrade opportunities include:
Attack Strength
Defense Strength
Reproduction Speed
Speed (as in attack speed)
Injection (Virion/army starting amount)
Each upgrade level will cost you gaming coins that are earned during game play or you can make in-app purchases ranging from $.99 to $2.99. As a bonus, you can earn 500 coins by rating the game in the Windows Phone Store. Each upgrade has its merit and early on, you can make the argument that speed is the first upgrade to pursue so you can attack enemy cells quicker and get a jump on things.
Game Play
Game play is available in two gaming modes. You have a multi-level, single player mode where you battle your way through thirty, re-playable levels. There is also an online, quick battle mode where you can take on other Biotix players. Regardless of the gaming mode, the mechanics of the game are the same.
One quick note is that the very first level in the single player mode is a tutorial walk through on game play. Biotix lacks any help/reference section and I advise everyone to visit the tutorial before diving into full-game mode. The tutorial does a great job of showing you the ins and outs of the game.
The goal of Biotix: Phage Genesis is to eliminate all of the enemy cells by infecting them with your Virions (army units). While you are battling enemy cells with your Virion, your enemy is also sending Virions out to conquer your cells.
A number in the center of the cell represents each cell's Virion strength. Your Virion will reproduce while in the cell and you can speed up this reproduction rate through store upgrades.
Battling cells can be accomplished one of two ways. You can tap on your cells and then on a target cell to initiate an attack or you can tap/drag across multiple cells then to an enemy cell to initiate an attack.
Your Virion will drift through space towards the enemy cells and if they out number the enemy Virion, you will take over that cell. Again, the goal is to eliminate your enemy cells and to do this, you have to take over all the cells on the screen.
You can shift Virion units from one cell to another to reinforce your front line of attack. You also have certain cell structures that have inherent bonuses such as quicker reproduction, faster speed and better defense.
As you defeat your enemy, you will gain coins and points that will slowly move you up the online leaderboard.
Overall Impression
Biotix: Phage Genesis is a unique Windows Phone game that has a certain level of appeal and is a fun gaming title for your Windows Phone. It combines the need to strike enemy cells quickly before they can regenerate Virion and the strategy need to keep your own cellular front fortified. The online mode partners nicely with the single player mode but it does take a few seconds to find an opponent. This delay should decrease the more Windows Phone gamers get on board with Biotix.
There's really not much to complain about with Biotix. The only thing I would consider adding is a reference/help section. You can always revisit the tutorial but to get to a lot of the information, you will have to work your way through the gaming mechanics portion of the class. A stand-alone help section would be more convenient.
Overall, I found Biotix to be a fun game for both Windows Phone and Windows 8. At last check, Biotix is pulling down a 4.5 Star rating in the Windows Phone Store and the Windows 8 version has a 4.2 Star rating. One could argue that these ratings are slightly on the low side for Biotix.
George is the Reviews Editor at Windows Central, concentrating on Windows 10 PC and Mobile apps. He's been a supporter of the platform since the days of Windows CE and uses his current Windows 10 Mobile phone daily to keep up with life and enjoy a game during down time.
This is basically the online game phage wars that I can play on my phone :D

You know what? ......this is what I do at work everyday..lol, wow

This game is actually fun. Not easy thou...

Same here... For a moment I thought something similar to plague has come to wp. It is really saddening that such a good game is not available for wp.

Basically this game is same as chain reaction game in android platform

This game is simply a pay to win game

I finished the game long ago, in exactly five hours of continuous play without paying a single penny.

I fully upgraded everything without any payments and this in quite short time

this is a virus invasion 2 clone.... orginal looks better.

If it's still available send me a link I miss that game.

http://www.windowsphone.com/s?appid=8aa2cf52-cbf3-4c47-be65-29a55ae40f9a

Thanks I appreciate it :)

Now this is somewhat dificult one. I am waiting for "JUMBLE" Origional 2048" etc games on it

I want more games like gta sa,six guns

I'm like 44 place on multiplayer names dragonmaster648

It's sad that if you upgrade your virus in single player mode your virus in multi player mode will stay the same as at beginning...

I do like this game - it's quite cool, but I just suck at playing it.

Yeah, really a cool game! Wish there where more singleplayer levels though :( No WiFi on the toilet :P
Windows Central Newsletter
Get the best of Windows Central in in your inbox, every day!
Thank you for signing up to Windows Central. You will receive a verification email shortly.
There was a problem. Please refresh the page and try again.