Bitdefender Antivirus Plus vs Internet Security: Which comes out on top?
Both Bitdefender Antivirus Plus and Internet Security stop malware files before they start downloading. Here are the differences between the two programs and why we prefer Internet Security over Antivirus Plus.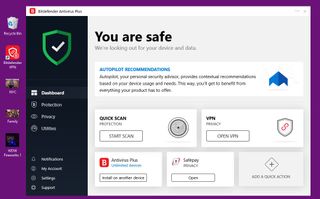 (Image credit: Nicole Johnston/ Windows Central)
Bitdefender Internet Security
Extra security tools

This software has advanced tools including a firewall, parental controls, and webcam monitoring on top of Bitdefender's good malware blocking capabilities
For
Personal firewall
Parental controls
File encryption
Webcam monitoring
Against
Not as effective in Microsoft Edge
Parental controls not on the dashboard
Long scan times
Extra installation steps
Bitdefender Antivirus Plus
Good protection, great value

Bitdefender Antivirus Plus offers great overall protection for your computer without causing slowdown, or breaking the bank. However, you'll miss out on a few key features.
For
Stops malware downloads
Minimal use of resources
Vulnerability scanner
Social network protection
Safepay
Against
No firewall
Scans take a long time
Extra installation steps
Doesn't work well in Edge
Both Antivirus Plus and Internet Security are great at stopping malicious files before they have a chance to start downloading, tag links as safe or dangerous, even on social media pages, and help find vulnerable points in your system and offer suggestions to fix them. Internet Security has a few extra tools including a personal firewall, parental controls, and webcam monitoring. Both antivirus programs come with multiple user licenses at a price that most other protection software can't beat.
Comparing the two
Swipe to scroll horizontally
| Header Cell - Column 0 | Bitdefender Internet Security | Bitdefender Antivirus Plus |
| --- | --- | --- |
| Price | $80 | $60 |
| User licenses | 3 | 3 |
| Protection score | 99% | 99% |
| Vulnerability scanner | Y | Y |
| Social network protection | Y | Y |
| Firewall | Y | N |
| Webcam monitoring | Y | N |
| Parental controls | Y | N |
The whole scoop on Bitdefender Antivirus Plus?
In our tests of 20 different antivirus programs, Bitdefender Antivirus Plus stopped 99% of the over 360 threats we used, including Trojans, rootkits, spyware, worms, ransomware, and phishing schemes. It stopped malicious files before they had a chance to start downloading and warned us of most phishing schemes, including those designed to look like PayPal and Facebook login pages.
We did have difficulty stopping some phishing schemes and using the safe browsing features in Microsoft Edge. This is mainly because Edge doesn't allow many third-party browser extensions, which is how most antivirus solutions, including Bitdefender, use these features.
The safe browsing tools mark links and pages as safe or dangerous before you click them. This is especially helpful on social media where it's tough to tell if an article, link, or ad is safe to open or follow. Its VPN gives you 200MB of daily data use to securely connect online without worrying about trackers, cookies and other spies.
For the threats that we allowed to download, Antivirus Plus caught and permanently scrubbed them from our computers so they couldn't reinfect. Virus scans took a long time to complete, nearly three times as long as other antivirus programs. Thankfully Bitdefender doesn't use a lot of resources while running, even during long and deep scans. We were still able to download programs, attach files to email messages, surf the web, play games, and watch videos without noticing any slowdown or interruptions.
This is the most jam-packed basic antivirus program available. Its vulnerability scanner looks for outdated software, a place a lot of ransomware tends to sneak in and provides you with a safe link to a legitimate version or patch download. These are two tools we see as necessary to keep your full computer safe beyond blocking malicious files and phishing schemes.
Another tool Bitdefender Antivirus Plus includes is its Safepay. This keeps transactions, both shopping and banking, covered so keyloggers, identity thieves, and other snoops can't swipe your account number or personal information. Bitdefender gives you even more protection with a VPN.
What to know about Bitdefender Internet Security
Bitdefender's Internet Security is just as good as its Antivirus Plus solution. It, too, scored high on our in-house malware protection tests — stopping 99% of threats — and includes the same great list of security tools, like a VPN, safe banking, and vulnerability scanner. Both also stop internet trackers from keeping tabs on your online movements.
The downfalls of both programs are also similar, with Bitdefender Internet Security taking a while to finish scans and not working as well to stop threats coming in through Microsoft Edge. This is mainly a flaw with Edge not allowing third-party browser extensions than with Bitdefender.
The biggest difference between the two programs are a few extra protections included with Bitdefender Internet Security. This higher-tiered program has a personal firewall that watches your internet connection to make sure nothing dangerous is sneaking in or sensitive data is being sent out and will boot off anyone trying to piggyback or steal your internet. It also monitors your webcam to ensure programs can't access it without your permission. Internet Security encrypts sensitive files so they can't be attacked by ransomware.
With Internet Security, Bitdefender gives you access to its parental controls. These let you set time limits and block inappropriate content from your children. However, these tools are accessed from your online portal and not the desktop dashboard, which isn't the most convenient way to set up this feature.
Bitdefender Internet Security has phishing filters that stop you from accidentally accessing schemes designed to gather personal information and stealing your identity. When we tested this feature, we tried to visit pages designed to look like Facebook and PayPal login pages but were stopped by Bitdefender. Internet Security also has anti-spam that monitors incoming email messages, including attachments, for phishing schemes, malicious downloads and links to dangerous websites.
Why Bitdefender Internet Security is our pick
If you need a basic antivirus program, you can't do much better than Bitdefender Antivirus Plus, but we recommend Bitdefender Internet Security because of the extra features that we feel are important to really secure your computer from multiple types of threats including phishing schemes, ransomware, internet trackers, hackers and spam messages.
Bitdefender Internet Security comes with a vulnerability scanner, safe banking tools and a VPN in addition to malware blocking. It stops malware files before they start downloading and mark links and search results as safe or dangerous, including those shared on social media. You also get a personal firewall, a tool we feel is important to have beyond malware blocking, webcam monitoring, safe banking tools and parental controls. You can encrypt important files so they're more difficult for ransomware to hold hostage. Plus, it comes with multiple user licenses to protect more than one device, including cell phones and tablets.
Our pick
Bitdefender Internet Security
Secure and protect

This advanced security program is our top pick because of the included webcam monitoring and personal firewall, in addition to the great malware protection and vulnerability scanner. Bitdefender Internet Security has all the protection tools we like to see in a computer protection program. With several user licenses, this software is budget-friendly, too.
Budget-friendly
Bitdefender Antivirus Plus
Low cost, high protection

For a basic antivirus program Bitdefender Antivirus Plus really is the best. It scores high in malware protection tests, includes extra security tools like a VPN and vulnerability scanner, plus comes with multiple user licenses making it an overall good value.
Get the Windows Central Newsletter
All the latest news, reviews, and guides for Windows and Xbox diehards.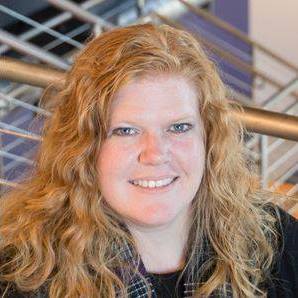 Nikki is a commissioned editor for Future Plc covering internet security including antivirus and VPN. With over 18 years of research and writing experience, and 11 years of testing and reviewing internet security solutions, Nikki knows how to dive deep to get the information consumers need to make better buying decisions. She is also a mom to 10 children, and personally uses many of the products she reviews to ensure the safety of her own family.