Nokia Lumia 900 exclusively available at Phones 4u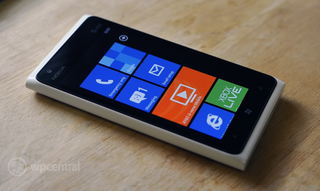 The Lumia 900 is now available at UK retailer Phones 4u in black and white. Both versions are reported to be only available at Phones 4u until May 27th when other sources will be able to stock the device. Purchasing either colour today from the retailer will also see a free Nokia Monster Headset, free Nokia Play 360 speaker and free 12 months unlimited WiFi bundled with the Lumia 900.
The Lumia 900 is available from £21/mo (£199 upfront fee) with O2, £31/mo with Vodafone or £33.50/mo (£59 upfront fee) with Orange. Note that delivery for the handset on an O2 deal is set back until 14/05, no reason is supplied. Also, should you have pre-ordered the Lumia 900 before April 16th, you're eligible for free earphones.
After the delays we've witnessed in the states, it's good to see Nokia pumping out stock for high demand.
Source: Phones 4u; Thanks, Marco, for the heads up!
Windows Central Newsletter
Get the best of Windows Central in in your inbox, every day!
Rich Edmonds was formerly a Senior Editor of PC hardware at Windows Central, covering everything related to PC components and NAS. He's been involved in technology for more than a decade and knows a thing or two about the magic inside a PC chassis. You can follow him on Twitter at @RichEdmonds.
Yay! Hope we see the same sales or better as the US.

Every other country except Canada has a different color other than black. Sigh..

I picked black over cyan. Don't know why but i just liked black better.

I'm not sure if it's worth paying out for 2 year contract unless MS can assure people the Handset will be upgradable to WP8 (that's what's making me want to hang on and not purchase)

Im gonna go to the store for a quick look tomorrow, and even tho my contract is due to an end in 1 month I'll be waiting untill Microsoft clarify whats the situation with WP8 ;)

Apparently they are not doing a great job pimping it on their website. Only shows the 800 and u have to dig to find the 900. its not even under the windows phone category!!!

Man, all those accessories!!!

I still barley see ads for this in the us

@Beefydragon It's on their main page.

Already pre-ordered mine, so can't wait for it to arrive next week! Already bought a case for it in anticipation... :P
@beefydragon Phones4U are doing a much better job than Carphone Warehouse at promoting the Lumia handsets and WP's in general. Their superior support for the platform was one of the reasons I opted to buy from them

Nokia need to stop this pathetic alliance with Phones4U. No matter how many pennies they are putting their way as a result of these exclusive deals, the truth is, Nokia need to get as many handsets into hands, as they can, as fast as possible. They are not going to do by alienating both other providers, and customers. Only those who are taking out new contracts, and interested in pushy, sleazy and unknowledgable salesmen (who last week, were trying to push my mate towards an iPhone or Blackberry, claiming that the Nokia's were crap and Nokia was going out of business), will take out contracts with Phones4u. Most people who upgrade, do so through their carrier. By making one independent supplier the exclusive retailer for a device, means those who wish to purchase/upgrade through one of say, 10+ other retails/channels, are left without the device, choice, and end up feeling alienated/pressured into shopping with Phones4u. Not only that, but they refuse to compete on price, when all the networks and CPW dropped the price of the black 710 last month to between £130 and £170, Phones4u still wanted £280 Paygo, and of course being the only retailer who were able to carry the white handset, means I have yet to see "anyone" at all with a white variant. What in gods name makes Nokia and Phones4u think that people are going to pay over £100 more for the exact same handset, but in white?? Nokia may as well say goodbye to the UK market if they continue this stupidity. I'm sure the short-term royalties from Phones4u is nice, but it's the immediate success of current handsets which is going to make or break the company, and cutting out maybe 90% of your target market, and pissing off your fans, is no way to go about selling handsets or marketing yourself...

Well, they are including the Nokia Monster headset AND the 360 speaker in the deal. Those two items easily sell for more than £100 on their own. I paid $100 US ( £61) for my Monster headeset alone and they tend to sell stuff for even higher prices in the UK than they do here, so they might be more than £61.

The 360 Play speaker is $150 alone here in the u.s. I own it and it works and sounds great with my Lumia 900. Plus they get the Monster headset as well? That's a great freaking deal.

I called into Phones4u in Manchester yesterday and they showed me a white Lumia 900 - they received their stock yesterday. They were even willing to sell it to me sim free £459 if I remember correctly. Plenty of flyers and posters up showing the monster deal etc.

No sign of the 900 on T Mobile which is a shame as I was going to blow my remaining hardware fund on a few. I already have a few 800s and the other guys are getting jealous.

I agree with MattLFC. I'm on T Mobile and don't want to deal with any third party supplier. Nokia, rip up the contract (on the White or make it short term say a month )!

come on ship that thing to germany allready..!!!

They have exclusivity because they're not Sim unlocked sellers. Sim Unlocked sellers (annoyingly) get second dibs on the device. Darn.

Ok according to their advert in the Metro, P4U have an exclusive on White until May 27th, so hopefully will be able to get it from Tmobile, if they sell it !

Been sat in hope that orange would have it available as an upgrade by the end of this month, as I was due an early upgrade on the 27th. But nope, heads up to anyone on orange - there's no longer an early upgrade option (unless you buy out the remainder of your contract at a discount). This isn't down to orange but ofcom apparently who now won't allow carriers to extend the length of a contract for upgrades. In a way I'm glad, the 900 is tempting, but can wait out until August now & see how things pan out with apollo.

I'm really pleased they've got the Lumia 900 out... and with the added incentive of the headphones (£199!), hopefully they can at last trigger some credible interest in WP7 in the UK, God knows it's about time!
Read my thoughts on the Lumia 900 release on my blog and comment if you have anything to say: http://olivermills6.wordpress.com/2012/05/11/lumia-900-released-on-phones4u/
Windows Central Newsletter
Thank you for signing up to Windows Central. You will receive a verification email shortly.
There was a problem. Please refresh the page and try again.