UK Lumia 900 delayed due to 'overwhelming demand' in the U.S.?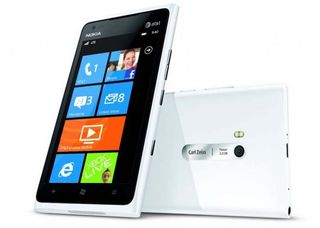 The Nokia Lumia 900 has previously been announced to be heading to the UK shores next month, with Clove UK expecting to stock and ship the handset by May 16th. The Carphone Warehouse and Phones4U have also jumped on the Lumia 900 train with pre-order and registration pages being published for interested customers to keep up-to-date. We've now seen reports that point to a delay with the Windows Phone hitting shelves.
According to V3, a UK technology news website, Nokia has officially confirmed that the availability date for the Lumia 900 at Phones4U has been pushed back from April 27th to May 14th, due to 'overwhelming demand' in the US on AT&T. We've covered a few times how the handset has gone out of stock, and the white Lumia 900 remains to be particularly rare.
This date is pretty much bang on with what both Clove UK and the Carphone Warehouse originally published which makes us believe that either Phones4U was exclusively set to stock the handsets first, or they were jumping the gun slightly with the estimated date of availability (Nokia hasn't officially announced a release date). But the Finnish manufacturer has been relatively broad with their statement. What's not clear is if this just affects the Phones4U white Lumia 900, or the other versions available at the three retailers.
Clove UK has remained silent on their official blog, not announcing any delay with the Lumia 900. We'll keep our eyes and ears open for any further details regarding the possible delay. Could U.S. sales really be that positive? As well as the potential UK delay, as if that wasn't enough, according to Belgium retailer PDAshop.be the Lumia 900 will be available for shipping for €599 on May 9th - a full five days before Nokia expects to be able to ship the Windows Phone in volume to the UK.
Although dates are being flung left, right and centre, we'd recommend readers keep a mid-May release in mind when considering the Lumia 900. Should delays to the UK prove to be reality, it may well affect other European countries too in the U.S. backlash. On a brighter note, at least AT&T's CEO Ralph de la Vega can have a laugh on CNBC with the Windows Phone.
Source: pdashop.be (opens in new tab), V3, via: Inquirer; thanks to babse and Michael for the tips!
Rich Edmonds is Senior Editor of PC hardware at Windows Central, covering everything related to PC components and NAS. He's been involved in technology for more than a decade and knows a thing or two about the magic inside a PC chassis. You can follow him over on Twitter at @RichEdmonds.
Don't forget you also posted an article just two hours ago about the 900 being available in Norway from the 2nd of may. :P

Just have to clearify. The picture i sent about the Lumia 900 in Norway is just rumors for now.
I could only see that we had orderd 2 of each color at this time. And they where excepted to be in store at 2nd of May. But as said, these migth just be demophones. though i dont belive we wil get 6 demophones.(only got one demo of the Lumia 800) But ill talk to some guys at work tomorrow to clearify if they are simply demophones.
Kind regards
Tony

I just have to say that €599 is too expensive... That's iphone 4s & Galaxy nexus territory, and Nokia won't be able to sell if they don't price the phones competitively :/

Seems to sell quite well in the US, it performs better than the SGS2 and has a bigger screen than the iPhony.

Well thats because they priced it competitively. That's my whole point! At 99$ or 0$ for a long time, it's much cheaper than the competition (99$ iPhone and 300$ (now 200$) Galaxy Nexus).

Not many people care about the hp of a car. Is it quick, comfy, good on fuel? A phone is the same. Does it look good, feel snappy and last all day?

I'm not taing about specs, I'm talking about your average european consumer, who doesn't even know that WP exists, and goes into a shop: he/she sees the Lumia 900 for €599, and right next to it the more familiar Samsung or whatever other android device (take for example the sony xperia S for 499), he/she will then read the specs, and being your average joe, choose the cheaper phone, with the better numbers... And I remember Elop saying that they were going to price agressively.

I agree Nokia and MS cant win the spec war due to limiations but they can for sure win the price war which I assume the average consumer cares alot more about.

Any information about 610 availability in Europe?

Thought i get a cheap one until the Lumia/WP8 update situation has cleared up..

US supremacy!!
superslam.jpg
But really, wouldn't the radios be different?

Exactly, we use completely different frequencies and data bands in UK & Europe. All other phones have cross-pond variants. Also don't the American ones have ATT stamped under the glass during manufacture, so no sharing devices unless Nokia literally can't make them fast enough!

We can only assume right now that this possibly means the actual manufacturing stage has the LTE AT&T models being pumped out as priority.

Damn.. The cyan is still sold out.. The trooper is sold out in MSFT store.. Nokia have to price this phone at least $100-200 less than androids and iPhone...

Good news...it's very popular, no numbers quoted.
Bad news...Australia also has to wait for one of two
top end Windows 4G phones.
It's equal, depending on personal preferences, may
also be delayed, the HTC Titan 11.
Qualcomm that produces the Snapdragon processor
for both phones cannot keep up with demand. This was
predicted to happen near years end not now.
Microsoft, Nokia and HTC will pay a price, probably in the
billions, while we are forced to wait.

Great news!! Its about time windows phone gets the exposure it needs, im sure ms is happy with it's investment with Nokia...and vice versa. Nokia's brand recognition is still very high in the states, probably more than they anticipated, I think alot of smartphone users have grown tired with android and iPhone and since most of us got into the whole mobile phone game with nokias to begin with, its not only a familiar name that's always built great hardware but its also a new revolutionary way to smartphone with windows onboard...i love reading articles that say we were "too late" into the game...quite the contrary, I think its the jolt this industry needed..and it couldn't have come at a better time...

Demand exceeds supply. Definately not too expensive.
Once demand starts falling under supply you *might* want to consider price drops and new promotions.





2 things here:
1. We don't need to guess how well/bad Nokia doing now. In another 3 mths time, they will publish their Q earning. Then we know.
2. When a single core Windows Phine can out run dual/quad core Android phone, the 1 should worried is those who holding he Android not Microsoft nor Nokia.
Windows Central Newsletter
Get the best of Windows Central in in your inbox, every day!
Thank you for signing up to Windows Central. You will receive a verification email shortly.
There was a problem. Please refresh the page and try again.