White Lumia 900 joins the Cyan as being "Temporarily Out of Stock"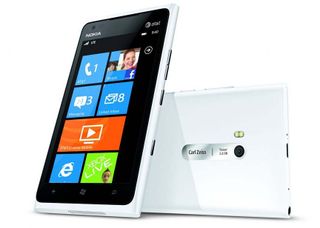 Released only a few days ago, the white Nokia Lumia 900 is now listed online as "Temporarily Out of Stock". The cyan Lumia 900 is also being listed as "Temporarily Out of Stock" and this is likely a case where demand with only the black model currently available online. As far as availability in-store, both the white and cyan model are hard, if not impossible, to find.
While it may sound impressive that the white Lumia 900 sold out in a matter of days, supplies were rather limited at launch. While demand was present, it may simply be a case that AT&T didn't stock their shelves enough. Still you have to wonder how brisk sales could have been if inventory was higher.
As far was when the cyan and white models will be in stock, Nokia had this to offer.
Nokia has had an impressive launch with the Lumia 900 Windows Phones. Sales are strong, they promptly addressed the connectivity issue and clarified any confusion over the updates with the white model. Hopefully Nokia will keep the positive effort going by restocking the shelves quickly. That and have plenty of magenta Lumia 900s available whenever that model should launch.
If you've had any luck in finding the white or cyan models, sound off in the comments.
source: mynokiablog (opens in new tab)
Windows Central Newsletter
Get the best of Windows Central in in your inbox, every day!
George is the Reviews Editor at Windows Central, concentrating on Windows 10 PC and Mobile apps. He's been a supporter of the platform since the days of Windows CE and uses his current Windows 10 Mobile phone daily to keep up with life and enjoy a game during down time.
Cyan backorders have started shipping on amazon again

i guess my only comment about this is if these are in such high demand I should be seeing at least ONE person flaunting a cyan up to their ear at a mall or some other crowded place.

I hope this isn't a case of Nokia creating shortages to hype demand, a la Nintendo Wii

Just because you don't see any in person doesn't mean they aren't selling. And its not like you're anyone important anyway

Yeah, the whole riding the top of Amazon's best seller list for a week (#1 and #2 spots) was just a lie as was AT&T saying that the Lumia was selling better than expected. All lies.

Spend 200 million dollars to promote a phone they do not have to sell. Smart.

Not spending a penny and making stupid comments on a website - priceless?



Its not stupid, I think it is a really big mistake to promote a product and not stock it enought to sell it. Most of people make their choice on impulse, that's why adverts are so effective. But if the guy who saw a Lumia advert don't find it in store they will likely buy another smartphone.
They should have always their product in stock specially in the beggining of their marketing blitz, and I've seen more than a few posts here talking about Lumia's short supplies.

Nokia already stated they had greater than expected demand. It's better to sell out of something than to have shelves full of not selling product.

I originally got a black 900. It had a hardware problem and the AT&T corporate store in Charlottesville Va promptly exchanged it last Saturday. At the time I asked for a white one but they didn't have them yet. Yesterday (Monday) I went back in to see if I could exchange my new black one for a white one. They absolutely did not have to do that, but they did!
I have had nothing but positive experiences in that store. My black one even showed "water damage". I don't know how that was possible. It was raining, so maybe the headphone jack took a direct hit with a raindrop. They exchanged it for a white one anyway!.
The new white one did show that it needed the update. I did it with no problems.



i need to exchange my lumia for a second time because everytime i press the home button it starts voice and its been absolutely infuriating to say the least

I went to a corporate store yesterday to exchange my black for another black. They were out and offered my a cyan. I don't want cyan though. They checked other stores too and none had black. They had cyan though. Kind of weird that I'm experiencing the exact opposite. By the way I live in Evansville IN.

Had to go to five different at&t stores to find the white one but finally got it

Same here! I actually went all over NYC to find the white one. I finally found it on 34th St on the Empire State Building. The ATT rep actually said that lately they've been outselling Android! :D!

Saw one in stick 2 days ago in NYC at the corp store on Broadway and 77th. Waiting for a Cyan to exchange

This women at the bp gas station gave me head for my cyan lumia 900

My store isn't out of stock (black and cyan, didn't ask about the white since I went to store at 10 on Sunday). They only had 2 whites. But the guy said the day before, he (him, not the store) sold 5 lumias. Also, I saw lots interested in it.

A bit off topic, but I did come across a white Lumia 800 while walking around in a shopping mall from where I'm from (Malaysia). Liked the glossy look on it when compared to the other colours. ;)

Ok, complainers--try to understand the demands of production capacity. If you build too much capacity, then, after the initial sales, you are stuck with too much capacity--ie your factories are producing 50,000 a day when you only need 10,000. What they usually do is let production occur--without sales, for a few weeks prior to the official release, to build inventory. So if first days sales is greater than expected, then you are left with a draught.
Also, somewhat unrelated, but did anyone see AT&T CEO on CNBC this AM? They asked about the iPhone 5 and he basically ignored the question and started waving around his 900.

That's a good one, ignoring question about iPhone 5.

Sorry I missed the ATT bit on CNBC. I've been following news about the US carriers that have been pushing the iPhone (ATT, VZ, S), how they eat a couple 100 $ up front to sell the iPhone with the plan they'll make it back in few months and then profit afterwards -- and how that plan hasn't been working out because post-sales support is costing them. USA Today had a good article about it yesterday titled "Apple's gain is other's pain".
I'm sure this is why ATT decided to push the Lumia, and why we'lll see VZ hop on board too. S, I think they'll eventually disappear.

Absolutely right. To expand on that, currently iPhone 4S costs carriers about $400. iPhone 5 is expected to cost them $450.
Apple is getting greedy. This is a window (no pun intended) that Microsoft can take advantage. Operators are frustrated with Apple and want to promote Microsoft. So lets do it.

I preordered the cyan March 30th and received April 6th. On Easter, I started having the data connection issue and lost it completely at some point Monday. Other than on WiFi, data wasn't restored until the software update came out on Friday. On Long Island, NY, it was a difficult task to find a replacement cyan. I was looking for another because one of the corners of the glass screen was loose and making this very audible clicking noise when pressed. This past Wednesday, I called about 20 different stores in a 20 mile radius: Many had black and 3 had 1 each of the cyan. On Thursday, before heading out to one of the further locations with the cyan, i tried the store closest to my location again and they had one in, so i had them hold it and exchanged my phone there. The new phone had the green dot on box and not only did it fix the glass issue, but I was having two others. One was the back button didn't work well and the search button almost not at all. I attributed this to the screen protector I bought via AT&T. The other was when on a call in speakerphone, Bing voice search would keep initiating. Both issues nonexistent since replacing phone. Now the buttons are very sensitive even with the screen protector on. I apologize for the long post, but I hope this helps others with similar problems. And sort of feel the desire to urge others who preordered to attain a replacement with the green dot.
Windows Central Newsletter
Thank you for signing up to Windows Central. You will receive a verification email shortly.
There was a problem. Please refresh the page and try again.