BlackBerry CEO confirms BlackBerry Enterprise Server support coming to Windows Phone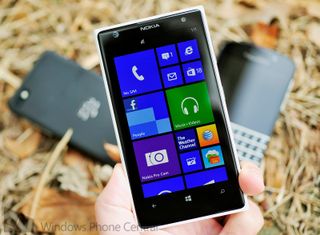 In an exclusive interview with our sister site CrackBerry.com, the new CEO of BlackBerry John Chen confirms that BlackBerry Enterprise Server support is headed to Windows Phone. No ETA for the popular backend service was mentioned, but Windows Phone, like Android and iOS are certainly on their radar.
Considered middleware, BlackBerry Enterprise Service (or just BES), is an industry leading and trend setting messaging service that also support calendar and contact support. Similar in nature to Microsoft's Exchange, which it also supports, BES has been the backbone of BlackBerry's success in the past. The company is hoping to reinvigorate their enterprise offerings by refocusing on what made them strong in the first place.
In today's interview, Chen went on record confirming interest in Windows Phone and BES support:
That's great news for Windows Phone users who work for companies that rely on BES as their backend. In short, the more options, the better because while many of us may choose Exchange, many companies out there still rely on BlackBerry Enterprise Server, currently locking out Windows Phone owners.
Regarding BBM (formerly BlackBerry Messenger), Alex Kinsella from the BBM team says they're equal opportunists. They want to connect everybody. Apple's iOS and Android had biggest demand so they built there first, but as there is a critical mass of people wanting it they will bring it over to other operating systems, including Windows Phone. It's not clear, however, if work has already begun or if it is still being considered.
As Windows Phone heads into 2014, it's becoming clear that it is the third way, even from past rivals like BlackBerry. That can only be considered to be good news.
Source: CrackBerry
Daniel Rubino is the Executive Editor of Windows Central, head reviewer, podcast co-host, and analyst. He has been covering Microsoft here since 2007, back when this site was called WMExperts (and later Windows Phone Central). His interests include Windows, Microsoft Surface, laptops, next-gen computing, and arguing with people on the internet.
Is even blackberry messenger coming to windows phone? Not like I would use it but It would be nice to have it

Read the bottom of the article.

Or for those too lazy to scroll up...they're taking the MS approach with trying to get everyone using their products rather than start up petty wars with the competition to hurt consumers.

WTF!? Bbm 4 WP or gtfo @ BES lol

Why not BlackBerry Windows Phone?

I would sell my soul for a blackberry QWERTY hardware like the Q10 and a Windows phone. wishful thinking.

Give me a call. I can probably work something out for you.

well microsoft and blackberry are both competing for business users so that makes it difficult for them to work together i guess

I'm sure someone will try to build a "hacked" version, maybe by Rudy?

Wont happen. It all goes through RIM/BB's encrypted network. Unless someone can make it run in an emulator from an existing App/platform.

See i like Blackberry. I don't like their OS(i haven't really tried BB10...so their old phones) and the Storm pretty much destroyed my opinion of Blackberry. But I honestly do like the company because they seem to be willing to bring their services to WP even if they are direct competitors(Google is number one and it is a bit petty they don't want to bring their services because of the "Small" userbase of windows/windows phone). I don't use their services(though i may give BBM a try) but i am glad to see that they are being fair and bringing their services to WP

You should give the new OS a try if you get a chance. I use both WP and BB10 and there's a lot to like about BB10. They have hands-down the best notification centre / communication hub of the OS's.

and the best multitasking and the best creation of home button

Still laughing at previous CEO Thorsten Heines who dismissed Windows Phone saying he didn't understand it, then went on to make BB10.

They were rather clueless about Windows Phone, even back in 2013. That's from my first hand experience in talking with Heines on one occasion.

Blackberry was pretty clueless about every other type of phone, which is why they ended up where they did.

I like windows 8 on computer and tablet, but I think the messaging stuff in BB10 is better. I like the hub and as far as I know W8P doesn't have pop-up notifications yet.

This should help BB stay alive long enough to plan a comeback, and WinP get a more firm foothold on the business world. Good news for both.

BBM for WP8 can only be a good thing for growing market share, doubt I'd use it personally though..

Wow BBM for WP I don't believe

BBM is coming to WP, its still being tested internally with no ETA though.

What makes you think im lying?

The status as of the end of December - Closed Beta. Its coming.

this isn't funny dude. stop tantalizing all of us

Companies using BB are most likely quite annal about their security by using EAP-TLS Authentication which windows phone 8 never bothered to add. Thus whatever BB do will be useless, until MS added this back in the coming release which most likely will require carrier's approval which will push this way past summer. Another lost opportunity to capture the BB users by acting too slowly. http://windowsphone.uservoice.com/forums/101801-feature-suggestions/sugg...

Not sure, but I'd imagine its in with the Enterprise Pack expected around or with 8.1.

Wonder how many companies phasing out BES as they move away from BBs and doing BYOD?

The whole point of the new BES is so people CAN bring phones from other platforms.

We just switched from BB to WP. We shutdown the BES. We don't have an MDM solution but we'll take a look at what BES has to offer when WP support is released. BYOD sounds great, until one of your sales employees forgets (or can't) pay their bill... It's also an expense nightmare when not everyone has unlimited plans. Great concept. It would be better if the carriers embraced it and allowed the enterprise to have access to employee's plan details or give the ability for the employee to be on an enterprise contract but continue paying the bill.

BB not giving us BBM because of low market share seems a little hypocritical to me...

Blackberry should have pounced on the opportunity Windows Phone 8 presented over a year ago and attempted to be "special partners" in the way Nokia was. For all the crap talk about BB, it had a lot going for it technically and through the services it provided. It's a shame they decided to spend all their resources making another OS that no one had time for instead of hopping on board WP and bringing their Enterprise and messaging services with them, Glad the new CEO seems to be more pragmatic on supporting other platforms. Apple and Google should be doing the same, but they are special cases. Everyone else, however, should be releasing on as many OS's as possible to maintain relavance and mindshare.

Disney games are free. Check out.

Blackberry die already will you

Lol made me think of this
http://m.youtube.com/watch?v=iS383gEdb_g&desktop_uri=%2Fwatch%3Fv%3DiS38...

Blackberry blah blah blah new ceo blah blah blah look at our 'roadmap' blah blah blah. Thought I'd ditched all this last year but back they come, turning up like a bad Playbook

Billion dollar companies dont just disappear.

At least they are sticking with a story. I can't tell you how frsutrating it was dealing with them on an Enterprise level. They released Mobile Fusion, which was actually multiple products called. Then they killed it and called it BES10 but was still mutliple products (same as Mobile Fusion). Then they combined the products in the end. Still, to this day, you can't upgrade BES 5 to BES 10. So you're forced to license upgraded CALs and then pay support on both environments during the migration. Most companies can't afford to swap out all BB devices with BB10 devices.

You would think MS would put in enough exchange support to WP8 to compete with this. BES exchange is much closer to what enterprise needs.

BES10 just allows more policies to sit on top of the policies defined in ActiveSync, if the device allows them. In the end, BES still relies on Microsoft Exchange and ActiveSync. If you have a BlackBerry, then you can expect more features. Otherwise, you're really limited regardless.

Didn't realize how much of that function was the Blackberry OS itself. MS needs to really work on this. No calendar search, no notes access, follow up on email, etc. Does not make for a great portable experience. The fact I have to resort to OWA from my windows phone for certain functions is sad.

Whatever BB does has to be better than Good for WP8.

Oh Good is terrible. LOL. Great concept, but just terribly executed.

MS enterprise and BBM, a strong force.

I've been involved with the BES 10 Beta and it hasn't been a fun time. We decided to abandon BES and look into other solutions instead. The support for Windows Phone will be after WP8.1 is released. All MDM solutions are waiting for WP8.1 because apparently it's a game changer. I really don't know what to expect with WP8.1 when it comes to enterprise features but I've been told to expect massive improvements with cetificates, company apps/hub, application pushing, enterprise enrollment, and publishing SharePoint to the Office Hub. Apprenetly WiFi settings can also be pushed to devices - great for those using cert auth. We just rolled out Windows Phone devices to our 250 mobile employees. We're looking at Mobile Iron as our MDM solution but waiting for the WP8.1 announcement before making a decision on a MDM solution.

I can't help but reading his words with a certain contempt. It's like "We're bringing it to iOS and Android. Look, we're even going to support that pathetically small OS called Windows Phone". Even if that OS surpassed BB. Unless the guy shares my belief that WP will slowly die once Nokia's out the door, I couldn't help but feel some resentment towards the platform from BB.

Now I understand why you're still here, inspite of your repeated threat to move to the Z1 and the 5S. You actually think WP8 will shrivel and die! LOL! You're actually a vulture circling a prey (WP8), except of course WP8 will not die and instead will grow. LOL! I want you to stay around now that I understand because I want to laugh at your face when Nokia's D&S becomes part of MS and WP8 continues to grow in spite of or because of it. Who knows, I might even dance on your grave when YOU wither and die. LOL!

Stupidity has reached a whole new level with your comment. Congratulations.
Do yourself a favour...next Easter, do take part in those barbaric "celebrations" you do there, will you?

Too late! My company JUST switched from BB to IPhone 5c :-(

Even if BBM comes to WP, Microsoft needs to let them use the music and videos hub. Or else its just gonna be like any other IM out there today.

Recycled concept like the old Blackberry connect for Nokia symbian & Windows mobile devices a decade ago. It didn't go well last time, what makes it work now?

All we need is a simple bbm which was there in their previous is bbos5,6,7. If that is possible then it would be hit messenger on WP. Keeping bbm simple is better. The iOS isnt that great and the android version really sucks

"Considered middleware, BlackBerry Enterprise Service (or just BES), is an industry leading and trend setting messaging service that also support calendar and contact support." In what industry is the BlackBerry's BES for non-BB devices industry leading or trend setting?

Cool at last it is confirmed BBM coming to windows phone
Windows Central Newsletter
Get the best of Windows Central in in your inbox, every day!
Thank you for signing up to Windows Central. You will receive a verification email shortly.
There was a problem. Please refresh the page and try again.