BlackBerry Z10 is touted as innovative, but how does it fare against Nokia's Lumia 920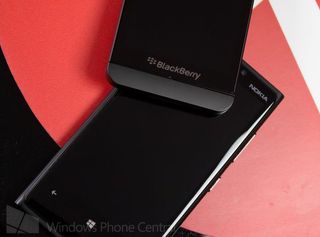 BlackBerry today unveiled its new family of smartphones, running BlackBerry 10. The Z10 (review) is arguably the flagship device, touted as new innovation and pushing the boundaries of mobile computing. We checked out the presentation today and kept a watchful eye on how everything was progressing. It's impressive to see how RIM (now BlackBerry) has turned things around, but how does the Z10 rank against the Lumia 920?
We've already gone into quite some length about whether or not Windows Phone, Microsoft and OEM partners have anything to fear from BlackBerry's latest attempts to halt the company's down spiral. While we were impressed with how BlackBerry has rebranded itself for the release of its new operating system, we couldn't help but argue, "is that it?"
The hardware itself isn't anything to shout about. The Z10 doesn't look like anything we've not seen before either. Take a quick look at one with the screen turned off, notice anything "iPhone-like" about the new BlackBerry? It's surely nothing in comparison to the looks of a glossy white or matte grey Lumia 920:
But what about under the hood? We quickly compiled the list of specifications on both devices, and the below chart will reveal that actually nothing's spectacular about the Z10. Hardware wise, that is.
More RAM? BlackBerry 10 sports "true multitasking" where apps continue to run when not active (unless commanded to close), which is where the extra 1GB of quick-accessible storage comes into play. Whether or not this will aid consumers is down to how intuitive the controls and UI is - which we'll find out once handsets begin distributing in multiple markets.
Apart from the jump in RAM and the removable SD card slot (hello there, ATIV S), there's little to tear the two apart specs wise. With the Lumia 920 you have wireless charging, but with the Z10 you have a lighter handset. It's all subjective and down to personal preference. The Z10 comes in black and white, while the Lumia 920 is available in black, white, grey, cyan, yellow and red - we haven't even gone into the 8X, 8S, Lumia 820 and other smartphones.
It's the PureView camera technology, High Amplitude Audio Capture (HAAC), wireless charging, the world's fastest display, super sensitive screen, as well Nokia Collection of 50+ OEM apps that make the difference here.
It's the little touches Nokia has added to its flagship Windows Phone that really sets it apart. We've been pointed at for too much praise for the company, but Nokia really does craft some incredible innovation for the platform, which is backed up by HTC, Samsung and soon Huawei.
There's a real nice selection of hardware available for consumers in multiple markets.
Major differences are also seen in the software, which walks hand-in-hand with hardware. The Lumia 920 (as well as any Windows Phone, including the ATIV S and 8X) runs the OS smoothly, also reflected in BlackBerry 10, but Windows Phone is unique in how the UI is presented to the user. This is closely tied in with the available functionality of the Lumia 920 and other handsets. Does BlackBerry 10 look like anything new, or has Android and iOS given birth?
The specification sheets are similar, and while both devices can boast about an element here and there, it's the overall user experience which is key to deciding which smartphone is better. Nokia's Lumia 920 running Windows Phone 8, or the Z10 powering BlackBerry 10? We'll let you decide.
You can follow more coverage of BlackBerry over on CrackBerry, as well as sticking here on Windows Phone Central for our take from a Microsoft perspective.
Get the Windows Central Newsletter
All the latest news, reviews, and guides for Windows and Xbox diehards.
Rich Edmonds was formerly a Senior Editor of PC hardware at Windows Central, covering everything related to PC components and NAS. He's been involved in technology for more than a decade and knows a thing or two about the magic inside a PC chassis. You can follow him on Twitter at @RichEdmonds.