Razer Blade Stealth (2019) review: Bold battery life, distinguished design make this Ultrabook truly shine
With solid audio, keyboard, trackpad, and very good battery life, the Blade Stealth for 2019 is a winner.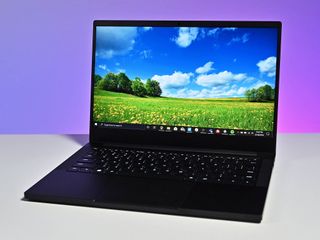 (Image credit: Windows Central)
The Razer Blade Stealth is one of those odd laptops that try to straddle the line between Ultrabook and gaming PC. Featuring a 13.3-inch display and typical Ultrabook hardware, there is nothing particularly special about the Blade Stealth compared to the many options available. Nonetheless, there's something about this symmetrical beauty that makes it supremely enjoyable, including excellent fundamental, such as typing, display, trackpad, ports, and great battery life.
I've been using the Blade Stealth for a few weeks now, and despite one potentially annoying flaw, it's been hard for me to put it down.
(opens in new tab)
Razer Blade Stealth (2019)
From $1,399 (opens in new tab)Bottom line: While far from a real gaming laptop, the Blade Stealth for 2019 not only looks great, it's just fun to use. Combined with excellent audio, a new low-watt display, excellent keyboard and trackpad, and the right gaming pedigree, the Blade Stealth is a surprising powerhouse. Connect it up to a Razer external GPU for real gaming, and it's a blast. Only some coil-whine holds it back.
For
Excellent low-watt, matte full HD screen.
Outstanding audio.
Great battery life.
Premium build quality.
Against
Some coil-whine.
If not on sale, it's expensive.
Razer Blade Stealth (2019) features, display, and specs
Ultrabooks in 2019 are mostly all the same if you look at display sizes, resolutions, processors, RAM, and storage. Whether you go with premium offerings from HP, Dell, Lenovo, Microsoft, or others, all those laptops are in the same ballpark for performance. Because of that, the Blade Stealth comes off as "just another Ultrabook" – at least on paper. But what makes a laptop great, though, are not the specifications, but the overall feel, usage, and enjoying it. That's something that Microsoft gets with the Surface line, which is why it is so highly praised. As it turns out, Razer can do that too.
For this review, we used the $1,599 Blade Stealth (it was briefly on sale for $1,399, which is a much better deal). It has 16GB of DDR3 RAM (better for battery), a matte full HD display, 256GB of storage, and a respectable Intel Core i7-8565U processor. New this year is the option for an NVIDIA GeForce MX150 for some extra graphics punch. While it's not even close to an NVIDIA GTX 1050, it is this generation of laptop's equivalent to Intel Iris Pro or Iris Plus graphics, which are no longer available. If you can splurge a bit, get the version with the MX150.
Swipe to scroll horizontally
Category
Razer Blade Stealth (2019)
OS
Window 10 Home (64-bit)
Display
13.3" FHD matte, low-watt (100% sRGB)
13.3" 4K touch (100% sRGB)
Processor
8th Gen Intel Core i7-8565U (1.8 GHz / 4.6 GHz)
Graphics
Intel UHD Graphics 620
NVIDIA GeForce MX150 w/ 4GB GDDR5 VRAM
RAM
Up to 16GB
2133MHz LPDDR3
Storage
Up to 512GB PCIe M.2 (Graphics model)
256GB M.2 SATA (Base model)
Security
Intel PTT
TMP 2.0
Ports
Thunderbolt 3 (USB-C) (power, 4 lanes of PCI Express), USB-C 3.1 Gen 2 (power), 2x USB 3.1 Type-A, headphone jack
Keyboard
Razer Chroma w/ single-zone full key backlighting
Anti-ghosting
Camera
720p webcam
Windows Hello infrared camera
Connectivity
Intel Wireless-AC 9560 (802.11a/b/g/n/ac)
Bluetooth 5.0
Audio
Stereo, 4 speakers + Smart Amp
Dolby Atmos
Battery
Up to 13 hours
Dimensions
0.58" x 11.99" x 8.27" (14.8mm x 304.6mm x 210mm)
Weight
From 2.82 lbs. (1.28kg)
Colors
Black
Power
65 W USB-C power adapter
Price
Starts at $1,399

(opens in new tab)
Ports options are basic but well-balanced. There are two USB Type-C ports, with one being Thunderbolt 3 (the other for charging, data, or display out) and two Type-A ports along with a headphone jack. Razer ditched HDMI, which is fine for 2019 as many are making the change to Type-C for external displays.
For the display, the bezels are quite thin – at least on three of four sides. Razer is still using a broad "chin" for the bottom. I don't mind a large bottom bezel as it helps keep the display higher giving better viewing angles, but I would not say no to a taller 16:10 display in this same chassis. Gaming laptops benefit from 16:9, but this is not really a gaming laptop.
The matte full HD display is also part of Intel's new low-wattage series, something we saw recently with the excellent Dell Latitude 7400 2-in-1 and HP's Spectre Folio. Sipping just one watt of power (versus the normal two) this new display technology adds hours to a laptop's battery life. That matte display is non-touch, but there is a glossy 4K touch model, as well, though you'll pay $1,899 for the model with it. While 4K is neat at 13-inches, it is overkill for most consumers.
The full HD version hits around 98 percent for sRGB and 74 percent for Adobe RGB, making it very color accurate. Brightness is also excellent at over 400 nits. What Razer is missing here is a solid HDR option, which is becoming a trend this year. That aside, though, I enjoy this display – viewing angles are high, blacks aren't gray, brightness is excellent, and being matte, I could stare at it for hours without any eye fatigue. Skip the glossy 4K option unless you can justify it.
For user-upgrades don't expect much. Only the solid-state drive (SSD) for storage here is user replaceable with the RAM soldered on, so buy the configuration you want and need.
Razer Blade Stealth (2019) keyboard, trackpad, and audio
One thing that annoys me about Razer is inconsistency. The Blade Stealth feels different than the Blade 15, which feels different from the Blade Pro, which is odd since they all look the same except for size differences. The Blade Stealth, though, is my favorite of all the Blades specifically for the keyboard and trackpad.
The keys have a nice "pop" to them when depressed and while key travel is a bit low, it's far from annoying. I still think SteelSeries does it better, especially on MSI laptops, but the Blade Stealth ranks very high for favorite Ultrabook keyboards. For lighting, there is Razer Chroma still, but it is just a single zone instead of individual per-key like on the larger Blade laptops. That's fine, though, as the options are always fun to play with, including choosing all the different colors. Razer is also now correctly illuminates function and media keys, which makes life much easier. One complaint from some users is either the size or placement of the right shift key. Depending on how you type, you may make frequent use of the right shift key, in which case you will find this laptop challenging to adjust to for daily typing.
Image 1 of 2
Razer nails the trackpad. It's one of the largest in any 13-inch Ultrabook, save for Apple's MacBook Air or Pro laptops. With smooth glass and powered by Microsoft Precision drivers, it's perfect. Even the click is excellent, again, differing from the larger Blade's stiffer button mechanic.
For audio, Razer uses four top-firing speakers with a dedicated amp. Dolby Atmos software is included. While HP and Lenovo are catching up to Microsoft for the sound, the Blade Stealth still does quite well compared to them, but Stealth's lead is undoubtedly shrinking. That said, these are outstanding speakers with ample volume and clarity, putting this laptop near the top.
Razer Blade Stealth (2019) is a power and battery champ
Razer uses the standard 15-watt Intel Core i7-8565U processor in the Blade Stealth. Performance is on par with the Huawei MateBook X Pro, making it one of the better performing Ultrabooks.
Cooling is handled by dual fans located on the bottom of the laptop. Placement of those fans makes them less than ideal when in your lap as both your legs will likely block them. That issue is only a problem if plugged in and set to performance mode, which is when those fans kick in to keep things cool. While the fans can get loud and the Blade Stealth can get toasty, that's only when plugged in and in full performance mode. Using it unplugged and like a productivity-based laptop, the Blade Stealth stays cool and quiet.
CPU
Geekbench 4.0 Benchmarks (higher is better)
Swipe to scroll horizontally
| Device | CPU | Single core | Multi core |
| --- | --- | --- | --- |
| Razer Blade Stealth | Core i7-8565U | 5,139 | 16,339 |
| Huawei MateBook 14 | Core i7-8565U | 5,327 | 17,522 |
| Huawei MateBook 13 | Core i7-8565U | 5,336 | 17,062 |
| Huawei MateBook X Pro (new) | Core i7-8565U | 5,192 | |