Blizzard unleashes its free-to-play Heroes of the Storm game on Windows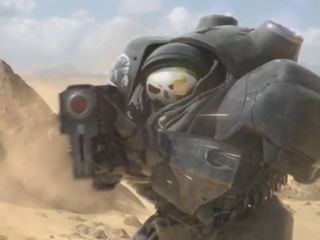 After months of closed and open beta testing, Blizzard is now unleashing its next major game franchise to the world. Heroes of the Storm, a free-to-play MOBA (Multiplayer online battle arena) game, is available to download and play right now for Windows.
The game originally began development at Blizzard years ago as a mod for their RTS game Starcraft II, but since then the developer decided to turn it into its own stand alone title. Heroes of the Storm allows players to control characters from Blizzard's three main game franchises (Warcraft, Starcraft and Diablo) in action-strategy combat. Blizzard says:
While the game is free to download and play, Blizzard is also offering a retail disc version of Heroes of the Storm. The Starter Pack costs $19.99 and offers instant access to five of the game's characters, a special character skin and an in-game Golden Tiger Mount that is exclusive to the Starter Pack.
Check out Heroes of the Storm Starter Pack at Amazon.com (opens in new tab) ($19.99)
Source: Heroes of the Storm
Windows Central Newsletter
Get the best of Windows Central in your inbox, every day!
Yet they wont make hearthstone for windows.

Hearthstone is for windows. It was released first on Windows... Its not a store app but its on Windows :).

Yeah it may be confusing when saying "For Windows" since the store apps ;)
However I would prefer to have that game on my phone as an Universal app too.

True. I think that will get ironed out over time. But this is a desktop app and not a universal app, if that makes sense :).

I should of made it clear and said the "app" in the windows store.

I wish they would bring Hearthstone to Windows Store. Then we could play it on phones, tablets, and Xbox! How great would that be... And in the future you could play it on your wall with HoloLens :).

Or on your table like a proper board game

Do you mean in the Windows Phone store? because Hearthstone can be played on small tablets like the Dell Venue 8 Pro or on laptops with no issues, just download from Blizzard.

For Windows as store app or ? Because I had this game for weeks on my desktop. Edit: Ahh I see beta. But still :)

It is actually coming out of Beta today! =D Not sure exactly when today so it may be out already :).

What a great value! I wish I had bought the starter pack... Oh well, now I have all those heroes and more ;).

Woah! Gonna try this one :D

The really need to figure out the game situation with the Windows Store. Seems like a game like this would be perfect for the store as opposed to a disc or website.

They could put it in the store but Blizzard doesnt have any reason to. Its desktop only right now. Playing this on a tablet/phone would be awful, if not impossible. And it links through Blizzards own launcher which connects to their other games for desktop. Its not impossible. I think Microsoft should push to carry it for them because its free to play. But it would be hard to have this a store app that is really just a desktop app anyways...

Desktop apps are apart of the store, correct? I have a few Win8 devices and nothing really compels me to visit the store. MS needs something to compete with Steam. I'd go as far to say that steam is windows (PC) real store.

IIRC desktop software will be available in the store in the future. That's my recollection from Build.

Nothing compels me to visit the store on my PC either, and that's something Microsoft needs to really work on.

I agree. Nothing compels me either. And nothing really is compelling to blizzard to have heroes in a Microsoft store. They need to do something like pay Blizzard to have their game in the store and if you download it from the store you will get a mount or something. That would be cool. And compelling. Otherwise, even if it was in the store I would rather just have it from blizzard. :)

Look for Heroes of Order & Chaos from Gameloft, it's another MOBA that it can be installed from the Windows store. I think the reason Blizzard doesn't put their games on the appstore is because of their Blizzard installer which is used to install other games like Diablo, Warcraft, Starcraft, etc, and are all linked to your battle.net account.

That didn't stop them from putting Hearthstone in the iOS and Android app stores.

True, but iOS and Android done have the blizzard launcher either. So its different. On a side note, will blizzard please just make a chat app for iOS, Android, and Windows 10 so we can chat with our friends on whatever game they are playing?! :)

I think the reason Blizzard made this free is because Heroes of Order and Chaos popularity which is also free on the Windows store. Now they just need to put World of Warcraft for free, as Order and Chaos Online (just kidding, there is a reason World of Warcraft is not free, and is because this game is a drug for some people, it should be played with moderation).

Goin' maintenance right after the release... will wait for it.

Can never beat dota until it's truly free to play.

What a waste... Free-to-Play?... No thanks...