Bloodborne is the only From Software game locked to 30FPS. It's time to change that.
I'm sorry, but 30FPS just isn't enough for this incredible RPG.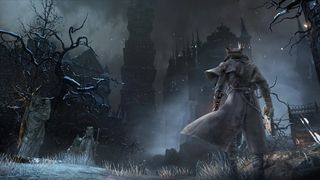 (Image credit: Sony)
Bloodborne released for PS4 in 2015, which means we've gone over six years without an official option to play this beloved RPG at 60FPS. With Dark Souls 3 finally achieving this framerate bliss on Xbox through the magic of FPS Boost, it's become impossible to ignore the 30FPS framerate cap on what is widely considered one of FromSoftware's best Souls-like releases. While Bloodborne was undoubtedly an important release for the Playstation platform, we are beyond overdue for a proper PC port.
The latest Bloodborne PC news and rumors
Recently, Sony acquired both Housemarque, the developers of Returnal, and Nixxes Software, a "technical video game studio" with a history of successfully delivering noteworthy PC ports. It's no secret that PlayStation is incredibly interested in expanding its first-party offerings onto PC, so the Nixxes acquisition is a smart and compelling business decision. It also opens up a host of possibilities for highly requested and long-rumored PC versions of exclusives such as Bloodborne. With an in-house studio seemingly dedicated to crafting PC ports of Playstation titles, there may be some hope for Bloodborne on PC after all.
An endless stream of remaster leaks and rumors for Bloodborne have circulated amongst various internet forums for years now. The latest rumblings (which originated from 4chan so maybe don't put a ton of faith in them), claim something called Bloodborne Hunter's Edition will make its way to PS5 and PC as soon as January.
To me, it seems odd and, quite frankly, silly to release a FromSoftware remaster of this caliber the same month as Elden Ring. Whether any of this information is legitimate remains to be seen, but these conversations and conspiracy theories highlight just how strong the demand for an updated version of this gothic RPG truly is.
Why Bloodborne needs a PC port
It's no secret that I'm a massive fan of FromSoftware's unique Souls-like formula. The main reason I purchased a PS4 was to play Bloodborne, and the first two games I installed on my PS5 were Demon's Souls and Bloodborne. The stark contrast of experiencing the re-imagined and drastically improved version of Demon's Souls versus the completely unaltered version of Bloodborne on PS5 was jarring and incredibly disappointing.
While Dark Souls 3 now supports 60FPS on Series X|S with FPS Boost, I ultimately didn't hold out for the console upgrade. After waiting nearly four years, I ended up repurchasing Dark Souls 3 on PC to take advantage of the higher resolution and, more importantly, higher framerates. The true tragedy of the current state of Bloodborne is that I don't even have the option to buy a PC version, which means there is no way to experience the game at 60FPS without relying on fan-made mods.
When it comes to the absence of a Bloodborne remaster or PC port, we can speculate it's primarily been an issue of finding a dedicated team to handle development. With FromSoftware deep into development with future projects like Elden Ring, it's very unlikely that it has any interest or, more specifically, the staff needed for this undertaking. Now that PlayStation owns Nixxes Software, it's much easier to imagine exactly how an enhanced version of Bloodborne for PS5 and PC could exist.
As it stands, there's no official confirmation of Bloodborne Remastered and it might not be something that ever happens, but with more Playstation Studios titles making their way to PC, there's never been a better time to bring Bloodborne to Windows.
Share your thoughts!
What are your thoughts on Bloodborne for PC? Do you think this is something we could see in the near future? Let us know in the comment section below! And if you're looking for something to play while we wait, be sure to check out our list of the best RPGs on Xbox and PC. Or do what I'm doing and just play Dark Souls 3 for the 20th time.
Let's go, Ashen One
(opens in new tab)
A genuine masterpiece

Dark Souls 3 is not only one of the best RPGs FromSoftware has developed, but possibly one of the greatest action-RPGs of all time. This is a must-play.
Windows Central Newsletter
Get the best of Windows Central in in your inbox, every day!
Miles Dompier is a Freelance Video Producer for Windows Central, focusing on video content for Windows Central Gaming. In addition to writing or producing news, reviews, and gaming guides, Miles delivers fun, community-focused videos for the Windows Central Gaming YouTube channel. Miles also hosts Xbox Chaturdays every Saturday, which serves as the Windows Central Gaming weekly podcast.
There's no doubt that there's a significant and very enthusiastic market for Bloodborne on PC. I have to wonder whether the new Demon's Souls was created with a view to it being ported to PC in the not too distant future. Given the good reception it received on PS5, I can't help thinking that the same studio working on Bloodborne would not be a bad thing. The purchase of Nixxes is certainly interesting but they could be working on porting any number of previous PS exclusives.

Fun Fact: There is an unofficial patch for Bloodborne that unlocks the framerate, on PS4 Pro and PS5 it hits 60 frames.

Well of course its locked at 30 fps, which is what a PS4 runs, and of course it's locked in that it's only available for that console. That's exactly what happens with that awful practice of having console exclusives. That supposedly great, beloved game might die prisoner of the exclusivity deal and never release again for any other system. This whole angle is a strong argument against exclusives. It's sad that Sony are still basing their whole streategy on that archaic, anti consumer practice.

"That supposedly great game" LoL. I feel bad for Dark Souls enthusiasts who refuse to play the best of the genre. Try Demon's Souls Remake and Bloodborne, these are probably the two best games of their ilk. Oh, and that despicable strategy is the same strategy that Microsoft is aggressively chasing at the moment. Or did you not notice them attempting to monopolize the industry with 87643 Studio acquisitions? I love the people who say exclusives don't matter. If exclusives didn't exist there wouldn't be much to differentiate the platforms.. And PlayStation has a lot more going for it than just exclusives, always has. VR, DualSense, PS Plus, console performance, etc. Where else can you get a controller like that and SSD performance like this? And as far as console goes nobody provides more variety. There's a reason why PlayStation has been the market leader for most of its existence and purely dominant over the past decade.

The expectations are that it will receive the blue point treatment, so expect a master class remake or remaster to be announced sometime soon for PlayStation 5. No worries, we will receive something even better than a mere 60 FPS patch. And personally, if it is indeed a blue point joint I have no issue throwing down bucks because they have proven themselves time and time again. And if you are really jonesing for some high-end Soulslike, Demon's Souls Remake is the finest production we have ever seen from the genre. Not only is it actually a polished triple a production but it also is a next-gen title at that.
Windows Central Newsletter
Thank you for signing up to Windows Central. You will receive a verification email shortly.
There was a problem. Please refresh the page and try again.