Blu Win HD and Win JR get little updates for little fixes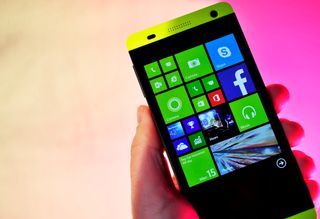 Attention users of the Blu Win HD and Blu Win JR: you have an update waiting for you. It's a small one, sure, but an update nonetheless. In typical Blu fashion there's nary a change log to be seen, for this update to 8.10.14226.359. At the very least, thanks to the keen eyes of Windows Central Forum member Greg Gray, it adds the ability to toggle cellular data through Notification Center.
Hopefully this update also fixes the issues that have prevented Netflix playback since the last update — at least one forum member reported receiving an update that actually rolled back to an earlier version to fix the problem. Either way, there's a small update for Blu's Windows Phones. It might be a small one, but it's here to crush bugs and fix things.
If you've got a Blu Win HD or Blu Win JR, check out the updates and let us know what newness you see.
Thanks to Greg in the forums, Chad, cyber_k9, and Shylendra for the tips!
Derek Kessler is Special Projects Manager for Mobile Nations. He's been writing about tech since 2009, has far more phones than is considered humane, still carries a torch for Palm, and got a Tesla because it was the biggest gadget he could find. You can follow him on Twitter at @derekakessler.
Blu is showing a remarkable compromise with the platform, I hope others could watch and learn from that. I'm looking at you Huawei.

Remarkable compromise? I think auto correct got you there.

I think he meant "commitment".

I want one of these phones but they won't work where I live :-(

Where do you live? I just bought one and haven't used it yet.

Mine already had the cellular toggle .. But that was while in the dev preview.

Any news on how week these two phones have sold? I hope they're doing good in terms of sales!

Either way, at least blu is trying.

From what I've heard, the BLU Win HD did quite well in terms of sales (in my area anyway). However, I am not sure how well the Jr did.

Bought a couple win jr for the parents for $50 before xmas. Great deal/value. Wish I had another couple lying around at that price point just cause.

Two updates were pushed this week from Blu.First was a OS update.Second was bug fixes.

Just got one and love it. Took getting used to how thin it is and the awkwardness of the Power\Volume button locations but got past that and I don't regret buying one at all. Pictures are even pretty awesome which was a concern as so many claimed camera want any good. Heck, there's not even any pause between launching camera and taking pic which annoyed the heck out of me on my Lumia.

Was wondering about the camera on these and if it really was that bad. May get one for my wife

Not again...the wife gets the 'inferior' tech. Just kidding.

And here still waiting for the first update. Still on wp8.1 with poor battery life >_< I'm have a winHd w510U

Using the same model and I'm getting a day and a half before I (have) to charge. What's the OS version you are using?

8.10.12400.899. I'm check every day for the update and nothing :-\

I've got 2 of these phones, and one has got it while the other did not. The only difference between the two is that one is the W510u and the other is W510l. The W510u received the update, but the W510l didn't. I know I've read that there is a difference, but I can't recall. It's the same exact phone, and I puchased them from the same retailer in the same order. Which one do you have?

Just noticed that in your first post. I'm blind...

Yes, it has fixed the Netflix playback issue for me on my Win HD. Haven't noticed anything new other than that.

Just bought a pink Blu HD for my daughter this morning. Hope it's worth the $180 I paid on Amazon! I'm considering one myself as a backup to my 1520. Mostly bcuz of the dual sim capability to use for my two businesses rather than having multiple phones.

Two businesses? Dude, I want to be like you when I grow up!

I just installed the update on my Blu Win HD.. I can not be happier with my phone

What terrific phones they are, we have two and love them. Fast and stable, great screen resolution and no crashes. We were so thrilled when we saw we would get updates from Blu. I hope they continue the practice into Windows 10. Hands down windows is the best smartphone OS we have used.

Can the Blu Win HD be used in Indonesia?

How are you gonna get it anyway? I don't think they sell it here in Indonesia.

I'm in the US.. I bought one last week at the Microsoft store. Leaving for Surabaya in March. Just hoping it's fully unlocked and not only regionally unlocked.

Have also noticed faster performance and increased battery life. And yes, Netflix playback had been fixed. Thanks BLU!!!

i kinda regret getting the 635 over this now, after reading all your comments. I just wanted to stick with lumia, cause I know them :/

I had the 635 and liked it alot but decided to get the Blu and i'm glad I made the switch. The blu is a better phone for me atleast.

I also made the switch from a Lumia to the BLU Win HD when this phone was released. Very happy that I did. The Win HD is lighter, has a bigger screen with great resolution and is more attractive. You definitely get a great phone for the price you pay, no doubt. I now have my Lumia for a backup.

Great phone, using it since Oct with no complaint. But I hope they use gorilla glass when they release a refresh, this screen is is easy scratch and with the protector protector it lost some sensitivity. Downloading the update as we speak.

I have a question, maybe not got the update because use the phone on Spanish language?

Yo tambien lo uso en espanol y se actualiza a cada rato (Venezuela)

Tienes el 510U o el 510L? Comienza a frustrarme la situación. (México)

510U trata haciendo un hard reset

Voy a intentarlo. Gracias.

te funciono? tengo uno que tampoco actualiza...

First picture of the Blu Windows phone that is attractive to me. They almost always use meh pictures.

I've never had this option of toggle cellular data and after the update still cannot get it. Two thing that I'd love to see on this phone are call recorder and SMS & call Anti-Spam. Apps like truecaller just say that you don't have cyan in order to make caller id to work. Also my phone is factory unlocked but I use it with movistar Venezuela, I can't hide my phone number from those I don't want to call me back

I love the this phone. I've been using for a month. Just wish they had it in blu

Anyone else receive another update, I just got another update a few moments ago?

Always wanted to that phone to my collection. I wonder how it runs.

can somebody tell me the diffence between w510l and w510u?
i need a dual sim phone with 1gb ram or more, and front/rear cam,....and unlocked!
need something cheap!
Windows Central Newsletter
Get the best of Windows Central in in your inbox, every day!
Thank you for signing up to Windows Central. You will receive a verification email shortly.
There was a problem. Please refresh the page and try again.