BLU Win HD is just £49.99 from Amazon UK for today only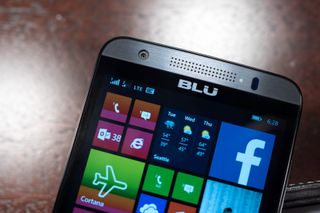 The BLU Win HD Windows Phone is listed for just £49.99 on Amazon UK. This is a temporary deal that lasts only for today, so you'll need to act fast if you wish to save on a new smartphone. The 5-inch handset is powered by Windows Phone 8.1, but can be upgraded to Windows 10.
For the £49.99 price tag, you will get a smartphone powered by the quad-core Snapdragon 410 processor, featuring an IPS display, 8MP main shooter, 1GB of RAM, 8GB of internal storage (with support for expansion up to 64GB), and 4G LTE. Black, white, orange and yellow variants are all up for sale.
Buy the BLU Win HD for £49.99 at Amazon UK (opens in new tab)
Thanks, Arkanoid M., for the heads up!
Windows Central Newsletter
Get the best of Windows Central in your inbox, every day!
Rich Edmonds was formerly a Senior Editor of PC hardware at Windows Central, covering everything related to PC components and NAS. He's been involved in technology for more than a decade and knows a thing or two about the magic inside a PC chassis. You can follow him on Twitter at @RichEdmonds.
This or lumia 435 please ? Posted via the Windows Central App for Android

Lumia 435 is nothing in comparison with this

I have a 435 for testing apps (paid £20) this is phone is a LOT better than the 435.

Definitely this.. This one has 410 over 435's outdated 200.. Gud camera than 435.. And yes thus one is every getting w10

Great deal. I bought this last week for £79.99... Luckily i can still return my previous purchase so I bought another today for £49.99. bit of a hassle but lease it saved me £30

Go for it ppl. Blu Win HD LTE, bought it in amazon last month. Great specs. Better to go for it than 435/535. Its just awesome for such a price with a promised Windows 10 update on release.

Is it Dual SIM as standard? Not buying one myself but interested as the sock image shows two sims

That's an unbelievable deal! I hope they have that deal in the USA soon!

yaaaaassssss... Just ordered one

I bought this for £79.95 a few weeks ago too. My 920 had too many problems after w10m upgrade. I am very impressed with what I got for that price...this is a real bargain. Can't compare to a 435 but I owned a 640 xl which I subsequently lost after only a few weeks!
I can say the camera is significantly worse on the Blu...borderline unacceptable in darkness and low light. However Lumia phones are known to excel in those conditions and I can attest to that.
I would say if you got a 920, other than the camera and Lumia apps this would do a better job. Lumia 640/xl and upwards are less of a compromise and the Blu shouldn't be seen as an alternative to those if you got the money. Even at 50 quid. I will be very happy to keep this as a back up phone when I do a proper upgrade especially as it is dual SIM. Unfortunately it looks like I'm going Android prolly nexus 5p :'(

What kind of SIM in this Phone ? Micro SIM or Normal SIM ? Thanks

What kind of SIM in this Phone ? Micro SIM or Normal SIM ? Thanks

You can also get an adapter for the different sizes. My 1520 had a nano and when the screen broke a couple weeks ago I course to get a 640 which in many respects I like better than the 1520.

Micro SIM...same as in Lumia 920 and 640/XL

Bought this for my mother and what amazing value for a phone. Comes with everything including screen protector and protective case. They also announced they'll be supporting Windows 10

Glad you elaborated on your opinion. I too purchased full functioning phones, 635 upgraded to 640, for my daughter who just turned 8. It's locked down as far as web searching and such. She uses it to contact me, her mother, grandparents, skype family in Illinoi, games and so on. I think this day and age it is responsible that a parent gets their child a phone. My daughter is going to be able to reach me 24/7. I make her take it to school, but has to keep it in her bag on silent. She is responsible with it and doesn't over use or abuse it. I teach her that a phone is a tool not a toy. Besides, she is 8 and still prefers playing outside, coloring, reading, playing with toys over using her electronics: laptop, phone and Wii U.

Pretty sure he said "mainly for watching videos on long trips".
I think I'll give him the benefit of the doubt of being a good father. After all, they go on long trips together! Wish all kids could make that claim. :)

both comments have been deleted but yes, you are correct he did say that. i was just talking from my experience because i know how it benifitted me when i was young. obviously i didn't understand at that time but looking back on it now, it makes much more sense. i didn't mean offence, i'm not trying to tell him how to parent his children, as every child and every parent is different, and all have different needs, and all have different methods of combating problems and fulfilling those needs. some work, some don't. i agree, not everything which works for one child will work for another. and i'm not trying to say that he is a bad father for getting hid kiid a phone. i mean, you'd be surprised at some kids how mature they can be and how they can handle new things and situations. i have no doubt that he knows what's best for his kid because not everyone's situation is the same. and yes, it's nice to know they go on long trips together :)

As an owner of BLU Win HD LTE, I'd like to caution a little bit, that this phone (at least my phone) is better on paper than in reality. I've owned this phone for slightly more than a month, and I have to say, that since maybe Day 2, my biggest problem with the phone is the touch screen. It seems to me that this phone has the worst touch screen input among all the touchscreen phones I have used (HD7 and 8X), one example is that sometimes two separate taps on the back botton was registered as a long tap, therefore calling up the app switching screen. It's plenty fast and all those, but the accuracy of the touch interface makes me looking forward to my Lumia 950 more and more.