'Blue Skies' weather updated to gain radar maps and more!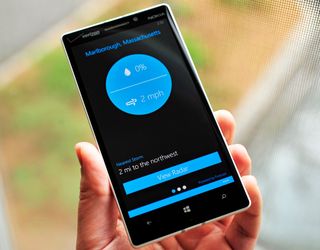 There's no shortage of quality weather apps in the Windows Phone Store. One of our favorites, Blue Skies, has just picked up a rather substantial update. Today's update brings radar maps, toast notifications, improved Live Tile support and more. Full changelog after the break.
Blue Skies 1.3
View the current precipitation probability, current wind speed, and the nearest storm by tapping the main circle
Radar maps are now supported through in-app purchase
Added toast notification for weather warnings/advisories
Added alternated live tile options (Part of the Live Tile Update Frequency add on)
Live tile location now updates automatically
12 hour hourly forecast is now 24 hour hourly forecast
Added UK units of measurements to the unit options
Added setting for people experiencing problems with the live tiles updates caused by low memory
Performance and other little tweaks
Pretty big update for those who are loving Blue Skies on Windows Phone. The addition of radar maps will be welcomed by those who live by the data provided. Radar maps are available through an in-app purchase.
The update also makes the app better for our friends in the UK. Head into the unit options and you'll now find UK units have been added. We've also got toast notification support for weather warnings, a feature useful to those in areas with wild weather. There's a bunch more and we're really digging this update to Blue Skies.
Blue Skies is free on Windows Phone, but has an in-app purchases to add more features. $1.49 will give more control over your Live Tile and another will give you those radar maps.
Download/update Blue Skies and you'll notice that all premium features are free. That's actually a bug with this update and the developer will be patching it soon. But he's decided to leave it as free over the weekend so that users can check out the extra control over Live Tiles and the radar map support. Do support the dev when the fix comes in, this is a great app!
Grab the app and let us know what you think!
Thanks for the tip Mike and others!
Really nice app and a great update. Easily one of my top weather apps for Windows Phone.

I would love it if I didn't have to pay for radar. I can download so many other apps and take his business. I expect radar in every app.

The reason I had to a second in app purchase for radar is because I had to use a different service to get it (Weather Underground) and have to cover the costs for using it. I'm actually not trying/looking to make money off this app. ALL the money I make goes back into supporting the costs of the app.

Great weather app and my favorite but what would make it fantastic would be lock screen and the ability to have more than one tile so that I could have the weather for different places. I have paid for the shorter update times and would be glad to pay for extra tiles and lock screen. Thanks

Thanks for the suggestions! I'm actually waiting for Microsoft to release the new lockscreen app and api for WP8.1 before I look into the lockscreen. And I'll look into the multiple tiles for a future update after seeing how much it would affect the costs. :)


Does Forecast.io not supply radar?

Not at the moment. Although they're planning on supplying it later this year after which you'll definitely be seeing an update ;)

Bummer! I'll be looking forward to that update!

I love the minimalist design of this app and appreciate the updates and extra features. I like that you are using Weather Underground and will definitely be purchasing the upgrade. I do wish it was the radar available in the html5 version that I get in my WP IE browser rather than the low res mobile version but I will take it. I also would like to see this design on my lockscreen so want to recomend doing do..

Also, nothing wrong with making money for your work especially good work such as this. People always want it free but I'm sure they dont work for free...

so minimal much beauty wow lol Seriously, this app is beautiful!

Much short. So odd. Like app.

>obligatory doge comment here

Glad you like the app! :) Let me know if you have any suggestions for future features

Just replaced my Bing weather tile with this one! Looks so much better, especially because it's transparent! :)
The only thing I would like to have is a translation into german. It doesn't bother me that the app is in english, but a translation would be awesome! :)

Unfortunatly Forecast.IO doesn't support translations. Those 12/24 hour summaries come straight from Forecast.IO and until they support other languages, I won't be able to either. :/

Ah ok, thanks for clarification! Still one of the best and most beautiful weather apps! :) Keep up the good work!

Thank you for a gorgeous windows phone app!

Why don't you pull the radar data directly from the NWS? With a little graphical work you can charge a one time fee (such as you are now) that displays all level2 data, not just base reflectivity. Now, that I would pay for since Radarscope is not available on Windows phone. The only alternative is a 30 dollar app and that's way too much.

I'm not impressed by the second in-app purchase option...
I bought the initial app offering because I wanted to support future development (I didn't care or use the more frequent live tile updates).
It is therefore a bit annoying that the dev is asking for secondary purchases. Not a good development IMO.

The reason I had to a second in app purchase for radar is because I had to use a different service to get it (Weather Underground) and have to cover the costs for using it. ALL the money I make goes back into supporting the costs of the app itself.

Read comments below about weather data costs.

Thanks for the info, I'll probably check this one out. I really wish Amazing Weather HD would add toast notifications for weather warnings/advisories. That is the main weather app I use since I like how it shows the current conditions on my lockscreen, but they really need toast notifications. I've heard that Cortana can also do this. Is that correct? I've yet to receive any toast notifications from Cortana in my Action Center.

Straight Shooter !!!! Yeeaaaahhhhh

Jeaaahhhh what's up Jigg? Nice to finally see someone I know on here!

Yup - This is my go-to weather app.

So many weather apps, should I download and pin them all over the start screen? lol

Oh yeah and how come all the download from the store links always say "This webpage is not available?" Thanks!

Means.... Not gonna update again...

I've had this app since the day it came out, at the time it was the only weather app with transparent tile. It's had many updates and I've had contact with the dev on several occasions (he's awesome) he answers all questions and within a day usually takes care of all problems. It's been my go to weather app except for radar where I've also kept Bing weather solely for that purpose. I will be deleting bing weather now

haha thanks! Glad you're enjoying it :)

How good is live tile support? Os it better than bing weather coz all bing apps needs huge updates now.

Bing weather is perfectly fine for me, double wide tile updates perfectly and never really have to open the app.

Yeah its fine t but needs regular updates

I am looking at this app now. Not bad, simple, concise, not cluttered.
I like how the 5 day forecast uses a drop window for that day, very clean look and feel.
I would like to see a more frequent live tile update as I think 1 hour is easy to long.
I don't see any in-app purchase info, and I am getting radar, which is animated, ( unlike some other apps). But I generally use My Radar app for that.
I also like the live tile.
I will continue using it for now.
On the note of in-app purchases, it's nice that someone actually started that there are in-app purchases while so many others do not. I for one understand there is cost involved for these Weather API's top use their data in your apps.
I would charge as well. It's too bad that so many have no clue what goes into developing apps like this one. There are external costs involved that are necessary to make an app like this even function. The fact others can and do, create some that are free, they are not as feature rich, or they are developed by the weather company that owns them, and they even have ad's which are generally unnecessary if they charged a nominal cost to it. Anyway, I will be using this to see how well it works overall for my needs

Thanks for understanding the need to include in-app purchases! Let me know what you think after you get a chance to use it for a little bit and if you have any suggestions for future features.

How readily available would be almanac info.....mainly a precip history for day/month to date/year to date? Extremely useful info for say, deciding when/how much to water the lawn or garden. Very nice app!

I'm glad you added the live tile location update! Thanks!

It has been my default weather app since it was launched.
Good work bro. Achha laga. @hello_Moto.... I want to suggest one thing..... Allow the live tile to update more frequently. 1 HR is really long. Kills the very purpose of a live tile.

I agree. With 8.1, you can update every minute. Take advantage of that.

I have WP8.1 but the live tile updates only after every hour. The settings also do not provide 1 minute updation. Minimum refresh rate is 1 HR.

You want a weather app to update EVERY MINUTE?
Here's a tip...look up at the sky ;)

Lolz....
Its like, you say, why to print an important email? Just send a postal letter. It is by default a hard copy. Being a software engineer, I understand what all difficulties a developer goes through. But my dear friend, suggestions are always and should always be welcomed.

Do you realise how much that would cost to mine forecast.io on a minute by minute basis if it costs US the user via an IAP to get an hourly update? The first thousand API calls every day are free. Every API call after that costs $1 per 10,000 (that is, 0.01¢). So that's $1 for every 10,000 hours which (say 16 hours use) covers 625 users + 62 free Go to a minute model and that's $60 straight off - and that's for 625 users - I'd guess there's a few more than that!

Exactly the problem! Thanks for breaking it down for everyone.

Thanks for the info buddy. Did not have the idea about the costs. Well in that case, 1 HR seems fair enough. :D
@hello_Moto...Your app has been fav for many. Me too.
Keep the good work up bro.
Going out of the topic, can you make a perfectly working clock tile?;-)

Glad you're liking the app! Unfortunatly, making it update more frequently than 1 hour would increase the costs waaay too much for me for it to be worth it.

This has become my default weather app. So beautiful! Thanks Sam for the heads up.

FYI, my wide tile is all jacked up. All the text is jumbled together at the top left of the tile. 928

That happens randomly every now and again. Already contacted Rohit about it and he's looking into it. relaunch from tile and it clears.

Could you try using the setting to choose the live tile size you use and see if the problem is fixed then? Shoot me an email, if you're still experiencing problems after that

Blue skies + Breez are the best looking weather apps on my phone

Never heard of Breez, but I'll check it out, thanks

Breez is a wonderful start to an app, but the dev seems to have abandoned it unfortunately. Not updated since 9/4/13.

Yeah, I would love an update to the live tiles, it just looks completely different to the app itself. Maybe bring the animations and minimal icons on to the live tile

Love the app, usually I really on the HTC app for weather info , but since its broken on 8.1 ... This became my go to app. @hello_ Moto thank you creating such a great app.

Fantastic app. I was more that willing to pay for this. My only wish would be to have the temperature available as one of the 5 lockscreen notifications, similar to the lock temp app.

Nice, but the radar page is blank.

UK units still has the storm distance units in km. Appreciate the discerment though, we like Celsius and miles mixed :¬)

Text of the rear of the large wide tile is all messed up and overlapping itself, I reported this months ago and its exactly the same today

Can you try pressing the force live tile refresh button in the app settings and see if that fixes the problem?

Ive removed the app now, but I had pressed that button before checking the tile and it was still messed up

Why is Daniel always stole the first post

Ok, I see no Radar image and no ability for an IAP to turn it on? What am I missing?

Same thing here. I know the IAP's are not working for now....but the radar should be showing for everyone until the dev fixes the IAP bug.

Nice app. If you could add the option to disable the live tile from flipping in the settings, that would be great. Also, if you could make the dark background truly black as opposed to the current dark gray that would be awesome. Thanks for your hard work.

Hi! You could update the app Blue Skies such that to appear like the iphone option during about to start raining (eg 22 minutes until you make them fit into rain or snow). Mention that I use Windows Phone OS 8.1 (Nokia Lumia 820) and I live in Romania. It would be a very useful feature. I would appreciate an answer on this. Thank you!
Windows Central Newsletter
Thank you for signing up to Windows Central. You will receive a verification email shortly.
There was a problem. Please refresh the page and try again.