Brazil's largest bank updates their Windows Phone app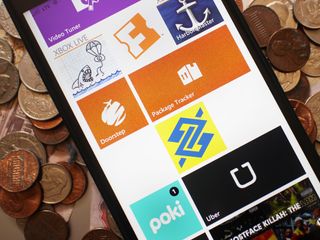 Bank of Brazil has just given their official Windows Phone app a much needed refresh. Head to the Windows Phone Store and you'll find Bank of Brazil at version 2.0. It's a huge update with plenty of new features.
Bank of Brazil (Banco do Brasil) is the largest Brazilian and Latin American bank. They've had an app out for Windows Phone for nearly three years, but it's been a little neglected. That changes with today's update.
Here's what's new in this version:
Payment via barcode reader
BB code to perform transactions over the internet with increased safety, tripling the limits for payments and transfers
BB payment account
Loan confirmation
Mobile withdrawals
Visa TravelMoney (balances, statements and recharging)
Various improvements
Anyone in Brazil bank here? Let us know what you think of the updated app!
Thanks for the tip Guilherme!
Windows Central Newsletter
Get the best of Windows Central in in your inbox, every day!
FINALLY!!! I was asking about this update since nearly two years ago!!
Liked so much that now is a great app and I can do everything.

THREE YEARS later the first version, the app now is fast and functional. The 1.0 version was a huge shame.

still waiting for Santander

I have account in both BB and Santander, at least BB had a version 1.0 ;)

And Citibank. hahahahaha I bet it will never happen. But I use it and I need it :/

Good for everybody...congrats to customers...

It's great! Now I just need the Caixa Bank app!!

Coming soonish =) can't give away details though! Sorry!

Almost 3 years since Santander told me through twitter they're developing an app. So far nothing, they should use Hudy help!

good app, but it doesn't fit well to my Lumia 1520... still it is a huge improvement.

Finally, I lot of people has waited for so long time.

Santander, Caixa and the new Itaú app left, so ...

BY MY GOD!!!!!! FINALLY!!!!! OH SH*T!!!!!!!!!!!!!!!!!!!!!!!!!!!!!!!!!

Bradesco already got a much needed update (and facelift, too) and that's the only bank I use. But great to see more love from Brazilian companies in general!

Bradesco updated app 2 months ago too. Was a nice update

OMG finally, after 3 years of ostracism I can use my bank on my phone.......was actually considering moving to other OS only because of this app, now I'm a 21th century citizen !!

Bradesco also updated its app recently. We are getting more attention, it seems.Also, it's worth to note Banco do Brasil's app is an universal app.

wow FINALLY. i've been waiting forever for this update. thanks for notifying us, wpcentral team :)

Now I can kill my Android!

Finally they care to Windows Phone users, I hope that Correios do the same.

Correios já atualizou o app, cara. Pelo menos o que eu uso ja esta com a nova logomarca deles. Será que foi apenas isso a atualização?

:( E NADA DO MEU SANTANDER LANÇAR APP

FINALLY!! The old app of Banco do Brasil was horrible, this update looks much better!!

Brazil's largest bank is Itaú!!!

You should read more, since 03/2014, Banco do Brasil is the biggest. http://www4.bcb.gov.br/fis/TOP50/port/Top50P.asp

Agreed it is good to have a nice app to use. So far out works great and seems fast too.

Banco do Brasil isn't Brazil's largest bank. Itaú is. Please fix this info.

what ? u need an update =p http://pt.wikipedia.org/wiki/Anexo:Lista_dos_maiores_bancos_do_Brasil

Itau it's a private bank. Bank of Brazil is a public bank i think

E o Leitor de QR CODE não funciona, que BOSTA! Banco ridículo!

Finally!! This update is very nice. Thanks BB

This new version is MUCH MUCH better than the older one. The previous version was a ridiculous app with a lot of bugs and useless. So, the biggest bank of Brazil woke up to hear WP users. Amem!!

Cool, At least this app is available in Brazil. Lmoa

When Bradesco joined the Windows Phone family no one gave a shit...
Windows Central Newsletter
Thank you for signing up to Windows Central. You will receive a verification email shortly.
There was a problem. Please refresh the page and try again.