Breeze extension for Microsoft Edge lets users choose their new tab page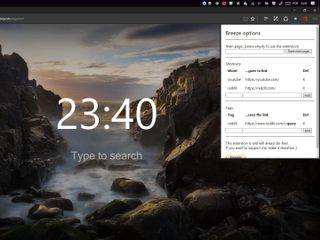 A new extension for the Microsoft Edge browser on Windows 10, called Breeze, has been released. It has been created to allow users of the browser to choose their new tab page.
Image 1 of 4
In a Reddit post, the developer of the extension, Samuel Nunes, stated:
Keep in mind that only members of the Windows Insider program have access to using extensions on Microsoft Edge at the moment. Extension support will be added to all Windows 10 PC users of Edge with the upcoming free Aniversary update
Download Breeze for Microsoft Edge
very nice, nice little addition. It seems the adoption of edge extensions has been very quick, I think at its current pace, we should have a wide selection of extensions available by the time the anniversary update ships. Well done MS and the dev's responsible

That's is a very good extension! Will get it first after downloading anniversary update

Everything is crap unless they add TPL to edge.

You keep posting this over and over. TPL is a server side tech and apparently you are the only person who has ever used it. It is not available in other browsers. It is old, insecure, unused tech that is ignored by every site and is not going to be ported over.

What good is TPL when every site can ignore it LOL.

You don't know what TPL is or how it works.

I sure don't - what is TPL and why do I care? Google didn't help unless it is https://msdn.microsoft.com/en-us/library/dd460717(v=vs.110).aspx

I'd buy that for a dollar

Excellent reference! Posted via the Windows Central App for Android

For those wondering how to load it. Go to about:flags in edge, enable developer extensions, then download it, unpack and you should be able to easily select the folder to load it in.

adding More Extension to Edge can affect the Performance?

Probably yes, depending on the extension

Who the hell uses edge browser?!?! Well apart from using it download Firefox that is anyway
Windows Central Newsletter
Get the best of Windows Central in in your inbox, every day!
Thank you for signing up to Windows Central. You will receive a verification email shortly.
There was a problem. Please refresh the page and try again.