Browse new and used cars with the gorgeous Auto Trader app for Windows Phone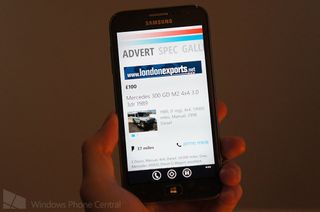 Auto Trader (www.autotrader.co.uk (opens in new tab)), the popular website for those who are seeking a new or used vehicle to purchase, has just released an official app for the Windows Phone Store. We started playing with the app for a few minutes and already we're hooked. The interface is absolutely gorgeous, definitely one of the more well-design apps available on the platform. It's not all about looks though, and Auto Trader doesn't fall short when it comes to functionality.
Enabling consumers to browse, search, view and save adverts is just the tip of the iceberg. There's synchronisation between the website and the app through Auto Trader accounts. Vehicles saved while browsing the web can be loaded on the app while on the move to further check up on vehicle details and view more images form the galleries. Speaking of images, the photos are of high quality and offer the best viewing experience.
There are social aspects to the app as well, with links to email, Facebook, Twitter and tap + send for sharing listings with friends. Should you be looking to visit a dealer, you can check out directions and their location using Nokia Maps, which is integrated into the app. Being a Windows Phone app, Auto Trader takes full advantage of Live Tiles and offers users the ability to pin listings to the home screen.
The last feature we'll highlight is the ability to contact sellers through the app. Numbers are listed and can be selected for automatic dialling. Top notch, must be said. As we've mentioned above, it's very well designed and structured. Navigating adverts and filtering through results is easy. The added option to sign into an Auto Trader account allows users to load and view saved cars in "My Garage".
We previously covered Auto Trader when it was announced that the company behind the popular automobile service is looking at possibly adopting Windows Phone in favour of Apple's iPhone. You can download Auto Trader for free from the Windows Phone Store. Note that the app appears to be region restricted (UK) and is listed for Windows Phone 8. Thanks, Al, for the tip!
Windows Central Newsletter
Get the best of Windows Central in in your inbox, every day!
Rich Edmonds was formerly a Senior Editor of PC hardware at Windows Central, covering everything related to PC components and NAS. He's been involved in technology for more than a decade and knows a thing or two about the magic inside a PC chassis. You can follow him on Twitter at @RichEdmonds.
WP is getting some "official" love lately. Digging it!

I'm stateside and just downloaded it.

You can download it, but unless you want to import your used car from overseas, the app's use outside of the UK is questionable

Yes, just noticed that myself. :\

Well as Auto Trader is a company based in the UK, who specialised in the UK classified cars market, I guess it makes sense for it to be UK only

Look at that, it was first. http://en.wikipedia.org/wiki/Auto_Trader_(UK)

http://www.tradermediagroup.com/about-us/introduction.aspx

There is also a US based company, called Auto Trader, that specializes is the US classified car market. It was founded before and was, in fact, the inspiration for the UK variant. That is where the confusion came from. Apologies if that was unclear.

I remember the days spent browsing for cars using the Auto Trader paper publication, fun times. Seems to be available in the US too, nice.

Excellent, slowly but surely they are coming, just need the BBC to hurry up now!

Great, I am actually looking for a family SUV, that will be a great help.

I just bought one this weekend. :)

Lol I found this post amusing as I just sold my first car (2seater), because we have our first child on the way.

I love browsing, so pleased they got an app together. They have just adopted Windows Phones for some employees, so this is good.
designed very nicely. Would like to see a zoom facility on photos if possible.

App good but not for the US.

This is a good start. I'm sure support for US will come in a future update.

The UK Auto Trader - who this app is for - is not the same as the US based Auto Trader company. They are not connected in any way.

Stunning app. Well designed and intuitive. Great work. Rock on WP.

Why is this euro-centric app still downloadable in the us? Lame. Maybe they could mention that in the app description, or in the news article here at least. Then again, maybe they did, I didn't really read the article.

For those of you in the US, Auto Trader UK is *NOT* the same company as the Auto Trader that many of us in the US know of. They are not connected in any way.

On the next Wheeler Dealers "I just bought me a Nokia!"

I used to watch that on...I think Discovery in the US, found it entertaining on what types of cars are gotten "over the pond" but, it's not on any more here. Is it still a new show over there (weekly new episides)

Any love for Canadians? Or is the results US only?

Flipping Fantastic. I love browsing. I'm not updating my car for another year and when I do it wont be more than £15,000 but at least we WP8 is getting some fantastic official apps

*sigh* to be on this side of a region app barrier sucks. First subway, now this...

To be honest, I'm happy. I like seeing official apps that aren't in the US make it to the marketplace. It's good to see support for the platform. So to the folks across the pond, cheers.

you are not missing anything, this is not autotrader.com

Good thing I read the comments before downloading this app. Need a cars.com or autotrader app for car shopping

This is not THE Autotrader app, this is Auto Trader, which is not autotrader.COM which is really the only site that matters.

Never once heard of autotrader.com, but I have read THE Auto Trader magazine since the 80s.

Not if you live in Yorkshire it isn't :)

Aye, and we also have Whippet Trader. :-)

Ah, so we shouldn't report on news other than what's happening in America? Because (according to your comment) no one else matters? Wow.

Does it support searching cars by Horsepower by now or do i have to guess BHP by the CCM the cars have.

Was all excited for nothing! Didn't read before install. UK only! Dammit!!!!!!!!!!!!!!!!!!

Same here. I went as far as to look for an Acura, and knew something was fishy when Acura was not even an option under make. Baleeted.

No use for me i don't have money

Well I was excited to see this then after downloading figured out its the UK not USA. Nevertheless happy to see it here and I hope all my UK WP friends enjoy :)

Any chance they will develops for US? Great app though..

Toyota Tacoma - not an option. Tundra - no results. Dodge Dakota - not an option. Ford Ranger - no results. Surely someone is selling one of these vehicles within 100 miles of Atlanta, no???

My search brought up many ford rangers maybe you should uninstall reinstall.

This app is no good. No good for my lust for cars!! :D Top job Auto Trader. Looks good and has all the features expected.

This is one of THE apps I've been hoping / waiting for. Chuffed. Now give me a Bank of Scotland app and I'm happy. Things seem to be picking up a bit of steam on WP8 recently. Good signs. Long may it continue

Hahh yes. Chuffed / Pleased

AHA, they have Nissan Stagea!?.. hmm maybe time to save for a import. Only problem is the steering wheel is on the wrong side. In Sweden we call it post office cars :P

Just how is this app 'gorgeous' ?

Its not. In fact its pretty average looks wise. Sorry Rich but just take a look at the screen shots at the top of the article. Its 'average' / 'plain' nothing more.

I can't even find Acura on the brand list. Don't like this app

Title needs to have "for Windows Phone 8 only" in it so the WP7.8 people don't get disappointed.

Title needs to have "for UK only" in it so the rest of the world isn't disappointed.

We need Edmunds, cars.com, motor trend, and the US autotrader. Where art thou?

I find it very strange that this app is UK only but still available in the US store and features a red, white, and blue color scheme. There is no mention anywhere I can see in the app description or the app itself that it is UK only. I predict they will receive many bad reviews after people download it and can't find anything.

GREAT! JUST AFTER I BOUGHT A NEW CAR THIS COMES UP!

I would also love a US version (for the US site), I have been eyeing a used car of one type and it would be nice to take a peak on my phone to see what is the current market value on this car...

Well its no longer available for download in US.
Windows Central Newsletter
Thank you for signing up to Windows Central. You will receive a verification email shortly.
There was a problem. Please refresh the page and try again.