A bug killing update is heading out to testers on the Xbox Insider Alpha ring
Microsoft is rolling out a new build to Xbox Insiders on the Alpha ring this evening.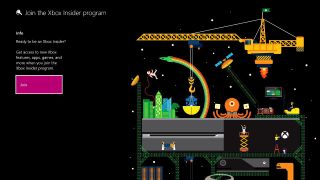 The update contains no new features, instead focusing on fixes for the System Update engine, audio, Games & Apps, and Twitch. As usual, the update will drop at 6 PM PST today.
Here's everything that's fixed, and broken, in the latest Xbox Insider Alpha build.
DETAILS
OS version released: rs2_release_xbox_1703.170224-1901
Available: 6:00PM PST 2/27 (2:00AM GMT 28/2)
FIXES:
System Update
In Energy-Saving mode, system updates should now download and apply when shutting down if "Keep my console up to date" is enabled.
Audio
Fixed an issue which caused an audible "pop" when switching between apps.
Launching Games & Apps
Fixed and issue which caused the console to crash when selecting the "See in store" button after launching an unowned title.
Games & Apps
The "Developer Education" app should no longer appear in Games & Apps.
Twitch
Fixed an issue which could cause the console to crash and restart after resuming Twitch from connected standby.
Sign-In
Resolved an issue which prevented the console from automatically signing in a profile with automatic sign-in enabled.
KNOWN ISSUES:
Xbox Accessories
The Xbox Accessories app Device Details page may appear blank. Workaround: Update the device firmware, and view Device Details on a console not enrolled in Preview. • Copilot does not function at this time. You can disable Copilot from the power menu (hold the Xbox button on the controller) if desired.
Cortana
If Cortana was enabled prior to entering connected standby, you may encounter an error when resuming from connected standby.
Cortana may take a long time to respond when activated while playing certain games.
Scheduled Cortana reminders will not provide a notification if the user who created the reminder is signed in, but not the current active user.
Using voice dictation sometimes causes the virtual keyboard to become unresponsive.
Notifications
Some users may not receive certain types of notifications.
Game Clips
After capturing a game clip, the game clip fails to automatically post to the Activity Feed (if your profile is configured to do so). Workaround: Manually view game clips in Profile > Captures > Manage captures and post to the Activity Feed.
EA Access
The EA Access app may indicate you are not an EA Access subscriber when you are. This does not affect your ability to download or play games from the Vault, or receive discounts on EA titles.
Screen Dimming
The screen may dim after a short amount of time while viewing videos in certain apps (Hulu Plus).
Settings - Ease of Access
When enabling the Mono output setting in Ease of Access - Audio, Settings becomes unresponsive, crashes, and fails to launch on subsequent attempts. Workaround: To launch Settings, perform a hard reset (hold down the button on the front of the console for five seconds until it fully powers down, then power it back on).
Settings - Display & sound
The Audio output page is under construction and some of the new settings are not yet functional. New support is planned for Dolby Atmos for home theater, Dolby Atmos for headphones, and more in upcoming builds. An announcement will be made when these new features are ready to try out; enabling these settings now will have no effect.
Wireless Display
The Wireless Display app fails to launch and immediately crashes to Home.
Stay tuned to Windows Central for all the latest Xbox Insider Program info!
Jez Corden is the Managing Editor for Windows Central, focusing primarily on all things Xbox and gaming. Jez is known for breaking exclusive news and analysis as relates to the Microsoft ecosystem while being powered by caffeine. Follow on Twitter @JezCorden and listen to his Xbox Two podcast, all about, you guessed it, Xbox!
I don't understand; my last update was in December. I was in the preview program, now it seems like I am in nothing although I have the insider app.

Microsoft decided it needed to remove all fun from their Xbox Insiders program. You're welcome.

Are you completing the surveys and quests? You can't just have the app, you need to be giving them feedback.

You might be in ring 3 or 4. You might want to contact Xbox on the preview forums.

Make sure to change "ring" into Alpha via the insider app. If not, you won't get these updates.


Most of us want to have good income but dont know how to do that on Internet there are a lot of methods to earn huge sum, but whenever Buddies try that they get trapped in a scam/fraud so I thought to share with you a genuine and guaranteed method for free to earn huge sum of money at home anyone of you interested should visit the page. I am more than sure that you will get best result.<br>!!!fff
Best Of Luck for new Initiative
••••••••••••► http://jobbiz5.com

got give feedback to move up

the move feedback you give the fast you will move up

Lol, one day screen dimming will get resolved.

I haven't seen it. Which apps does it happen in?

I had the audio "pop" and it I would sometimes have to enter my password although auto sign in is checked. Glad to see bug fixes. Still some to go!

After my Netflix movie I will update.

What about people in Ring 3 or 4?

Got to Give feedback to move up

How do I even get into any ring, installed the XIP app ages ago, but I don't think it ever registered my XB1/MSA properly. The XIP app's always been as buggy as hell to use, I tried uninstalling/reinstalling, but it made zero diff.

Marty, Did you see my prior post... http://www.windowscentral.com/bug-killing-update-heading-out-testers-xbo... I don't suppose you could spare min or 2 to address it? Assuming you have any idea what the prob. could be. BR.

I have had your issue but this my help https://support.xbox.com/en-US/xbox-one/console/xbox-insider-program

Have read that, but might review again, I guess, such freaking PITA... Tnx.

Im still in ring 4 yet ive been giving feed back plus rating etc sure there taking piss 😏

I had to revert to the beta for the bug where it wouldnt let you log into games like destiny, rocket league and such is it fix? If so i wanna revert back to alpha i miss that new dash dam it
Windows Central Newsletter
Thank you for signing up to Windows Central. You will receive a verification email shortly.
There was a problem. Please refresh the page and try again.