Build 2016 attendees (and fans) can update their profile picture with official badge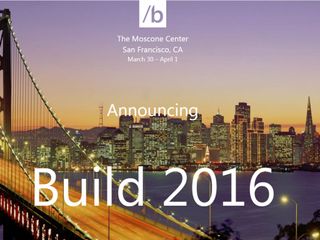 We are just two days away from Build 2016 beginning in San Francisco, but attendees of the company's annual developers conference can show their support by adding the conference logo to their Facebook or Twitter profile picture.
Microsoft has launched a website (via @MohammadMsft) that makes it easy to put the Build 2016 badge on a user's Facebook or Twitter pages. Customization options include the ability to add the badge at the top or bottom of the image. They can also link the badge to their Microsoft account if they wish.
Windows Central will be attending Build 2016 and will be reporting first-hand at the conference, which will be held from March 30 to April 1.
I wish I could attend but it's just a bit beyond me right now. Besides I think it was sold out almost instantly, wasn't it? The Windows Central Universal Application for Windows 10 Mobile on a Nokia Lumia 830

Sold out in like 5-10 minutes, yeah. No worries, we'll cover it. Plus live streams for keynotes and the rest will be on Channel 9 a few days later.

You mean we can watch it online...sorry coz i feel i have read that we can watch it online...

It was pretty much, unless your hovering around the sign up page, faster than or equal to the Flash or have a uber fast (1 Gig fibre) internet connection you've got no chance :P.

Anyone can add the layer actually, not just attendees; which is great because as an amateur dev, I'm so freaking pumped for Build 2016. Sent from Bikini Bottom via my Shell iVenue Pro 8"

Just did it and I'm not one of the attendees.. Looks great!
Posted from Windows Central for Windows 10

Well a piece of me is still hoping like 930 did, a hardware pops up this BUILD or atleast a glimpse of coming up hardware comes .!! (midranger awaited)

So they've changed their minds again about the circles and people icons are now back to squares?

Twitter and Facebook profile pics have always been rectangular and displayed in a square frame. 0/10
Troll harder. Posted from Bikini Bottom via my ShellPhone 950 XL

Stop whining like a *****
Windows Central Newsletter
Get the best of Windows Central in in your inbox, every day!
Thank you for signing up to Windows Central. You will receive a verification email shortly.
There was a problem. Please refresh the page and try again.