Bullet Asylum updated: Windows Phone 8 version fixed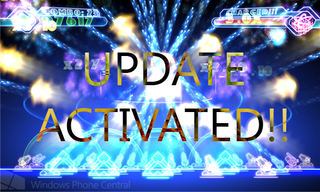 It seems like the shackles are off and the app updates are seemingly never ending, mostly these concern bringing existing titles fixes and tweaks for Windows Phone 8.
The Xbox Live game Bullet Asylum today received an update to fix the issues with gameplay running at almost double speed on Windows Phone 8.
The game was always heaps of fun and I have to say, more than manic enough for me at normal speeds. When Windows Phone 8 landed this was one of the first games I installed but it runs so fast it's simply not possible to keep up. While that was fun the update looks to have addressed the hyper speed issue. Now everything runs along as we'd expect. The version now showing is version 1.5 so a little bump from 1.4. The update applies to WP7.5 too so there might be some additional tweaks and fixes lurking around there.
This like a few other updates is exactly what we expected to see for the arrival of Windows Phone 8. There are still plenty of apps out there that need some attention but we're finally getting the updates where they matter most. Yes, I'll be honest, this will see me frantically playing on a London Underground Train real soon. To my fellow passengers, I apologise.
We'll endeavour to get a full low down of any other changes present in the update via our resident games guru Paul if at all possible. In the meantime, please feel free to download the app, check it out and let us know if you see any changes from before.
You can download the app and initiate the update from the Windows Phone Store.
Windows Central Newsletter
Get the best of Windows Central in your inbox, every day!
"Thanks for the tip"
"You're welcome"
Lol I sent you a mail with this info today at 8am gmt 1 :D
Anyways, thanks for confirming that it now supports WP8 :)

Is it not possible to update older games to 16:9 aspect ratio? I need to start playing this again!

Not available in my region :(

Lithuania

Why... Same with more Microsoft Sutdios games, what do you have against us? Pirates get all the games while legit users suffer.

I don't play this game, but I do want to say that I freaking love the graphic used for this article. It made me call out, "UPDATE ACTIVATED" in "Movie Guy" voice.

Ahhh!
I seeeee.
I hadn't played this for ages, since on my HTC Trophy. I tried it on my L920 and wondered why I was so bad at it!
Now I'll be awsome! I'll be:
"The one' and switch my tag to 'Neo' and move like the agents.

or not.