Businesses can try out Windows 10 Enterprise free for 90 days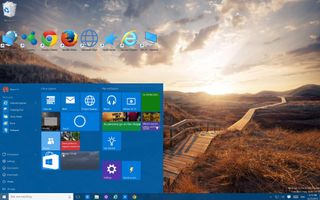 Microsoft is letting consumers download Windows 10 Home or Pro for free on their older PCs, but the company is still charging for businesses to get Windows 10 Enterprise. However, they have the option of getting a 90-day free trial version of the OS.
The trial version is available to download via Microsoft's TechNet Evaluation Center (opens in new tab). It states:
There's also a version of Windows 10 Enterprise that's free to download for Windows Insiders, but Microsoft says that version will expire on October 1, with reminders popping up on September 15. Microsoft says, "After October 1, a clean installation of Windows 10, the Windows 10 Enterprise 90-day Evaluation, or your former operating system will be required; and you will need to reinstall all of your programs and data."
Source: Microsoft (opens in new tab)
I want to know is anyone facing the problem of nothing happening after clicking on add account in mail app in windows 10 ?

When will the final Enterprise version be made available to existing SA customers? I have checked the Microsoft Volume Licensing Service Center several times but it hasn't shown up there yet. We don't want to deal with a trial version, we've already done testing through the Insider Program... we want to start deploying the final Enterprise product.


August 1. It's odd that they're releasing it on a Saturday. I hope the compatible RSAT are available at launch. They worked great against 2012 servers on one of the earlier builds, but Microsoft stopped supporting them a few months ago.

Whats really odd is that the prosumer launch is is after the consumer launch ms has never done this before last I checked

It is indeed August 1st. I think it is right the rollout comes after the consumer version as that seems to be the version being heavily pushed. I don't believe Enterprise is going to go on an mass upgrade, that makes no sense, so no free option and a later release seems appropriate for the Enterprise environment.

I hope if they release the iso to SA customers, they also have supported versions of MDT and ADK. I do not want to install the preview of mdt. I want to test on the proper software and not mess with any preview builds

90days free Session of windows 10 will be more exciting for me for many facilities like windows 10 Xbox and windows 10 mobile

What about business users who have pro? Is it free to upgrade

yeah, good question. I'd like to know that

I didn't think it was free... Could be wrong..? I'd like to know as well.

Business users have to pay, it is free only for consumer version.

I wonder if Enterprise edition also do experience issues just like the consumer editions, since they're the same.

Well they'll be issues, precisely why most Enterprise customers are not going to rush an upgrade only consumers do that. No business will rush an upgrade unless there is something lacking in their current operation, and that would be addressed well prior to this launch.

No business is going to pay for trouble when everything is working fine under current OS. Everytime businesses upgrade to new Window OS, productivity is lost from compatibility, instability issues as well as retraining of staffs on how to use new OS. Unless MS pays each & every business to test their system, that would be different. Giving free testing alone is not enough to justify the loss of man hours of IT staff which could be deployed for better use by the company.
Windows Central Newsletter
Thank you for signing up to Windows Central. You will receive a verification email shortly.
There was a problem. Please refresh the page and try again.