You'll soon be able to remap buttons on your Xbox One controller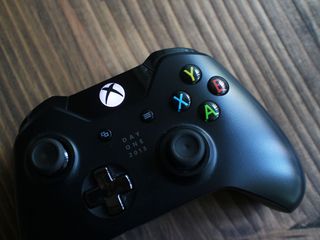 Microsoft's Mike Ybarra has revealed that button remap is coming to all Xbox One controllers shortly. The feature will make its debut on the $150 Xbox One Elite controller, but Ybarra has stated that all controllers will get the functionality with an upcoming software update.
Ybarra did not share a specific date for the availability of the feature, but it is likely it will roll out to Preview members ahead of a public release. We'll share more details as we receive them.
As for the Elite controller, in addition to button remap, it offers interchangeable rear paddles and hair triggers, allowing you to customize the control configuration even further. The controller will be available from October 27.
Buy Xbox One Elite controller ($149) (opens in new tab)
Source: Twitter (Mike Ybarra); Via:
Windows Central Newsletter
Get the best of Windows Central in your inbox, every day!
Harish Jonnalagadda is a Senior Editor overseeing Asia for Android Central, Windows Central's sister site. When not reviewing phones, he's testing PC hardware, including video cards, motherboards, gaming accessories, and keyboards.
I have problems with the double tap of the xbox button to take screenshots. The xbox take a screenshot also works when its wants. So if I can Map take a screenshot shot to a button that would be good. But remap for Dying light means I could have Jump using the A button!!

I never have any trouble with the kinect way of screensots. Alaa im getting the elite controller and mini keyboard. It has 2 lovely buttons designed for screenshot and video.

After some time, I decided that RB is good for jumping in Dying Light. It helps you stay mobile while keeping your thumb free to look with the right stick for changing directions.

PS4 could do this a while ago

Owell. I don't want a ps4!

Feature parity is a good thing then yes? Thanks, for letting us know... =P

I own a PS4. It really can't.

It actually can in accessibility settings I own a ps4 too

What remap buttons for any game? No it couldn't. It is game specific on ps4. Not built into the os.

I have a ps4 and if you can do that well that's news to me. I have looked thru the settings and didn't find it anywhere.

You cant. Its game specific. I think just 2 games on ps4.

Just tried it. Nothing there. And no updates.

It can my friend i hope you have the latest version of ps4 its under accessibility options in settings and if you need more proof google it

How about being able to upgrade the firmware on PC for the people who don't own a Xbox but bought the controller to play it on PC ?

The post started that all Xbox controllers will get this functionality, no device was specified

Well, that does not indicate that it will go for the controller itself as they are speaking of software update. Usually, when it comes to hardware specific updates - like in this case the controller itself - it is more known as a Firmware update and not a general term like software update. And judging from history, this news probably does mean that this software update will be xbone related and PC will be left out - at least in the beginning. It took them ages to release the driver software for PC and I don't think this will go any smoother. :/

I'm sure all the marketing material for the Elite controller says the remap works on both Xbox and PC via an app. Obviously if a firmware update is required for older controllers to allow them to work with the app, then I see you predicament if you don't have an Xbox One. I thought the Elite controller would store the remap info on internal storage, which I assume existing controllers don't have, but maybe I'm mistaken

Updates are good. Paul EastXTwitch may use this. I am unsure if I would use this. I'm still reconsidering the elite controller. The impulse is wearing off.

Yay. Now I can get southpaw controls for tomb raider

You forgot to say that the elite can have two controller mappings at the same time while the normal controller will only have one.

I actually noticed there was an app on the preview that allowed you to save profiles for making so that may not be the case, but yes the elite does store 2 on the controller itself for easier switching...

This should have been kept to the Elite controller. To reinforce why it's Elite.

The exceptional build quality and additional hardware options are ample examples of why it's "elite."

Hopefully it can allow us to change the stick settings. Or at least reset them. My day one controller continually moves up... Really annoying.

If its on xb1 it should automatically be adjusting for wear & tear unlike the pc ms doesn't seem to have an intelligent driver/sdk that can handle this due to probably ram/cpu overhead

Will the same apply to PC when using the Xbox One controller? For games that don't have the ability to remap controller keys.