Calculator² is now a universal Windows 10 app in the Windows Store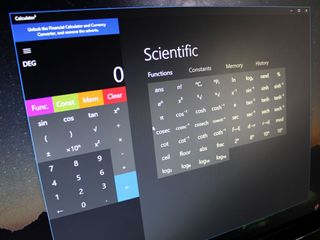 A few weeks ago, the popular Windows Phone Calculator² got a big update to version 4.0 with lots of new features and a full code rewrite. Now its developer Richard Walters has updated the app again to version 5.0, and it is now a universal app made specifically for Windows 10 and Windows 10 Mobile.
Aside from that, the only other new feature in Calculator² version 5.0 is that the app can now be run in a window on the Windows 10 desktop for the first time. Just in case you are unfamiliar with its features, here's a rundown:
Over 50 scientific functions
125 mathematical and physical constants
Over 150 World currencies
Over 200 units for conversions across 26 categories
Statistical functions for memory values
Calculation history
Customisable tax buttons
Auto, Fixed point, Scientific, and Engineering display formats with choice of digit grouping
Enable or disable operator precedence
Keyboard support + Live Tiles
While Calculator² is a free app, some features like its recently-added Financial calculator are only available via an in-app purchase.
Download Calculator² from the Windows Store (opens in new tab) (Free with in-app purchases)
You mean I can get a calculator on multiple devices now? This is amazing!

Made possible by the awesome power of Windows 10! :)

Actually, in this case, yes it is. This is a great app and way more functional than the stock calculator. That I can now use it on my phone, tablet and desktop and have the same UI everywhere is very nice..

app is not actually 5.0 ,its showing 4.2.1 on my phone even after current update.

I'd really appreciate if speed crunch comes to Windows phone.

This is a big deal, this app is great! The developer has been very active over the years. Congrats to him for migrating to universal.

I like the fact that every writer at windowscentral is now deleting my comments from all posts. This shows the respect and power of truth. Truth wins... Yeah
Windows Central Newsletter
Thank you for signing up to Windows Central. You will receive a verification email shortly.
There was a problem. Please refresh the page and try again.