Call of Duty Warzone & Cold War Season 6: Release date and everything we know
Black Ops Cold War's final season will rattle Warzone's bones.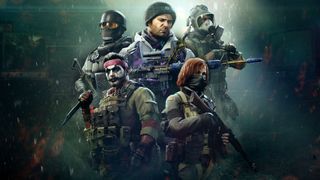 (Image credit: Activision)
Despite being the subject of a lawsuit alleging labor violations that recently led to a settlement with the U.S. Equal Employment Opportunity Commission, Activision has not slowed down when it comes to the Call of Duty franchise. All hands are on deck as the release of Call of Duty: Vanguard is quickly creeping up on us while the Season 5 battle pass for Black Ops Cold War and Warzone comes to a close.
Season 6's big draw is the impending shake-up of everything we know and love about Warzone's Verdansk map as the free-to-play first-person shooter prepares to merge with Vanguard this winter, but that's not all that Call of Duty players can expect. From new weapons to maps and a special Haunted event, there's no shortage of content for Cold War's final season.
Season 6 release date and time
Like with previous seasons for Cold War and Warzone, players can expect to see the new content, like the aforementioned The Haunting event, rolled out in waves over the course of the entire season. Call of Duty: Black Ops Cold War will see the first update drop on all platforms on Oct. 5 at 9 p.m. PT. Call of Duty: Warzone's update will follow later on Oct. 6 at 9 p.m. PT.
Call of Duty: Black Ops Cold War Season 6 new maps for multiplayer
The team behind Call of Duty: Black Ops Cold War will drop not one, not two, but three brand-new multiplayer maps with the launch of Season 6. The first of these maps, Deprogram, is best described as a fever dream that attempts to create a cohesive battleground out of the scrambled memories from formerly brainwashed operator Russell Adler's deprogramming sessions. Deprogram will feature a series of red doors scattered about the map that can be used like fast travel portals to give your team the upper hand over unsuspecting enemies.
The second map to release with Season 6 will be Amerika, an idealistic Main Street, USA replica created to serve as a training grounds for the Soviets. Players who have completed the single player campaign for Black Ops Cold War will quickly recognize the stage where they can encounter enemies for close quarters combat among the Burger Town mock-up or hang out on the edges of the arcade and theater on either end of the block for those long, sniper-friendly sight lines.
Lastly, a tiny underground vault will be dropping in the Gunfight and Face Off playlists — yes, even Face Off's hectic 6v6 mode. Players will be able to engage in rapid fire combat in an underground vault of the Lubyanka Building. All three new maps will be playable in Call of Duty: Black Ops Cold War's multiplayer at the start of Season 6's launch for no extra cost.
Zombies fans haven't been forgotten in Season 6, either. The current Dark Aether storyline for Black Ops Cold War's zombie mode will reach its conclusion with Forsaken, the final round based map to be released for the title before all eyes shift to Vanguard. Players will finally get some pay off for the showdown that previous seasons have been building toward. They'll have a little bit of help for uncovering all of Forsaken's secrets with newly added perks and weapons, including PhD Slider — a perk that will allow players to slide into enemies to trigger an explosive reaction — and the two handed Chrysalax. Additional support will come in the form of the new aether-modified RC car known as the ARC-XD and the Hand Cannon.
Call of Duty Warzone Season 6 shaking up Verdansk
One of the unexpected side effects of Warzone's success is that each new entry to the Call of Duty franchise needs to integrate into the free-to-play title. Players are not exactly forgiving when elements of a game they've enjoyed are removed which puts Raven Software, the development team responsible for Warzone, in a bit of a bind.
Previously, Call of Duty's development cycle allowed for the different studios to create storylines that were completely independent of one another. Now, however, those stories need to come together to form a more cohesive narrative for Warzone. This conundrum has led to some of Warzone's more unusual events, such as when the map had to be taken back to the '80s to fit with Cold War in contrast to the modern-day Verdansk that was originally released alongside 2019's Modern Warfare.
To prepare for the shift to the Pacific map for Warzone that will launch shortly after the release of Call of Duty: Vanguard, Season 6 will introduce a man-made seismic event that will result in Verdansk being torn apart by a large fissure crack. This crack will once again change the ever-popular Stadium location as well as Downtown, and will reveal that Verdansk has been hiding WWII-era bunkers just below the surface. Players will be able to traverse the surface cracks as well as explore the newly uncovered bunkers.
Those who don't make it out of the bunkers in one piece will find themselves trapped in a new area of the Prison Complex, as the Gulag's classic look comes back with a bit of a twist for one last second chance before we finally say goodbye to Verdansk.
New Operators, blueprints, and prestige
Anybody who has ever played a Black Ops campaign recognizes the iconic quote "The numbers, Mason? What do they mean?" Now players can ask that question every time they choose Alex Mason as a NATO operator. Mason will be available in Black Ops Cold War and Warzone as an immediate Tier 0 unlock for anybody who purchases the Season 6 battle pass. For the Warsaw Pact operator, the ruthless mercenary Benito "Fuze" Ortega will be added as a store bundle later in the season. In addition to Mason and Fuze, players who preorder any digital edition of Call of Duty: Vanguard will also get immediate access to Arthur Kingsley as an operator in both Cold War and Warzone.
There can't be new operators without new armaments, so Season 6 will be launching with three new free weapons for both Cold War and Warzone including the .410 Ironhide Shotgun, the Grav assault rifle, and two-handed Battle Axe. Additionally, fans can look forward to a new SMG and new melee weapons to be released later in the season. These later additions, along with more information regarding the special Haunting event can most likely be expected part way through Season 6's cycle when we receive more info about the mid-season refresh.
As Season 6 brings Black Ops Cold War's multiplayer cycle to a close, we will also see the introduction of the last four levels of Prestige Master. Just as with previous seasons, multiplayer progress is reset to level 1 at the start of the season. Reaching level 200 in the season unlocks the coveted Prestige Master ribbon, but players can continue earning XP up to level 1,000 before the end of Season 6.
Get the Windows Central Newsletter
All the latest news, reviews, and guides for Windows and Xbox diehards.
Cole is the resident Call of Duty know-it-all and indie game enthusiast for Windows Central. She's a lifelong artist with two decades of experience in digital painting, and she will happily talk your ear off about budget pen displays.