Is Call of Duty Black Ops: Cold War crashing, or shutting down your Xbox Series X/S? This might fix it.
Is Call of Duty Black Ops: Cold War shutting down your console? You may not be alone.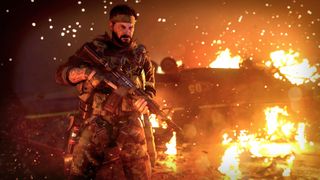 (Image credit: Activision)
Call of Duty Black Ops: Cold War is here, taking the popular franchise to some notorious battlefronts from the West's covert war with the USSR. We're still working on our full review, but so far it seems like another solid entry in the franchise, with impressive features on the Xbox Series X including ray-tracing and 120 FPS support for some of the best Xbox Series X TVs. Alas, some of you have been reporting issues to us.
On Twitter, we received a few DMs asking if we'd been experiencing crashing or shutdowns with the game. Personally, I've experienced an issue with the UI, where elements would disappear and give an error, until you restarted the game. I've also experienced an issue with Quick Resume, which would wipe the Xbox Series X's connection to the TV completely as it switched resolution and HDR modes, although this might be an issue with my TV.
More pressing are some of the other issues we've seen, where Call of Duty Black Ops Cold War fully shuts down the Xbox Series X after a few minutes of play.
Cold War doesn't support Xbox Smart Delivery
For some, we think this may be caused by having the $60 version (opens in new tab) of the game being delivered to your console. Call of Duty: Black Ops Cold War irritatingly has separate versions for Xbox One and Xbox Series X/S. The "cross-gen" Xbox Series X version is $70 (opens in new tab). If you're using the $60 version, it seems to be broken on the Xbox Series X as of writing. What's even more irritating, there doesn't seem to be a simple way to "upgrade" to the next-gen version. This wouldn't have happened if Activision had used Xbox's Smart Delivery, but alas, here we are.
However, if you are sure you have the Xbox Series X version, it may have delivered the wrong version of the game to an external HDD. If you've installed Call of Duty Black Ops Cold War on an external HDD by mistake, you've installed the Xbox One X backward compatible version, which appears to be completely broken when running on an Xbox Series X. You should be running the Xbox Series X version, installed on the internal SSD or official Xbox storage memory card SSD, such as this one from Seagate (opens in new tab).
To fix this, uninstall Call of Duty Black Ops: Cold War from your Xbox Series X, and re-install the specific next-gen version from the Microsoft Store (opens in new tab), making sure it's installing on the internal SSD, and not a connected USB HDD. Your connected USB HDD should be used for older backward compat titles only, and not Xbox Series X-enhanced games.
For greedy companies like Activision that don't use Smart Delivery, hopefully, Microsoft can make it a bit more obvious in subsequent system updates if you're buying the "wrong" version of a game. Even still, the Xbox One backward compat version should work on Xbox Series X, so, hopefully, Treyarch will fix it.
Are you struggling with Call of Duty: Black Ops Cold War on Xbox Series X? Let us know in the comments.
Another Call of Duty
Call of Duty: Black Ops Cold War
Hey, it's another Call of Duty!

Call of Duty: Black Ops Cold War explores the dark times of the West's battle with communism. With support for 120 FPS on the Xbox Series X, with full cross-play and support for mouse and keyboard play, this is the most PC-like Call of Duty on Xbox Series X yet..
Xbox Series X/S
Main
What is the Xbox Series X release date?
How much does Xbox Series X cost?
Why you can't preorder Xbox Series X yet
Jez Corden is the Managing Editor for Windows Central, focusing primarily on all things Xbox and gaming. Jez is known for breaking exclusive news and analysis as relates to the Microsoft ecosystem while being powered by caffeine. Follow on Twitter @JezCorden and listen to his Xbox Two podcast, all about, you guessed it, Xbox!
Simple solution. Uninstall CoD and leave it like that. Play a better game. 😜

waiting for Battlefield 6 ;-;

I'm having that issue. I'll find out if it'll fix it shortly. The game pre-downloaded on my seagate portable when it was connected to the Xbox One. Hopefully the right version will help. Thanks for the article.

It might not help if you only purchased the $60 version, you need the $70 "Cross-Gen Bundle" to get the Xbox Series X version. The $60 Xbox One version of the game seems to be broken on Xbox Series X.

Yes you right, If you have a series x. You have to download the series x version. There are two versions of cold war download files. One for xbox one and one for series x. No freezes and shutdowns anymore!

Remedy and Activision both suffer from this business first mentality.

My question is this though, do I have to pay an extra $70 to get the right version of the game? Or can I just pay an extra $10?

I purchased the ultimate edition for $150 in Australia and have installed the s/x version on my series X & it has crap light it goes dark then light i get to round 10 on zombies and boom it freezes then shuts down my Xbox series x. Something is seriously wrong with this game it needs to be fixed asap.

I have an xbox series X but did not want to spend the extra money on the series X version as I only really play zombies and I can confirm if you buy the cheaper version for your series X it powers off your console after 15 min of playing its disgusting really and no word if it will be fixed anytime soon

It happens on my Xbox one x

This is a fix to some Cold War issues, but it doesn't appear to fix shutting down Xbox's. I wonder who is to blame? The money loving Activision, eager to get our their latest COD shooter, or Sony who paid them millions of dollars to make the launch day the same as the PS5 launch, despite not having the game ready.

So I have changed my Xbox series x to 1080p at 60hz and turned off ray tracing in the game settings and have finally been able to play for the last couple of hours so far so good hopefully this helps anyone else having this issue.

Hey!
I have an Xbox one, installed the game, but it freezes on the main page where it says 'Press A to start',
I have uninstalled and started again thinking it was a glitch. Its frozen.
Strange this is though, when I first loaded this on Sunday, I got through the first few stories
(was upto where I am the 'bell' character)?
My g

Having the shutdown issue on my series x. I have the correct version intalled on it and on the internal ssd.

I have the Series X version installed onto my Series X SSD card from SeaGate, have the 11/20/20 update, have an updated console, and it still crashes and shuts off my console. I uninstalled and reinstalled and it STILL does it. What a waste of $90. Treyarch needs to fix this ASAP or give us our money back so I can buy a better game. I have never had this happen before.

I think the last update is causing this. My series X was fine until the last update it started shutting down within a minute of cold war and I have the correct version for 70 bucks. So I fired up the Xbox one and downloaded the correct version for it and 1 minute on Clod War BAM it shuts down and a shut down has never happened since I had the xbox one so I switch back to Modern Warfare and no issues so my opinion is a software ware problem that Microsoft need to correct thats my 2 cents. So all that other stuff with the settings for your TV and console and hard drive storage is a bunch of crap if you been gaming long enough it should be obvious cause nothing is gonna crash a console like this but the software. All the other stuff will just cause the game to not play correctly but not shut down 2 different consoles while trying to play Cold War.

Yes, was working fine for me on the series x until that update.

COD. Keeps Crashing. Running Xbox series X COD on Xbox Series X. I have tried restarting, disabling ray tracing and nothing works. What will they do when this game ends up ruining our console. How much larger of a game do you need for it to work? Won't be playing it again until they figure this nightmare out.

Played on Xbox one fine, purchased the cross platform version. Loaded on to XSX and worked for a day. Then update has killed the game Sunday started to freeze then turn off XSX. Controller stays on vibrating now can't play. Just reloading from store but this will takes ages to download again. It took 36 hours to copy over from Xbox one. COD MW works fine and the other games only crashes with Cold War. Not best pleased

I have the Xbox series X and the series X version of Cold War and it still crashes and shuts off my Xbox. Honestly I wish I didn't buy this yet I should of expected that Xbox would have problems on release but come on, how can a whole console that is supposed to be able to compete with pc not run a game.
Windows Central Newsletter
Thank you for signing up to Windows Central. You will receive a verification email shortly.
There was a problem. Please refresh the page and try again.