Call of Duty Ghosts to run at 720p; future looks bleak for Xbox One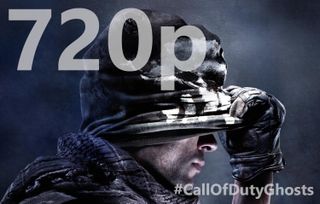 Ready to run out next month and pick up your copy of Call of Duty Ghosts alongside your Xbox One? Well, we have some news that you might want to know; Call of Duty Ghosts will not be running natively at full 1080p, but instead a lower 720p.
While this doesn't sound like the end of the world, consumers should be made aware that the console's Sony counterpart, PlayStation 4, will be running the game natively at 1080p. Microsoft and Infinity Ward have commented, stating that the Xbox One will upscale games to 1080p and that the unit does a "brilliant" job doing so.
With Microsoft's Xbox One costing $100 more than the Sony PlayStation 4, and supposedly having a 10 year lifespan, the fact that the new console can't handle launch titles in 1080p is a major concern. Call of Duty Ghosts isn't the only title that will be suffering from a native low resolution; Crytek's major launch title, Ryse, will also be running at 900p (yes, we know – random).
While not all games will be suffering down scaling on the console, it isn't a good point for Xbox One fans – it is just another "Pro" for Sony PlayStation 4 fans to hold over the heads of Xbox gamers. We are entering a world of 4K gaming and consoles that are 3D compatible. Can we expect Ryse 2 from Crytek to run in 3D at 4K resolution, when it can't even handle 2D 1080p?
Xbox One is going to continue its battle for console supremacy far past the November 22nd launch date. It is hard to deny that Sony has put full focus on the games, while Microsoft is trying to be a jack of all entertainment.
Questions is: will this affect your purchasing decision?
Source: XboxOneInCanada
Get the Windows Central Newsletter
All the latest news, reviews, and guides for Windows and Xbox diehards.