Call of Duty: Modern Warfare Remastered campaign trailer shows off its revamped graphics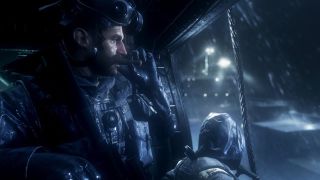 Activision has released the single-player campaign launch trailer for Call of Duty: Modern Warfare Remastered, showing off the revamped graphics for this new version of developer Infinity Ward's 2007 shooter. The game will be included in the $79.99 Legacy and $99.99 Digital Deluxe editions of Call of Duty: Infinite Warfare for the PC, Xbox One and PlayStation 4.
The new trailer, shows that the Remastered version will definitely get an upgrade in the looks department. Even if you have played the campaign section before, it looks like it will be worth it to play it again with its new graphics. Call of Duty: Modern Warfare Remastered will also feature all of the multiplayer modes and features of Call of Duty 4: Modern Warfare. The game will ship with 10 of its 16 multiplayer maps, with the final six maps to be released for free in an update due in December.
Activision will allow PlayStation 4 owners who pre-order the Legacy and Digital Deluxe editions of Call of Duty: Infinite Warfare to play the Call of Duty: Modern Warfare Remastered campaign on October 5. PC and Xbox One owners will have to wait until Infinite Warfare itself is released on November 4 to access Modern Warfare Remastered.
See Call of Duty: Infinite Warfare Legacy Edition at Amazon (opens in new tab)
Windows Central Newsletter
Get the best of Windows Central in your inbox, every day!
COD Modern Warfare 'Remastered'? .... Am I that old?

It's 9 years old. So we might be.

Was hoping to see some actual in game graphics and not a bunch of prerendered cut scene videos.

these are actual in game graphics, don't know if you have played original modern warfare, but all scenes shown in the trailer are in game graphics, from campaign missions.

I'm fairly certain every single scene there was a realtime rendered in-game scene.

I know exactly what TennisGuy means... I like to see the game as it would look while I was playing, not what it would look like if I were a tiny camera that flew around at 100 miles per hour. Unfortunately, we almost never get game trailers that show the game as it will be presented anymore.

Oh, it looks shiny. Shiny is not good. They should reduce shiny and improve actual graphics. This is why AC IV on One sucks in comparison with 360. Too shiny and too much damn smoke!

All players regardless of platform should be able to play MW4 on Oct 5th. It's bad enough that they bundled it with that garbage new CoD, but make us wait 30 days is bs!

I really miss the days when CoD was aligned with MS... sigh. Although I will take backwards compatible games over release window exclusives any day.

Seriously, which CoD game do they intend to sell? Infinite Warfare or Modern Warfare?

Want this badly. Don't want to pay for new cod tho. Sigh.