Call of Duty: Vanguard has field-of-view controls on console
You'll be able to adjust your view in Vanguard's multiplayer mode, which is not very common for console titles.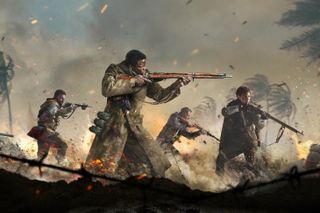 (Image credit: Activision)
What you need to know
Call of Duty: Vanguard got a big multiplayer reveal with multiple members of Sledgehammer Games, the developers of the game.
A member of Sledgehammer tweeted an image confirming that the console version of the game has a field-of-view slider, allowing players to adjust their view.
This is not a very common feature for console titles, but it's possible it'll only be available for multiplayer.
Sledgehammer Games recently revealed more detail about the multiplayer in its upcoming game, Call of Duty: Vanguard. One detail dropped on Twitter is that apparently both the PC and console versions of the game will have a field-of-view slider. This was confirmed by multiple members of the development team.
A screenshot showing the FOV slider was posted on Twitter by Sledgehammer senior development director Adam Iscove. Community strategist Sam Leichtamer confirmed that the screenshot was on console, which hopefully means that it'll be a feature available on all of the consoles that the game is launching on. This isn't the first Call of Duty game with a FOV slider, as Black Ops Cold War also had one.
For those who don't know, the field of view is the way the player views the world around them, and a slider can narrow or widen the field of view. A wider FOV can make it easier for players to see the world around them, giving them a tactical advantage, and it's also one way to help mitigate vertigo for first-person games. The screenshot shows the slider set to the max at 120 degrees. A FOV slider is a very common sight on PC games, but not so much on console titles.
There is one concerning part of the screenshot: On the right side of the screen, where it shows the FOV as it is adjusted, there's a note that says, "Only in effect for: Multiplayer." While an adjustable FOV can be most helpful for multiplayer, it could also be helpful for those who are playing the campaign, especially if they suffer from motion sickness, though this doesn't mean that the campaign won't have a separate FOV slider.
Call of Duty Vanguard is set to launch on November 5, 2021 on PC (via Battle.net), Xbox Series X, Xbox Series S, Xbox One, PlayStation 5, and PlayStation 4.
Get the Windows Central Newsletter
All the latest news, reviews, and guides for Windows and Xbox diehards.
Rachel Kaser is a Windows Central gaming contributor, who's been writing since 2013 and gaming since the age of five. She's covered everything from gaming news, reviews, and analysis -- if it exists in gaming, she knows about it. She also contributes to Future's other sites, iMore and Android Central. If you want to hear her opinions on games, pop culture, tech, and everything in between, follow her on Twitter @rachelkaser.