Call of Duty Warzone Pacific: Vanguard update release date and what to expect
A new WWII-themed era for Warzone is imminent.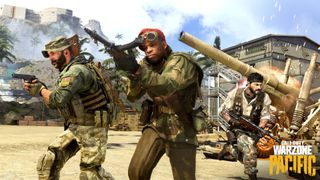 (Image credit: Activision)
After the launch of Call of Duty: Vanguard, the popular battle royale shooter Call of Duty: Warzone is getting a special "Call of Duty Warzone Pacific" update that ushers in a new age of Vanguard-themed content and concludes the game's sixth season — as well as its focus on Call of Duty: Black Ops Cold War. But what does that actually mean for Warzone players in terms of available content to enjoy, and how will Call of Duty: Vanguard factor into the experience?
It's a little confusing to say the least, but don't worry — we're here with an in-depth explanation about everything you need to know about the Call of Duty Warzone Pacific update, including when it's expected to release, what you can expect from the update, and more.
Call of Duty Warzone Pacific update: Release date
The Call of Duty Warzone Pacific Update is currently slated to release on Dec. 8, 2021 for all platforms, including Xbox Series X, Xbox Series S, Xbox One consoles, PS5, PS4 consoles, and Windows PCs. The update will be free to all players regardless of which platform you play Call of Duty: Warzone on.
Notably, the launch date for the update also lines up with the launch of Season One of both Call of Duty: Vanguard and the updated Call of Duty: Warzone (which is being renamed Call of Duty: Warzone Pacific — more on that below).
Call of Duty Warzone Pacific update: What to expect
In terms of what fans can expect from the Call of Duty Warzone Pacific update, there will be a brand new map available for Warzone players to enjoy: Caldera, which is set in the Pacific and features everything from sandy beaches and dense forests to abandoned ruins and a dormant volcano. Caldera will ship with a brand new mode called Vanguard Royale that gives players the opportunity to play battle royale with World War II weapons from Call of Duty: Vanguard.
Additionally, Vanguard Royale will also feature two new vehicles: fighter planes and anti-aircraft trucks. The former will be effective against ground troops and other fighters, while the latter will be an effective tool to take enemy fighters down. Players will also be able to use LMGs and stationary anti-aircraft turrets found throughout Caldera to fight off enemy pilots.
Image 1 of 2
No other weapons or vehicles from Call of Duty: Cold War or Call of Duty: Modern Warfare will be available in this mode, which ensures that new players won't be disadvantaged against players that already have powerful Warzone loadouts from previous seasons. In terms of accessibility for newer players, these restrictions will make Warzone one of the best Xbox shooters available. If you want to use weapons, vehicles, and loadouts that you've earned and upgraded in the past, you'll need to play the standard Battle Royale mode, which features both the Caldera map and Rebirth Island, which is a small-scale map that provides an alternative experience. Your Operators from these games will be available for use in Vanguard Royale, however.
In addition to Vanguard Royale, players can also expect another mode called Vanguard Plunder to come at a later date. While we don't know anything official about Vanguard Plunder yet, we expect it to be a World War II-themed version of Warzone's original Plunder mode that saw players compete to earn $1,000,000 by fighting over extraction zones, destroying AI-controlled helicopters, and more. Since it promoted lots of large-scale battles and was more forgiving than regular battle royale due to the lack of permadeath, Plunder was a fan-favorite playlist. Therefore, players will no doubt be happy to see the mode return with Vanguard Plunder. Standard Plunder is making a comeback as well, which will give fans a chance to use their Modern Warfare and Cold War arsenal in the action-packed game mode.
The Call of Duty Warzone Pacific update also represents Call of Duty: Warzone's integration with Call of Duty: Vanguard. When the update goes live on Dec. 8, Warzone will be renamed to Call of Duty: Warzone Pacific and Season One of the "new" game will begin, complete with a new Battle Pass. Your progression through this Battle Pass will be synchronized across Warzone Pacific, Vanguard, Cold War, and Modern Warfare, meaning that you can progress towards earning rewards while playing all of these games. Additionally, the Seasonal Leveling and Prestige System will return with this update. This will reset your rank to Military Rank 1 when the update goes live, but the developers have stressed this only applies to XP. Everything you've unlocked in the past will still be available moving forward.
Prior to the update's arrival and the release of Caldera, Warzone's current Verdansk map will be phased out of the game. It's currently unclear whether or not the developers plan to remove Verdansk permanently, but regardless, the map will be unavailable for a long time following the release of the update. In the days leading up to Warzone's integration with Vanguard, the developers have planned a special send-off for the Verdansk map that will likely provide an in-universe reason for its departure (more on that below).
Finally, the update will also deploy RICOCHET Anti-Cheat onto the PC version of the game, which should help combat the hacker issue that Warzone has faced in recent months. The developers say that this kernel-level driver will significantly bolster Warzone's anti-cheat effectiveness, but in-game reporting tools will still be available for players to use if they encounter someone breaking the rules.
Call of Duty Warzone Pacific update: Pre-release timeline
In the weeks and days leading up to Dec. 8 and the launch of the Call of Duty Warzone Pacific update, there will be several in-game events, challenges, and more for players to experience before Season One of Warzone Pacific begins. Here's a full overview of everything you can expect prior to Season One's arrival:
November 5: Call of Duty: Vanguard Launch – Expect epic experiences on all fronts with Campaign, Multiplayer, and Zombies. Additionally, RICOCHET Anti-Cheat begins its implementation with server-side initiatives.
November 5 to December 2: Preseason in Vanguard – Access to Free Vanguard Tiers on the Black Ops Cold War Season Six Battle Pass System continues. Then on November 17, prepare to ship off to a fan-favorite map.
November 18: Operation: Flashback Begins in Warzone – An encore limited-time mode for Verdansk, celebrating its past 18 months of hosting over 100 million players strong in Warzone. Ready for your last dance in Verdansk?
November 24: Uncover the "Secrets of the Pacific" - Get intel on Caldera and its new points of interest through this event's Warzone and Vanguard Multiplayer challenges.
November 30 and December 1: Last Hours of Verdansk. – Bombs away – see what happens to Verdansk before Warzone goes dark to prepare for Caldera and Season One.
December 8: Season One Begins – Vanguard players get new Multiplayer maps, 24 hours of exclusive access to Call of Duty: Warzone Pacific and more to kick off Season One. All players can enjoy a new Battle Pass system and two free functional weapons. Plus: RICOCHET Anti-Cheat's driver begins its rollout in Warzone.
Battle royale, CoD style
(opens in new tab)
Be the last one standing

Call of Duty: Warzone is more popular than ever, and with the incoming arrival of Call of Duty: Vanguard, Warzone is getting a brand new map, WWII-themed weapons and vehicles, and synchronization with the latest Call of Duty title.
Best option
(opens in new tab)
Call of Duty: Vanguard — Cross-Gen Bundle
The bundle for most players

The cross-gen version of Call of Duty: Vanguard is the best looking version available, making it ideal for folks on next-gen consoles. Thanks to synchronization with Warzone, you'll be able to work towards earning Battle Pass rewards while playing both games.
Windows Central Newsletter
Get the best of Windows Central in in your inbox, every day!