Call of Duty: Vanguard preview — A return to the fictional past
The annual series returns amidst ongoing strife and distress.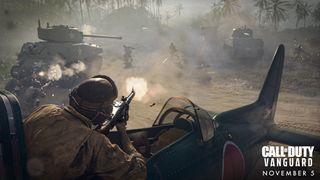 (Image credit: Activision)
Call of Duty: Vanguard is going back to World War II, but that doesn't mean it's a story players have heard before.
It's a game that is "rooted in, but not beholden to" history. The story is something of a realistic what-if, exploring what the origin of the first special forces task group would look like as an effort of the Allies to stop a secret Nazi plot in the final stages of the war. Alongside this setting, the game features new tech that changes up the gameplay, with a team that is the fruits of an effort beginning back in 2019 to "rethink the studio for the future," per Sledgehammer Games COO Andy Wilson.
We recently got the chance to attend a digital presentation on the upcoming title, with Sledgehammer Games providing a brief look at gameplay, while also diving into the themes, technology, and ideas powering this blockbuster title. Yet this isn't happening in a vacuum.
The stories in the wake of the recent Activision Blizzard lawsuit are "devastating." That's according to Sledgehammer Games Studio Head Aaron Halon, who notes that he and the rest of the developers at the presentation simply can't speak on anything happening right now, but do want to see every team member treated with respect and that "harassment of any kind goes against what we stand for as a studio."
After acknowledging how awkward it is to change topics, the talk about Call of Duty begins. Sledgehammer is out to make its boldest game yet, even as it acknowledges that going back to World War II is hardly new ground. Call of Duty: Vanguard is about the biggest turning points and clashes of the war, but it's also more personal, reflecting the types of stories that emerged through individuals and their actions.
Call of Duty: Vanguard covers a truly global war, with a global studio making it
World War II is admittedly "well-trodden" territory, per Game Director Josh Bridge, which is why the team is trying something unique. Bridge explains that unlike past titles that focused on select portions of the global war, Vanguard is meant to truly encompass a world at war, with multiple points of view. To that end, the campaign and multiplayer takes players across every theater of combat: the Eastern Front, Western Front, Pacific, and even North Africa.
As part of making it a global game, Sledgehammer Games has become a global studio. Even with the ongoing pandemic and the rise of the juggernaut that is Warzone, Call of Duty isn't deviating from its yearly release schedule. Part of what makes that possible comes down to the sheer workforce being thrown at it, with every single studio at Activision now working on the Call of Duty brand.
Sledgehammer Games has also greatly expanded. It's no longer just the base team at Foster City; there's a new team in Australia of over 150 people, while a third team has been opened in Toronto and is already in the "double-digits," says Wilson. By recruiting a more diverse, global workforce, the team feels better equipped to tell a story regarding a war that affected the entire world.
The press was shown a portion of one campaign level, which had paratroopers landing in France the day before D-Day. After a frantic opening, the tone is slower, with a focus on how the player has limited ammo and is evading German forces at night. Every reload feels tense, and the clever use of shooting through floors and doors is necessary to survive. It features some great tense pacing. It's not clear how much of the game will have this, but it's nice to see.
Historically fictitious birth of special forces
Even with the historic setting, Sledgehammer is telling a decidedly fictitious story. The campaign examines the birth of special forces, as the Allies put together a team of extroardinary fighters from across the various theaters of the conflict. They're not refined or used to working as Spec Ops, but are instead referred to as a "hammer instead of a scalpel," according to Bridge.
A grand conflict requires a grand score, which is why Sledgehammer solicited the help of Bear McCreary, well-known for his work on God of War. McCreary's music focuses on small notes, befitting the individual characters, rising in grandeur and strength to reflect their role in a greater story as a whole.
Speaking of the characters, players will be setting foot in four pairs of boots across the singleplayer campaign, with every character directly inspired by someone from real history. For example, the design and idea behind Russian Polina Petrova draws directly from Lyudmila Pavlichenko, a famous Soviet sniper better known as Lady Death. Arthur Kingsley, Wade Jackson, and Lucas Riggs make up the remaining playable cast.
Their target is a member of Nazi High Command, Heinrich Freisinger, who was inspired by Heinrich Mueller, the head of the Gestapo in Nazi Germany. Freisinger is working on a fictional plot known as Project Phoenix. After the Allied team is captured, they're interrogated, which seems to set the stage as a narrative device for understanding how they were all selected for this mission.
Multiplayer features new technology, with support from different teams
When it comes to multiplayer, Sledgehammer is going big. We're in a live service age, with smaller initial offerings in games and more content added over time. Players can expect 20 maps at launch, with 16 maps for classic 6-versus-6 gameplay, while there are four maps for 2-versus-2 modes. These maps are divided across the theaters of war featured in the campaign.
No matter what maps or modes you go for, players can set something called Combat Pacing, which alters the numbers of players on a per-map basis.
One big change Sledgehammer touts is something the team refers to as Reactive Gameplay, which is a fancy way of saying there's destruction physics. It doesn't mean players can level buildings, but when you shoot a door, you'll shoot through it. Shoot it enough and it'll fall apart. Props explode realistically and as the carnage continues, layers on a map are peeled back, revealing new sightlines and pathways.
We haven't been shown much gameplay footage, however, so we'll definitely have to wait and see just how well it all works in action. In theory? It could be the evolution that Call of Duty gameplay needs.
As for the other multiplayer modes and tie-ins, Zombies is confirmed to return, with Treyarch handling development. It's set to be a prequel to the Zombies mode seen in Call of Duty: Black Ops Cold War. Meanwhile, Raven Software is working on a tie-in Warzone map, as well as a comprehensive anti-cheat system, both of which are set to launch later this year.
There's also the new Champion Hill mode and while there aren't a lot of details we can share at this time, Sledgehammer seems to indicate this is the premiere mode at launch, with players going solo or in small teams, facing off in tournament-style gameplay. Sledgehammer Games also proudly notes that Vanguard is running on the latest version of the Modern Warfare (2019) engine, while the team is working directly with Infinity Ward to share technology and ideas.
Bottom line: What do we think about Call of Duty: Vanguard?
If you've truly been craving a return to World War II, this looks like it'll be the game for you. For a setting that video games, movies, and TV have visited time and time again, Sledgehammer Games has a couple of neat ideas and we're curious about how well fleshed-out the fictional birth of special forces is. It's also nice that we'll be visiting every theater of war, especially the oft-ignored campaign in Africa. At the same time, it feels strange to draw so heavily on real characters, instead of simply telling those stories. Will it be one of the best Xbox games available? Time will tell.
It's also worth reiterating the ongoing Activision Blizzard lawsuit and while steps have been taken, including several staff being fired such as the game director on Diablo 4, the work isn't over. We're hoping to see proof of further change, so that developers can continue to make the game they truly want to make.
We'll check in on all this later in the year, as Call of Duty: Vanguard is currently scheduled for a Nov. 5, 2021 release date. It's coming to Xbox Series X, Xbox Series S, Xbox One, PC, PS5 and PS4.
Windows Central Newsletter
Get the best of Windows Central in your inbox, every day!
Samuel Tolbert is a freelance writer covering gaming news, previews, reviews, interviews and different aspects of the gaming industry, specifically focusing on Xbox and PC gaming on Windows Central. You can find him on Twitter @SamuelTolbert.