Call of Duty: World at War among the latest Xbox One backwards compatible games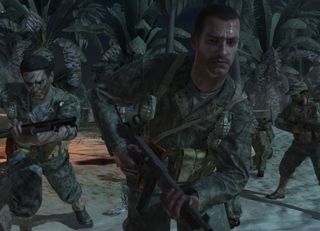 Microsoft has updated its list of Xbox 360 games that can be played on the Xbox One, adding four new titles. The biggest edition is the WWII-based shooter Call of Duty World at War.
First released in 2008 from developer Treyarch and publisher Activision, World at War is the last game in the Call of Duty shooter series to be set in World War II. It's also the first game to include the popular co-op Zombie mode that has since been included in most of the subsequent games in the series.
Download Call of Duty: World at War from the Xbox Store (opens in new tab)
The other three games that were added to the Xbox One backwards compatible game list include the music-based shooter E4, the family game Encleverment Experiment and the Chinese tile game FunTown Mahjong, all from Microsoft Studios.
Windows Central Newsletter
Get the best of Windows Central in your inbox, every day!
e4, or every extend extra extreme is a very cool, and hard twin stick shooter. i'm still playing it, even to this day. lots of very cool features. i wonder if the xbox one will let you rip your own music for it, i doubt it. the 360 version did.

World at War on veteran difficulty was probably one of the hardest games ever to complete. Grenade city it was. Posted via the Windows Central App for Android

LOL yeah brings back memories.

I'll be picking up all the old cods if/when they come on sale over time. Some really good games and this was one of them IMO, even if wasn't THE best

Oh hellllll yeah. Love World at War!

There was only 1 bit I despised in that game at the time it came out (because it took me about 30 mins to get past it) and it was a part where there were unlimited enemies you had to push through to an invisible checkpoint after which they stopped respawning. All good fun though

The cod games will probably be for gwg before the next cod comes out.

I'd LOVE that to happen. But I can't see them doing it. Whether it's true or not they could likely see their games as too good to give away for free. They still sell them for around $20 on the Xbox Store. It would be amazing though to get CoD 2 and 3 in the next months GwG. I actually don't get why they don't offer them in a bundle with digital pre-orders of the new CoD similar to how Gears is getting the back catalogue included - I would actually buy the game mainly to get these and the MW remake

Yeah, I don't think these will be GWG too soon either. They get a pretty nice sales bump every time they release one to back compat. Maybe after a while. I have picked up digital copies of all of them over the last year as they go on sale in the hopes that backward compatibility was coming. We still need Classic, MW2, MW3, and BO2 and then the only ones missing on Xbox One are the addon for the PC CoD1 and the old console games (Finest Hour and Big Red One). Obviously we will need original Xbox backward compatibility for that... :) For all the ******** people do about CoD it sells and people love it.

Keep thinking how on the release of the new CoD game there will be MORE online players on the MW remaster....I can just see it happening :)

Is any body else looking for the add on pack to install freeride and shi no numa Posted via the Windows Central App for Android

Is any body else looking for the add on pack to install derreise and shi no numa Posted via the Windows Central App for Android

I hope the multi player doesn't work lol